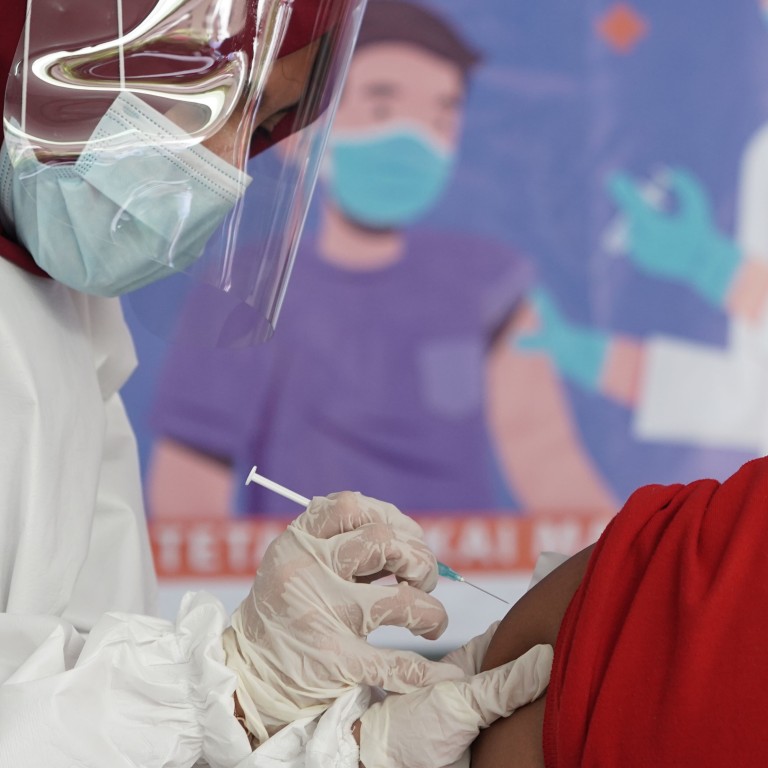 Coronavirus: Indonesia can punish those who refuse vaccine; Singapore opens business travel bubble
Indonesia has so far administered more than 1.7 million shots, but can stop or delay social assistance programmes to those who will not get vaccinated
Meanwhile, Japan expanded its vaccination programme beyond Tokyo, and India will require tests from those travelling from countries with new variants
Indonesia
is requiring those eligible for the Covid-19 vaccine to take the shots as the country seeks ways to quicken its inoculation programme to curb Southeast Asia's largest outbreak.
The government can punish those who refuse the vaccine by stopping or delaying social assistance programmes and administrative services as well as impose fines, according to a revised presidential rule. The actual form of the sanctions are left to local governments to decide.
Making the Covid-19 vaccine compulsory is an unusual move amid widespread hesitance toward the shots that were rushed in its development.
A survey last September found that about 65 per cent of Indonesians would want to get the shots, while the rest were concerned about the cost, health risks and whether the vaccine would be halal. The government has since made the vaccine free of charge.
Indonesia has administered more than 1.7 million shots in a programme that started with President Joko Widodo himself receiving the first dose, a bid to bolster public confidence in the Sinovac Biotech vaccine. That is a long way from the more than 180 million people that the government seeks to inoculate by the end of the year.
The country has also signed deals with other manufacturers including AstraZeneca and Novavax, though those shots haven't been shipped.
Japan expands vaccine roll-out
Japan
expanded its Covid-19 vaccine roll-out beyond the Tokyo metropolitan area on Thursday, with health workers set to be inoculated at 100 hospitals across the country by next week.
Prime Minister Yoshihide Suga inspected the programme at the Tokyo Medical Centre, the first institution to begin administering Pfizer's vaccine the previous day.
"I felt that health workers are placing much hope on vaccinations," he said after speaking with staff at the state-run hospital. "I hope to deliver vaccines to people nationwide as soon as possible."
Hospitals in Ibaraki, Nagano and Okayama were set to begin vaccinations on Thursday as the country seeks to inoculate an initial group of 40,000 health workers before expanding to other parts of the population.
No severe side effects were reported Wednesday among the 125 people inoculated at eight hospitals in the Tokyo metropolitan area. The Tokyo Medical Centre said it plans to give shots to about 60 people per day and complete vaccinations of 800 individuals by the end of March.
Of the initial group of 40,000 health workers, 20,000 are taking part in a study of potential side effects caused by the vaccine, with data gathered by the health ministry's research team due to be released every week. The participants are being asked to keep daily records for seven weeks after receiving the first of two shots. The shots will be administered three weeks apart.
Vaccination of a further 3.7 million front-line health care providers is to begin in March, followed by 36 million people aged 65 or older from April, according to the country's vaccination timetable. People with pre-existing conditions and those working at elderly care facilities will be next in line, followed by the general population.
Japan trails about 80 countries in starting its coronavirus vaccination roll-out, as the country requires additional clinical trials on its own population to ensure safety before approving the vaccines.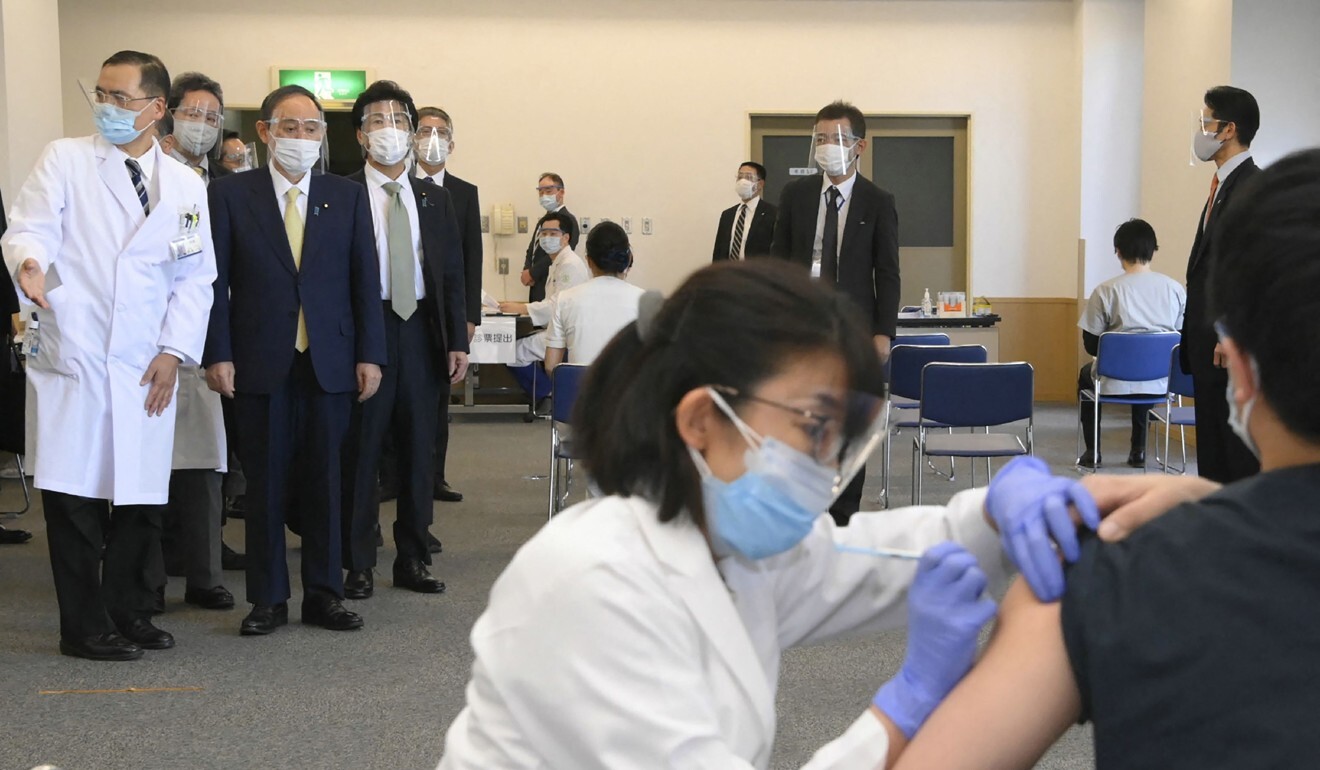 Singapore opens bubble for business travellers
Singapore
has started taking applications for a programme that will allow people to enter the city state for business and official purposes without having to quarantine for 14 days. The catch? They'll have to stay in a bubble-like facility near Changi Airport, and can't leave.
The first visitors under the so-called
Connect@Changi
programme are expected to arrive next month, Alan Thompson, joint head of strategic development at Temasek International, said on Thursday. Temasek Holdings, Singapore's state investment firm, is supporting the initiative.
"The economy was hurting, the aviation industry was hurting, the food and beverage and hospitality industry was hurting – we needed something to kick-start the economy," Thompson said. The purpose-built facility will "allow business meetings to happen that will then enable travel to happen and gradually we will be able to get business as close to normal" under these kind of circumstances.
The facility will initially have 150 guestrooms and 40 meeting rooms, rising to 660 and 170, respectively, when the first phase is completed in May. One of the companies that plans to use
Connect@Changi
is Advanced MedTech Holdings, Thompson said. When fully operational, it will have capacity to host around 1,300 business travellers.
Visitors will undergo testing upon arrival and throughout their stays and must observe all safety measures. They will be able to conduct meetings with local guests and other segregated travel lane groups at the facility. Meetings with locals will need to conducted behind floor-to-ceiling dividers.
The arrangement is primarily aimed at official and multinational business meetings, as well as medical consultations, private banking transactions and document signings or legal consultations. Its target audience is mainly short-term visitors who don't intend to stay longer than a few days.
India to test arrivals from countries with new strains
India
will make Covid-19 molecular tests mandatory for people arriving directly or indirectly from the United Kingdom, South Africa and Brazil in a bid to contain the spread of more infectious virus variants found in those countries.
India, which has reported the highest number of overall Covid-19 cases after the United States, detected the South African variant in four people last month and the Brazilian one in one person this month.
The government has said the South African and Brazilian strains can more easily infect a person's lungs than the UK mutation. India has so far reported 187 cases of infection with the UK variant.
The government late on Wednesday said airlines would be required from next week to segregate inbound travellers from those countries. India does not have direct flights with Brazil and South Africa, and most people travelling from these countries generally transit through Middle Eastern airports. All fliers will also have to carry a recent coronavirus-negative report before boarding any flight to India, except in extraordinary circumstances like death in a family.
India has so far reported about 11 million coronavirus cases and more than 155,000 deaths. Cases have come down sharply since a mid-September peak of nearly 100,000 a day.
A government serological survey released this month, however, said nearly 300 million of India's 1.35 billion people may already have been infected by the virus. The country has also administered 9.2 million vaccine doses since starting its campaign on January 16.
Second Thai home-grown vaccine to enter human trials
Thailand
is set to begin human trials of a Covid-19 vaccine that deploys the same technology used by Moderna as the Southeast Asian nation pushes ahead with plans to develop its own shots against the coronavirus.
Bangkok-based Chulalongkorn University will begin clinical trials as early as April, making it Thailand's second inoculation programme to enter clinical trials, according to Kiat Ruxrungtham, head researcher at the university's Centre of Excellence in Vaccine Research and Development. The centre is using new mRNA technology, and testing in transgenic mice showed the vaccine can prevent clinical symptoms and viraemia after two shots, he said.
The university will enrol 72 participants in the first phase of human trials, while phase 2 may involve between 300 to 600 participants. The two-dose vaccine will be administered three weeks apart and will be enlisted for a rolling review with the Thai drug regulator, Kiat said.
Thailand last week announced that the first locally developed vaccine will enter clinical trials in March as authorities seek to cut reliance on imports. The country is likely to kick off its vaccination drive after the arrival of the first lot of 2 million doses ordered from China's Sinovac Biotech next week. The government has ordered an additional 61 million doses from AstraZeneca to inoculate 50 per cent of its population by the end of the year.
"Even though by the end of next year, we may have an oversupply of vaccine, we want to complete the vaccine development so that Thailand can be self-dependent for the next pandemic," Kiat said on Thursday.
If the trials are successful, Bangkok-based BioNet-Asia Co. can produce as many as 5 million doses of Chulalongkorn University's vaccine by the end of this year and 20 million doses annually from 2022, Kiat said. The developer expects Thailand to approve the vaccine for emergency use after the completion of the second phase of clinical trials.
South Korea reports more than 600 cases
South Korea
reported 621 more coronavirus cases on Thursday, the second day above 600 and biggest gain in six weeks, raising worries about a fresh wave of cases. The country's health authorities said on Wednesday that it was "hard to judge" whether the latest increase is due to a temporary spike in tests after the four-day Lunar New Year holiday or marks a resurgence of its "third wave."
Reporting by Bloomberg, Kyodo, Reuters
This article appeared in the South China Morning Post print edition as: 'Business bubble' opening near Singapore airport to cater for 1,300 travellers