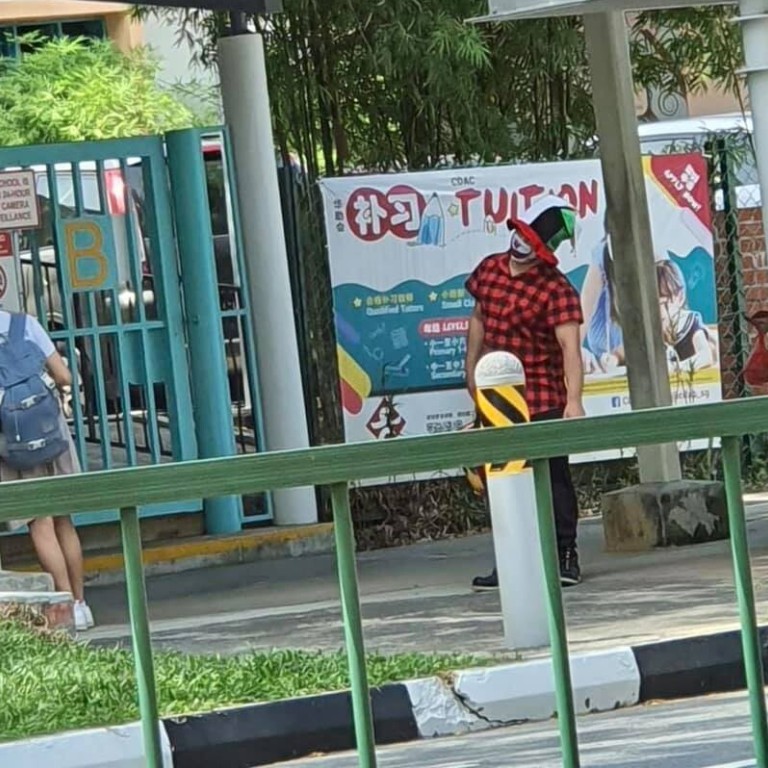 Singapore reminds children of stranger danger amid reports of clowns loitering outside schools
The incidents are alleged to involve a speech academy which employed clowns to advertise its classes as part of a publicity campaign
The academy has apologised, but clarified its clowns did 'not offer any form of monetary rewards for children to follow them'
Singapore
's police force on Monday said it was investigating a series of incidents where individuals dressed as clowns were reported to have loitered outside primary schools and approached children, as part of an apparent publicity stunt.
The police said multiple reports had been lodged. It advised members of the public to stay away from strangers and to report any suspicious persons or activities to the police.
"The police are verifying the facts with an education centre on their alleged involvement in the incidents. Police investigations are ongoing," it said, without naming the education centre.
A parent said his wife and daughter, who is in Primary Two, were approached by one such clown outside a primary school in the eastern suburb of Tampines on September 15.
Muhd Armin, 37, said the man who was wearing a clown hat and clown mask, gave his wife a flyer from Speech Academy Asia, and encouraged her to sign her daughter up for public speaking classes.
"If she wanted to sign up, there was a form to fill up but my wife said that she would consider it and then just went home," he said.
A check of Speech Academy Asia's Facebook page on Monday found that it was flooded with angry comments about its alleged involvement in the incidents.
One person asked, "what the heck were your marketing team thinking?", and another slammed the so-called roadshow as "not amusing or entertaining at all".
In response to the feedback, the centre said: "Please do allow us to apologise for any inconvenience caused. We are currently in the midst of discussion to see how we can rectify the situation."
The academy said it would be "putting an immediate stop" to its roadshows but added it "would like to clarify" that the clowns do "not offer any form of monetary rewards for children to follow them" and "strictly do not take any children out of the vicinity".
On Monday, Speaker of Parliament Tan Chuan-Jin took to Facebook to share a partial screenshot of a letter from a primary school notifying parents that the police had been alerted to "persons dressed as clowns seen loitering around primary schools and requesting them to follow them".
Tan also posted a picture of a man dressed as a clown outside what appeared to be a school near Bedok South.
"Whoever is doing what I assume to be some viral marketing nonsense, stop it! People dressed as clowns have been seen loitering around primary schools asking students to follow them," he said.
"Please remind your children, do not follow them and to report to the police," Tan wrote. "I trust the police are investigating this. It's not amusing and just plain dangerous."
Additional reporting by dpa