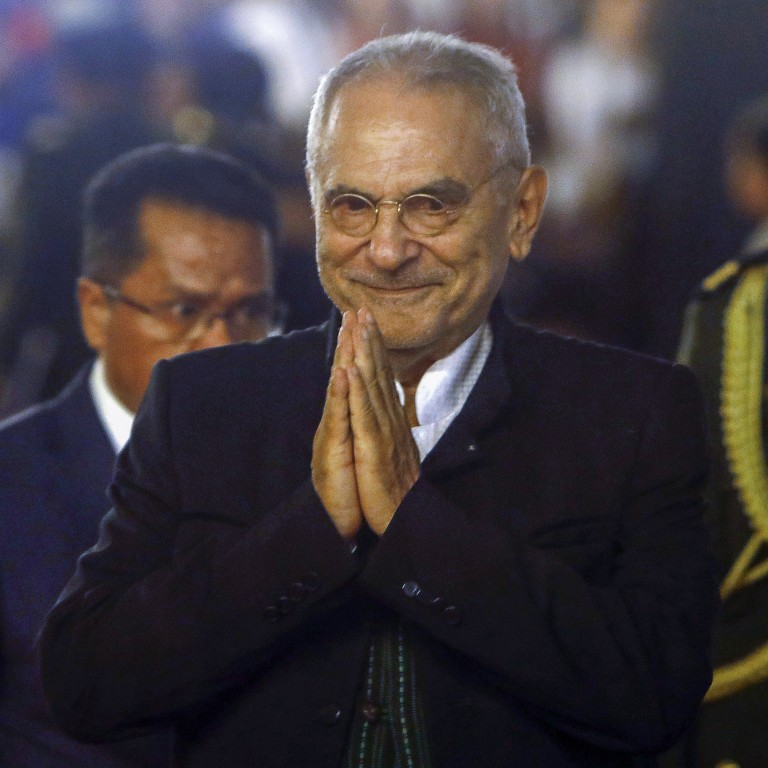 Jose Ramos-Horta sworn in as East Timor's president, pledges stronger ties with China
East Timor celebrates 20th anniversary of independence with new president
Jose Ramos-Horta spoke of expanding bilateral relations with China, joining Asean
Nobel laureate Jose Ramos-Horta was inaugurated as East Timor's president on Friday, pledging to dedicate his time in office to strengthen national unity and forge closer relations with China.
The former Portuguese colony, which became independent from Indonesia in 2002 after 24 years of occupation, marked its 20th independence anniversary with a concert and fireworks for thousands in the capital Dili.
The 72-year-old revolutionary hero, himself a former president of East Timor, defeated incumbent Francisco "Lu-Olo" Guterres in the April 19 run-off vote, securing 62 per cent against the former guerilla fighter's 37 per cent.
In a wide-ranging speech at parliament delivered in four languages in the early hours of Friday, Ramos-Horta called for national unity between rival parties that have had a tumultuous relationship in recent years.
"I will fulfil with loyalty the functions that have been invested in me … and will dedicate all my energies and knowledge to the defence and consolidation of independence and national unity," the bespectacled leader said.
"Peace will only be real and lasting when it is achieved through dialogue and mutual respect in which neither party feels coerced and humiliated," he added, addressing a crowd of military and diplomatic personnel.
At one point in the ceremony, Ramos-Horta received an embrace from his presidential predecessor Guterres.
The election, which passed without incident, was seen as a chance to reset the political deadlock between his National Congress of the Reconstruction of Timor-Leste (CNRT) and Guterres's Revolutionary Front for an Independent East Timor (Fretilin).
The impasse has seen the government fail to pass budgets for several years, economically paralysing the mostly rural country of 1.3 million people.
In his speech Ramos-Horta also spoke of helping to preserve "regional and global peace" and expanding bilateral relations with China, while praising the United States for its role in developing the country's infrastructure.
"It is our intention to expand bilateral cooperation with China," he said.
"Especially in the areas of sustainable, organic agriculture, small industries, trade, new technologies, renewable energy, connectivity, digitalisation, artificial intelligence and urban and rural infrastructure."
He said he would push for greater food security and propose creating a coffee fund to protect farmers against global price fluctuations.
One of the most oil-and-gas dependent countries in the world, the half-island nation of 1.3 million people has grappled with diversifying its economy and reducing high rates of poverty.
While he ran in the presidential elections as an independent candidate, Ramos-Horta was backed by the National Congress for Timorese Reconstruction (CNRT) party, which is headed by former president and prime minister Xanana Gusmao.
Gusmao has strongly promoted the Tasi Mane project, which would see oil and gas from the Greater Sunrise field developed onshore, and with China touted as a potential developer.
Ramos-Horta also said he would continue to foster a special relationship with the United States, and advocate for East Timor to join the Association of Southeast Asian Nations (Asean).
Joining the Asian forum is "a national strategic objective that I have personally advocated for since 1974 during a historic meeting in Jakarta with then Indonesian Foreign Minister Adam Malik," he said, referring to a June 1974 meeting in which he said Malik assured him that East Timor had a right to independence.
Eighteen months later, Indonesia was to break the promise and annex the former Portuguese colony.
Agence France-Presse, Reuters, Kyodo