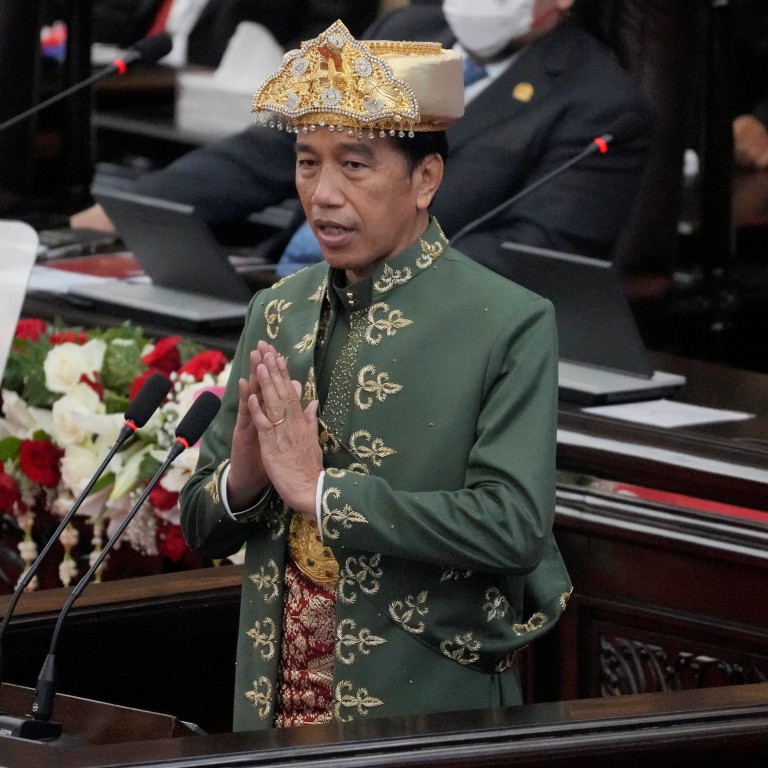 Indonesia can be a Russia-Ukraine 'bridge of peace' as it reaches 'pinnacle of global leadership', Joko Widodo says
Indonesia's presidency of the G20 in 2022 and chairmanship of Asean next year shows its growing stature on the global stage, Widodo said
Speaking ahead of independence day celebrations, the Indonesian president said his country 'has been accepted as a [Russia-Ukraine] diplomatic bridge'
Indonesian President
Joko Widodo
on Tuesday hailed his country's growing stature on the global stage and reiterated calls for the Southeast Asian nation to be a "bridge of peace" between
Russia
and
Ukraine
.
"In 2022, we hold the presidency of the
G20
, an international forum made up of the world's largest economies. Next year, we will assume the chairmanship of
Asean
," he said in an annual state of the nation speech a day before Indonesia celebrates 77 years of independence. "It indicates that we [are at the] pinnacle of global leadership."
As head of the G20 this year Jokowi, as the president is known, has taken an increasingly active role in foreign affairs.
Indonesia, he said, "has been accepted as a diplomatic bridge" between the two nations.
In the televised national address Jokowi also noted the country's economic fundamentals remain strong amid a volatile global economy.
In his annual budget speech to parliament, the president proposed a smaller budget for 2023 than for this year, pledging to consolidate fiscal positions after racking up large deficits during the pandemic. The president proposed a budget of 3,041.7 trillion rupiah (US$205.94 billion) for next year, with a deficit of 2.85 per cent of gross domestic product, the smallest budget gap since 2019.
The budget will be an engine of growth, the president said, setting an economic growth target of 5.3 per cent in 2023 and vowing to manage inflation at 3.3 per cent.
"The year 2023 provides a momentum to carry out quality fiscal consolidation so that fiscal management maintains a balance between countercyclical capabilities and efforts to control financing risks," Jokowi told lawmakers in a speech broadcast nationally.
Indonesia also proposed to parliament to allocate 20.8 trillion rupiah (US$1.41 billion) to build basic infrastructure at a planned location for its new capital city on Borneo island, Public Works Minister Basuki Hadimuljono said on Tuesday.
This year's allocation for the new capital city project is 5.4 trillion rupiah, he told a news conference, adding that the government in total plans to spend 43 trillion rupiah from 2022-2024 for the project.
Southeast Asia's biggest economy raised 21.65 trillion rupiah (US$1.47 billion) from a debt auction, above an indicative target of 19 trillion rupiah, the Finance Ministry's debt office said in a statement.
Total incoming bids surged to 72.16 trillion rupiah on Tuesday from 36.91 trillion rupiah in the previous auction on August 2. Meanwhile, the shorter term notes sold this week carried higher yields compared to those in previous auction.
Additional reporting by Bloomberg, Reuters