Singapore considering law to fight cancel culture amid LGBTQ rights debate
Singapore is seeking to protect residents against online pressure over expressing views on topics including an ongoing debate on LGBTQ rights
Potential new legislation comes as the government is preparing to repeal a colonial-era law that criminalises sex between men
Singapore
's Law Minister said cancel culture rules may be included in legislation in the near future as the government looks to protect residents against online pressure over expressing views on topics including an ongoing debate on LGBTQ rights.
The government is preparing to
repeal a colonial-era law
that criminalises sex between men while reinforcing traditional definition of marriage between a man and woman, sparking fierce reactions online.
"We should be encouraging people to be able to express their viewpoints on all sides as long as it's not offensive and doesn't descend to hate speech," Law Minister K Shanmugam said in an interview with Bloomberg Television. "If we find the right solutions, yes, that should be something that we could see in legislation in the near future."
Shanmugam, who was one of Singapore's top litigators until he became a cabinet minister, said the move toward cancel culture is a concern to the government based on a wide variety of issues aired in the country. Both religious and
LGBTQ
groups have told the government they have been attacked online on this debate, he added.
"Religious groups, in particular, feel very put upon because they feel whenever they express their views they are attacked as homophobes," he said. "So there is a line between expressing your view on religion and becoming homophobic or engaging in hate speech against LGBT groups."
Shanmugam said Singapore will be amending the constitution, to make clear that it is Parliament's prerogative to define marriage as being between a man and a woman so that it cannot be challenged in court. This has been widely seen as a compromise with conservative and religious groups and ensures that only a parliamentary vote can make future changes to that definition.
For now, a majority of Singaporeans are against same-sex marriages though there was support for the planned repeal of the legal ban on sex between men known as Section 377A.
"A government has a duty both to lead but also to understand the people's wishes," Shanmugam said. "On 377A, the repeal, we are trying to forge as much of a consensus as possible and move forward on some social harmony on an issue that has torn asunder the social fabrics in many countries."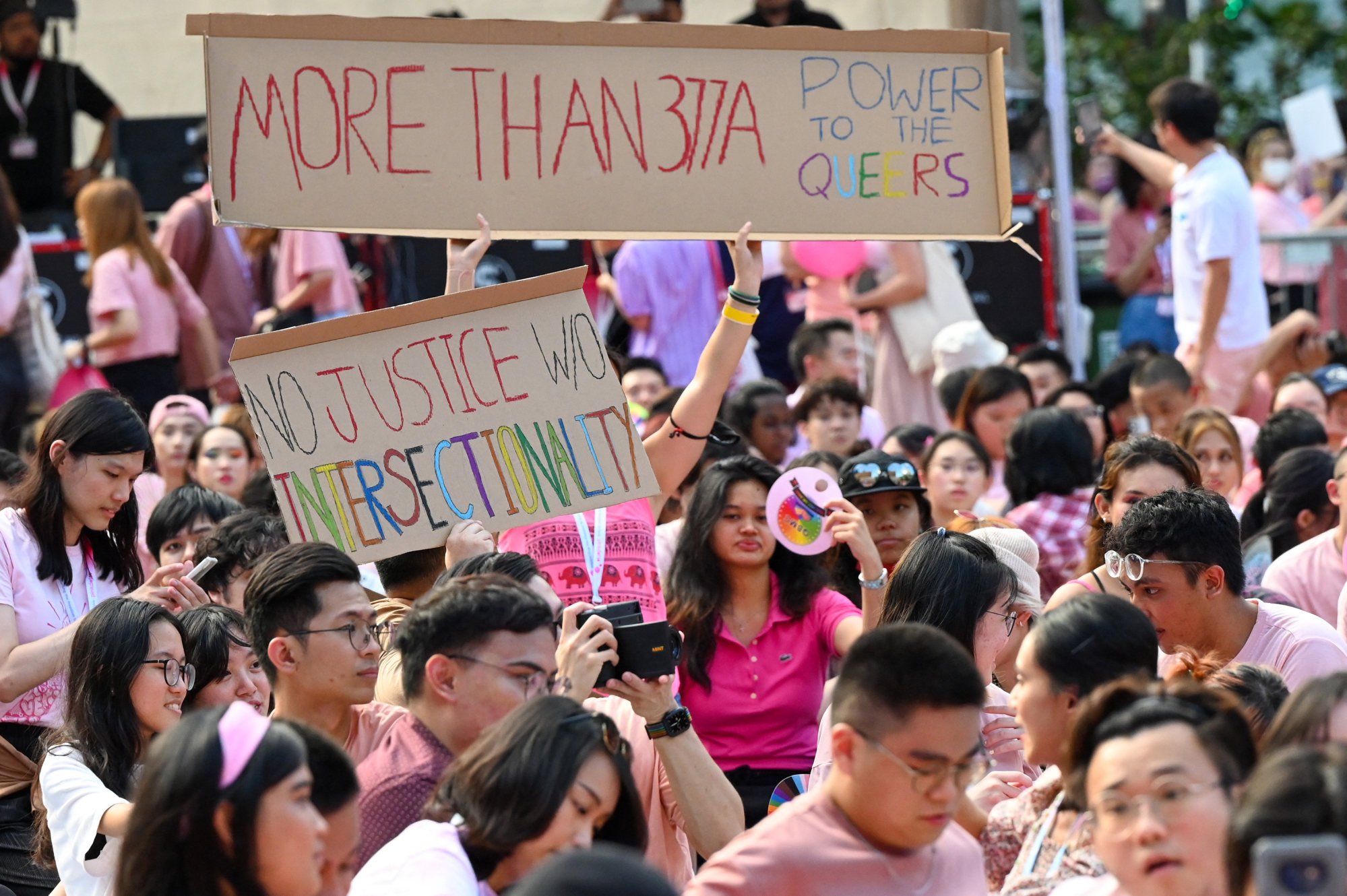 More Challenging
Shanmugam, who is also the home affairs minister, defended Singapore's use of the death penalty for serious crimes, including drug trafficking. The government has to do right by most Singapore citizens who support the death penalty, he said.
Singapore restarted executions after a two-year pause during the pandemic with
10 hanged this year alone
. One was a Malaysian man convicted for drug trafficking some three tablespoons of heroin into Singapore and his case drew criticism globally due to concerns over his
mental capacity
.
This would create more challenges for Singapore with regards to trafficking, though the regulations in place are adequate for now, Shanmugam said. "The more the availability of drugs, the more challenging it is to deal with it," he said.