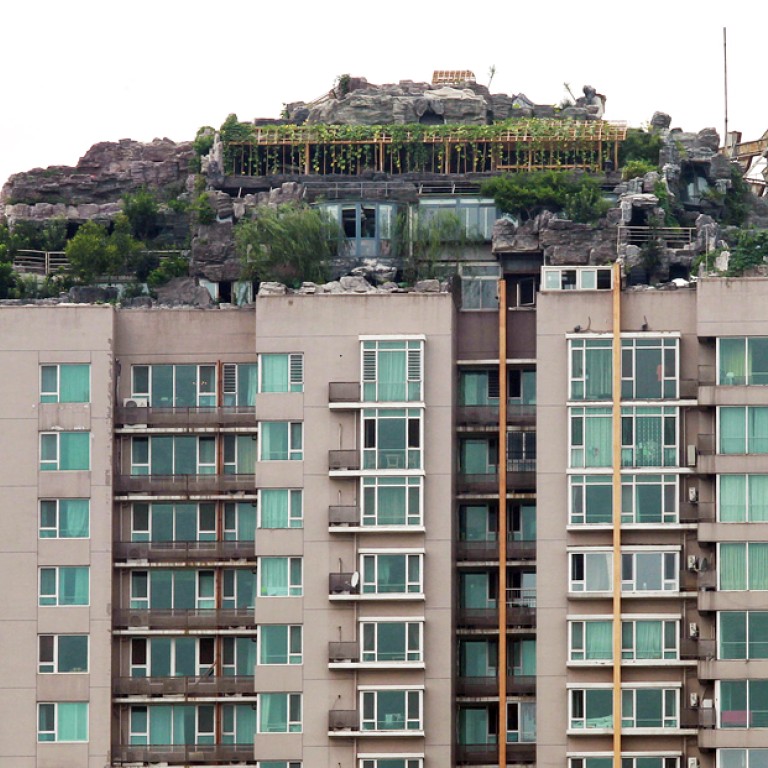 Update

|
Powerful Beijing doctor's illegal structure tops them all
Owner brushes off neighbours' complaints on bizarre rooftop addition
When it comes to illegal structures, a rooftop villa built by an eccentric Beijing resident on top of a 26-storey residential building puts
Henry Tang's wine cellar
to shame.
Beijing's chengguan, or urban management, officials on Monday issued an ultimatum to a former government advisor, demanding he tear down the sprawling structure that he had built over the last six years on top of his top-floor flat. The rooftop house features elaborate fake rocks, real trees and grass, and covers the entire top of the building. Parts of the structure look as if they could spill over the edge of the roof at any time.
The bizarre two-storey structure, located in a high-end residential compound called Park View in Beijing's Haidian district, an area of government institutions and universities, has bothered the building's residents for years. Local newspapers have identified the owner as Zhang Biqing, a doctor of traditional Chinese medicine and former member of a district People's Political Consultative Conference who owns a national chain of acupunture clinics.  
Disturbed by constant noise from heavy construction machinery working on the roof, water leaks and worried about structural damage to the whole building, neighbours have complained repeatedly to the building management company, local urban management officials and even the police. The new ultimatum, published Monday evening on many local news sites, urges the owner to dismantle the structure himself within 15 days. Failure to comply would result in forcible demolition, it says. 
When confronted earlier by reporters from local newspaper , Zhang, who sometimes identified himself as a professor, had said, "Since I dare to live here, I am not worried about complaints.
"Famous people come to my place and sing. How can you stop them?" the newspaper quoted him as saying about the noise at night.
Some neighbours who had complained over the years suffered harrassment and threats from the owner, Zhang Biqing, local newspapers have reported. One 77-year-old man was beaten up several times by Zhang and eventually forced to move, it was reported. Police didn't seem to have intervened. 
The community's property management office declined to comment and phone calls to the Haidian district urban management office went unanswered on Monday.
The "rooftop garden villa" might not be the only illegal construction in this community, Chinese netizens have found out.
A property agent posted photos of another apparently illegal rooftop house online in late 2011, featuring a blueprint of a three-storey structure with more than a dozen rooms and a bird's eye view of a nearby lake.
The structure, which the agent also called a "rooftop garden villa", had a total indoor area of more than 590 square metres and an asking price of 15 million yuan (HK$19 million).
When contacted by phone by the on Monday, Sun Jianchao, a Beijing real estate agent who posted the pictures, denied the structure in the pictures was the same one in the news this week, but declined to give more details.
Some Chinese netizens mocked the rooftop house. "Even the Hanging Gardens of Babylon are overshadowed by this hanging villa in Beijing," said one Weibo user.
Others were angry at the owner with one internet user saying, "How can this guy be a professor? He gained his happiness by torturing others." Many also expressed anger at the failure of chengguan officials, known for their thuggish, often brutal behaviour throughout the country while dealing with unlicensed street vendors, in enforcing the law on the rich and powerful.   
Almost all add-on structures or alterations to residential buildings are illegal in China. However, this hasn't stopped thousands of owners of top-floor or ground-floor properties from adding rooms, and even floors, to their homes, or encroaching into public space by putting up additional walls or fences.
This article appeared in the South China Morning Post print edition as: This illegal structure tops them all