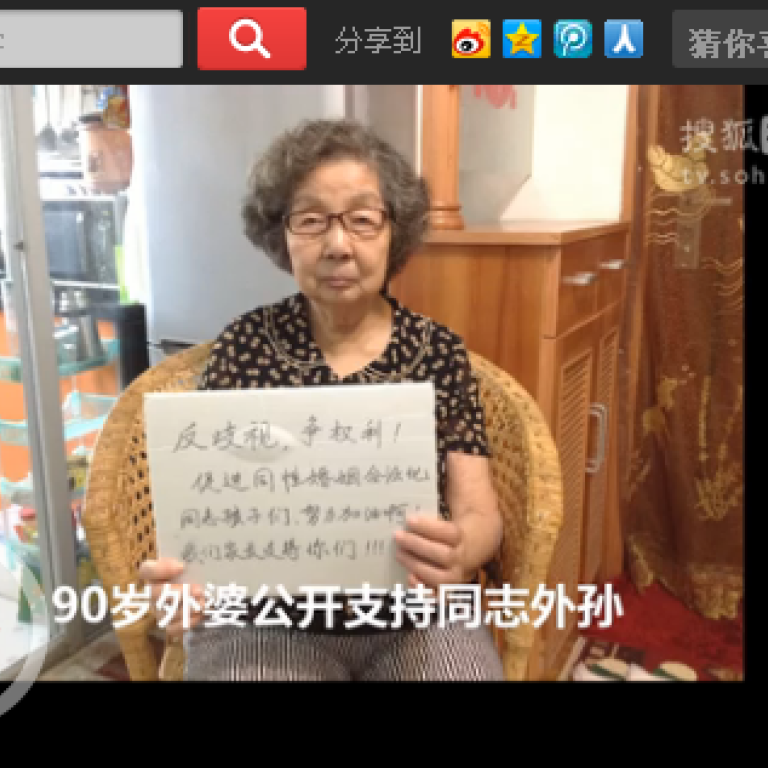 Elderly woman backing gay grandson is internet hit
Grandmum, 90, calls on government to allow same-sex marriages in video for rights group
A video of a 90-year-old Chinese grandmother unabashedly supporting her gay grandson has gone viral this week - leaving younger members of the nation's increasingly outspoken lesbian, gay, bisexual and transgender (LGBT) community in awe.
"I am 90-years old," said the grandmother, who was wearing a pair of brown-rimmed glasses. She spoke in the Fuzhou dialect while sitting on a wicker chair in her living room.
"My grandson is gay," she continued. "He is kind and mature. I hope he will find a boyfriend and live a happy life. And I hope our government supports him," she said.
The grandmother, looking calm throughout the recording, cemented her speech by  holding a cardboard placard that reads "we urge the legalisation of gay marriages".
"Mutou" [not his real name], a 28-year old engineer in Fuzhou, said he was completely swept  away by his fearless grandmother who had agreed to speak on camera.
"This means she will have to deal with lots of pressure from strangers and relatives," said Mutou, who revealed his sexuality to his parents last year. The elderly woman had been surprisngly supportive and understanding after Mutou's parents told her the news, he said. 
"She even tried to calm my parents - who were less accepting in the beginning - and asked them to take it easy," Mutou said. "She did it out of simple love."
The video, produced and shared online by  PFLAG (Parents, Families & Friends of Lesbians and Gays) China, a Guangzhou-based grass roots organisation that promotes LGBT rights and helps gay parents, was commented and re-posted hundreds of times a day after it was posted.
"I was raised up by my grandmother, and I know she understands me better than my parents," a microblogger wrote. Many others praised the courage and open-mindness of the elderly woman.
A Qiang, a worker at PFLAG, said many Chinese parents he works with have been adamant advocates of legalised gay marriage.
"Parents seem to care equal marriage rights even more than their children," he said. "They believe their children will better take care of the spouses if they are legally married."
In May, hundreds of  LGBT rights advocates across China
took to the street
to celebrate International Day Against Homophobia, Biphobia and Transphobia (IDAHOBIT),leading to several arrests.
This article appeared in the South China Morning Post print edition as: Support for gay grandson a viral hit