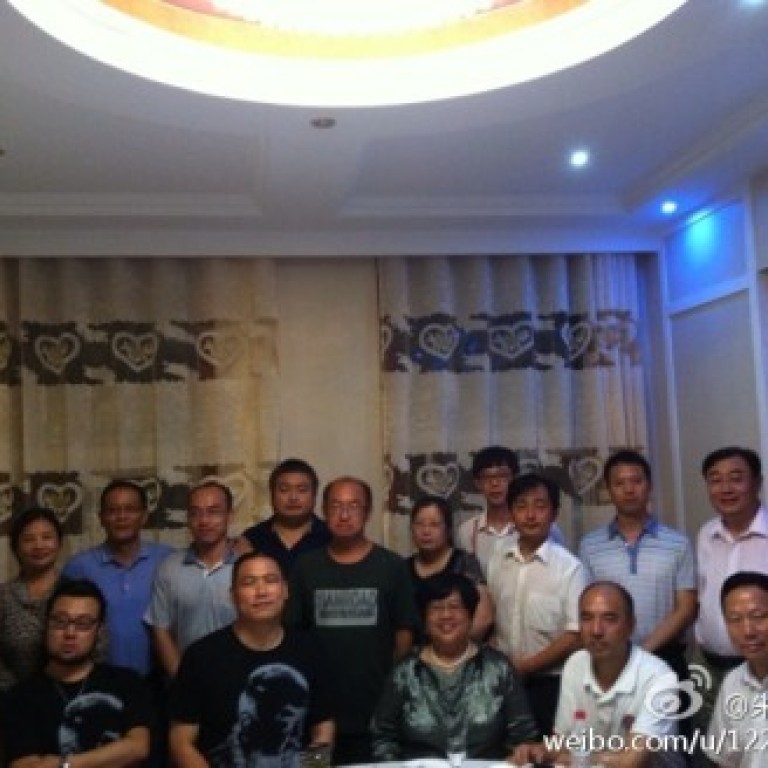 Lawyers challenge detention of journalist who opposed demolition of home
Police detained seven people in eastern China last week for protesting against the forced demolition of their family home. Their plight, similar to thousands of cases in the mainland every year, would normally not have attracted much attention.
But this time one of the protesters was journalist Chen Baocheng.
Chen works for prominent financial magazine which immediately issued a
statement
calling for his release. A week later, more than 20 activist lawyers, including Pu Zhiqiang and Si Weijiang, travelled to Chen's home village of Dinggouzi in Shandong province to represent his family.
Chen and six members of his clan were held on suspicion of "illegal detention" of a bulldozer driver near their village, whom they believed was about to destroy their family homes. Police say the villagers trapped the driver in his bulldozer for more than 25 hours at the weekend and doused him with petroleum, threatening to burn him alive if police or officials approached. Police freed the driver when they launched an assault on the villagers on Saturday, and arrested seven villagers including Chen. 
Chen's family claim that the standoff was the result of months of fruitless complaints against illegal seizure of their land, and continued harassment by thugs hired by developers and local government officials. They deny having detained the driver by force, and said the incident was an entrapment scheme to provoke them into breaking the law. 
Chen's case has become a cause celebre against involuntary land seizures, explained Pu Zhiqiang.
"His case is that of every single person in China," he said, speaking on the phone from nearby Pingdu, where police told Pu he could not see his client. "No matter where you are, your home can be destroyed," he warned.
Local governments are increasingly turning to real estate deals to fill their empty coffers, Amnesty International said in a
report
 on forced demolitions last year. "The pace of forced evictions in China has accelerated in part because local officials have a fiscal incentive to clear the land for development. Income from the sale of land rights comprises the single largest source of revenue for local governments."
The human rights group estimate that "thousands" face the type of forcible eviction which Chen's family experienced. Chen, his father and other relatives, stand accused of "illegally detaining" a demolition worker and threatening to set another one on fire with petrol.
On Thursday, Pingdu police rejected an application for bail, extending Chen's detention for another 30 days. Chi Susheng, the lawyer representing Chen's father, said she did not plan on leaving because support for them was increasing. "I've lost track of how many lawyers have come here. More are coming," said the former delegate to the National People's Congress.
The group hopes they can change the fate of Chen's family home, said Yuan Gulai, a renowned defence lawyer from Zhejiang. "They are convinced that a combination of lawyers, scholars and journalists can bring about justice," he
wrote on a microblog post
.