Bo Xilai
Get more with myNEWS
A personalised news feed of stories that matter to you
Learn more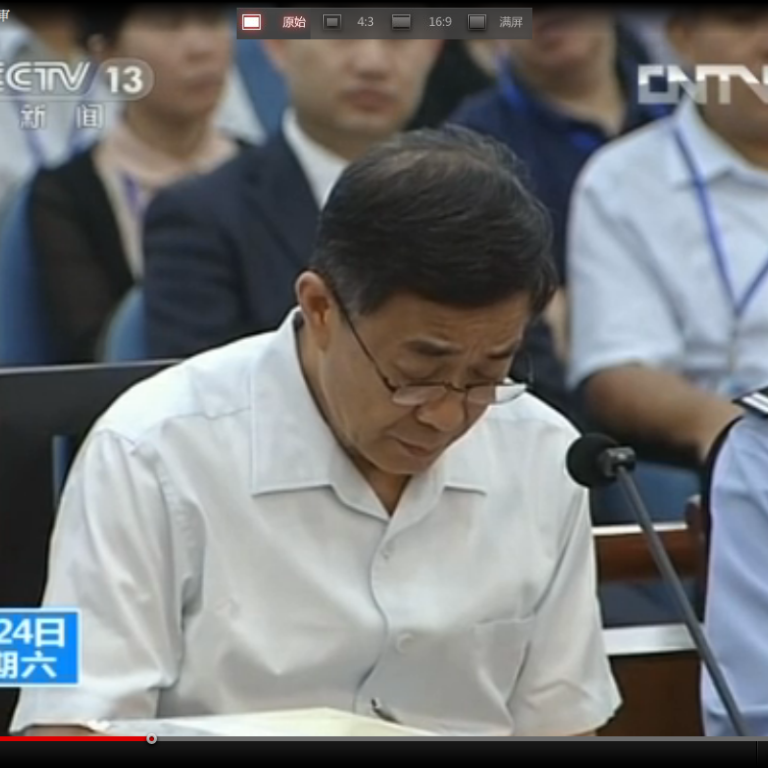 Bo Xilai's trial (day 3): Bo admits affair, faces former right-hand man Wang Lijun in court
Disgraced Chinese Communist party leader Bo Xilai, once expected by many to take a key leadership position in the leadership transition of 2012, is standing trial on charges of bribery, embezzlement and abuse of power in Jinan, the capital of Shandong province. 
8.40pm
Wang Lijun calls himself "a subordinate, a friend" and a "victim" of Bo's. While Bo cross-examined him, Wang said "You asked me to protect Guagua, you brought that up basically every week."
 "You told me, 'there is only this one person who looks decent and promising in my family,' " Wang told Bo during the cross-examination. 
At noontime on Nov. 14, 2011, Gu Kailai told him about murdering Neil Heywood, says Wang. It was the same day of Heywood's death. Heywood's body wasn't found until 26 hours later, on Nov. 15. The Chinese government refers to the case as the "11.15 Case" based on the date of Heywood's body's discovery. 
A month before Wang's confrontation with Bo on January 29, 2012, two of Wang's proteges in the police force, Wang Zhi and Wang Pengfei, had already been "investigated and hushed", Wang said. The two officers were involved in the investigation of Heywood's death. 
Wang Lijun said he learned that Wang Zhi, one of the officers, was summoned to Bo's home where senior police and city officials pressured him into writing a document saying that Gu Kailai was not involved in Heywood's murder.
During their famous confrontation on January 29, 2012, Bo started swearing at Wang "very vulgarly" as soon as he appeared at Bo's office, said Wang. Bo then walked around his desk and "punched me in the left ear," said Wang.
"I found the edge of my mouth bleeding and liquid dripping out of my ear," Wang said.
"I told him very calmly that he needed to face the matter," Wang said.
Bo then picked up his glass and smashed it on the floor, and said he absolutely could not accept it. 
After that, Bo had wanted to come over and "inflict more violence," said Wang, but was blocked by Wu, a senior Chongqing government official and Bo's former secretary. 
When asked by the prosecutor under what circumstances he went into the US consulate in Chengdu, Wang said,
"It was very dangerous at the time. First I suffered violence, and then staff close to me and investigators in the [murder] case disappeared."
7.20pm Few sparks as Bo questions Wang, in court as a witness, presumably for the first time since February 2012. The conversation between the princeling and his former right-hand man, according to court transcripts posted so far after the court adjourned for the day, appears calm and focused on facts and details.
Timeline according to Bo's testimony:
November 14, 2011: Neil Heywood dies in Chongqing. 
January 28, 2012: Wang Lijun informs Bo about Heywood's death and rumours of Gu Kailai's involvement. Bo confronts Gu. Gu shows him Heywood's death certificate, convinces him of her innocence.
January 29, 2012: Bo confronts Wang in his office, slaps him in front of other officials, decides to relieve him of his police duties. Wang had previously complained of ill health and work-related stress. 
February 2, 2012: Bo officially strips Wang of his duties as Chongqing's police chief. 
February 6, 2012: Wang Lijun drives to Chengdu, enters the US consulate and asks for political asylum. Bo learns about Wang's defection around midnight. 
6:30pm: The court rests until Sunday, 8:30am. 
6.28pm: Bo said that he dismissed Wang as police chief on February 2, 2012. 
6.26pm: On January 29, Bo confronted Wang and, assuming Wang was framing Gu, slapped him in front of other officials. Bo said that he decided later that day to relieve Wang of his heavy workload, because he had previously complained about fatigue and work-related stress. 
6.15pm: "I thought Gu Kailai is a fragile woman, she could not kill, and her relationship with Wang Lijun was very good, how could such an issue suddenly come to light?", Bo wondered on January 29, according to testimony given in court. 
6.10pm: According to Bo's testimony, Gu Kailai was furious when Bo confronted her with allegations of her involvement in Heywood's death. Gu reportedly said that Wang was framing her and showed Bo Heywood's death certificate, which stated that he died of a heart attack brought on by excessive alcohol consumption and featured Heywood's widow's signature. 
6.05pm: According to Bo's testimony, he was informed of Neil Heywood's death on January 28, 2012 upon his return to Chongqing by Wang Lijun. In a first meeting in the morning, Wang told him that some people say that Heywood's death was related to Gu Kailai. In a further meeting in the evening, "he talked about some issues regarding Gu Kailai".
6.01pm: Bo says he is ready to assume partial responsibility for Wang's attempted defection to the US consulate in Chengdu in February last year. He admits to slapping Wang. Bo denies, however, having abused his powers as Chongqing party secretary to protect Gu Kailai, to provide false evidence, to forge a medical certificate and to order the Weibo post which announced Wang Lijun's placement under "vacation-style medical treatment". 
5.58pm: "Gu convinced me she didn't murder Heywood," Bo Xilai tells the court. 
5.52pm: Court releases transcript. Details soon.
As we are waiting for transcripts of Wang Lijun's testimony, read up on our previous coverage of the disgraced Chongqing police chief who sought political asylum at the US consulate in Chengdu last year and triggered Bo's spectacular downfall.
4.59pm: Li Wangbin, the deputy head of the
People's Daily
's Shanghai branch, compares the trial to the Gang of Four trial in 1980 in a
commentary for the Xinmin Evening News
released this afternoon. 
4.23pm: Court says former Chongqing deputy mayor and police chief Wang Lijun is currently testifying. Wang Lijun was sentenced to 15 years in prison last September on charges of "bending the law for selfish ends", defection, abuse of power and bribe-taking.
4.21pm: The court has yet to release transcripts on the abuse of power charges.
4.20pm: The prosecution cites the testimony of Zhao Dongping, a lawyer with Gu Kailai's Angdao law firm and Gu's confidant: Zhao said he notified Gu Kailai in 2005 that he had received the entire amount of five million yuan. He said he knew that the money was not his, but belonged to the Bo family. He said he managed the funds until they were seized during the investigation prior to the process. 
4.08pm: The court releases a new transcript. Details soon. 
3.53pm: The hearing resumes. 
3.34pm: The court rests for 15 minutes. 
As we wait for further transcripts, revisit an interview Bo Guagua gave in Chinese language to Phoenix TV anchor Lu Yu in August 2009. 
3.01pm: Mexico's ambassador to China, Jorge Guajardo, on his meeting with Bo Xilai:
2.50pm: The court moves on to hear testimony on the charges of abuse of power, it says in a microblog post.  
2.31pm: The court has resumed the hearing shortly after 2pm. 
2.26pm: Bo tells the court that Gu Kailai reacted angrily when she learnt about an affair he had in the late 1990s. He said this revelation made her move to Britain with their son Guagua. 
2.19pm: Bo tells presiding judge Wang: "I feel for Gu Kailai. She is a relatively weak woman. [... As she had been charged with murder] plus her economic situation [graft charges] ... she would certainly die [get the death penalty], but by telling on someone else she could soon get out. Who could she accuse? [This is why] all the accusations against me come from Gu Kailai."
2.11pm: Bo tells the court that when Gu moved to Britain she did not live in poverty. By the time, she had assets worth at least 20-30 million yuan, he said. 
2.05pm: Court releases a new transcript. Updates soon. 
As we wait for further transcripts, revisit a taped statement by Patrick Devillers, a former accomplice of Gu Kailai, given to Cambodia's National Police in July 2012 before he left the country's capital Phnom Penh for Shanghai to testify for Gu's trial one month later. Devillers is seen passing Cambodian customs at the end of the the video clip released by the country's police. Devillers said that he was leaving Cambodia of his free will to "cooperate in the inquiry into Gu Kailai". The French trained architect later returned to Cambodia. 
1.21pm: The nationalist daily
Global Times
publishes an
editorial
 praising the court's apparent transparency: "Besides assuring a fair trial for Bo's case, the Weibo live feed has also convinced more people about China's sincere desire to improve the rule of law."
As we wait for further transcripts, revisit Bo Xilai's last public speech in March 2012 before he was placed under shuanggui, a form of detention exercised by Communist Party anti-corruption investigators. He accused unspecified people of "pouring filth" over his wife and son Guagua, denying any wrongdoing. 
12.57pm: The person surnamed Zhao is identified as Zhao Dongping in state media reports. Earlier updates have been changed accordingly. 
As we wait for further transcripts, revisit a speech former US Secretary of State Henry Kissinger gave in June 2011 at one of Bo's "red" mass rallies. Li Changchun, a now retired Politburo Standing Committee member, sent a congratulatory note, according to the news report. 
12.35pm: The prosecution cites Bo's earlier testimony from April 2013 on the matter. According to the testimony, Bo said he had lacked time in 2002 to deal with the surplus funds. Wang suggested to discuss the matter with Gu Kailai and Bo said that he agreed with Wang's suggestion. Bo said that he regretted that decision, according to the testimony given in April.  
12.31pm: Zhao Dongping said that he also managed an unspecified amount of other funds for the Bo family. 
12.29pm: The court produces testimony by Zhao Dongping according to which Gu instructed Dong to hold the funds for the Bo family. 
12.24pm: According to Gu Kailai's written testimony, Zhao Dongping facilitated the transfer of the five million yuan. Zhao was "very reliable" and a primary school classmate of Bo Xilai. 
12.19pm: The court releases another transcript. Details soon. 
12.13pm: Key points from the noon press conference:
1. The court has reviewed audiovisual testimony of Gu Kailai.
2. Wang Zhenggang was cross-examined for almost one hour.
3. Bo Xilai is emotionally stable, his health is normal.
12.06pm: In an
article published on Friday
, Peking University lecturer Gong Xiangtian, argues that it will be difficult to convict Bo Xilai based on the evidence so far presented to the court.The article appeared on Collective Economy Net, a Neo-Marxist platform. 
As we wait for further transcripts, read up on news reports on the financial situation of President Xi Jinping's family and former Premier Wen Jiabao's family. Bo's two sons are not the only children of senior party officials to study abroad. Xi's daughter Mingze is understood to be studying at Harvard University under an alias. Retired Politburo member Wu Bangguo's son Wu Lei reportedly also studied in the US. 
11.48am: Wang's statement was given to the court before it went into its mid-morning break, according to the transcript. 
11.43am: Court releases further testimony by Bo: "Those who know me well know that when they talk to me I ask them first to switch off their mobile phones, I am a rather cautious person." 
11.36am: The court rests until 2pm. Media will be briefed at the nearby Jihua Hotel soon. 
11.33am: Bo continues: "Furthermore, Gu Kailai's income situation was very good, Gu Kailai has testified that she had a total of five law firm branch offices, the economic situation was very good. Gu Kailai also told me that Guagua was an exceptional [student] and held scholarships. What reason did I have to worry about them enduring any hardship?"
11.28am: Bo questions the prosecution's witness Wang Zhenggang. Bo dismisses his testimony as contradictory and irrational. Bo mentions his first son, Li Wangzhi, for the first time in the trial in an effort to deflect accusations of taking money to finance his second son Guagua's studies overseas. "My first son also studied abroad, I never cared whether he had to endure hardship," Bo said according to the transcript.  
11.18am: The court releases a new transcript. 
11.17am: Bo Xilai is seen taking notes on the third day of his trial in a short news report on national television earlier today. 
11.01am: Read our own Alex Lo's take on the trial:
No Darkness at Noon in Jinan
. The article was first published in today's 
South China Morning Post.
10.52am: Cheng Li, director of research at the John L. Thornton China Cente 
tells CNN
: "There's a lot of praise in Chinese social media for the judge for his professional manner, but the prosecutors are terrible. Bo has rejected virtually everything in a very effective way. But that means even the leadership can't rely too much on the promises or deals made by Bo."
10.46am: Widespread speculation over the exotic piece of meat Bo Guagua brought his parents from Africa inspired one seller on Taobao, China's largest e-commerce platform, to set up a
store for "Guagua South African dried meat
". The store features photos of South African biltong, dried meat similar to Inner Mongolia's
niurougan, 
and a series of comical puns on Gu Kailai's testimony presented to the court on Friday. The store does not actually sell biltong.
10.19am: The court resumes the hearing. 
10.08am: Bo's lawyer questions Wang, has him repeat his earlier testimony. Wang said that he had met Bo twice and Gu once in the matter of the state funding provided for the classified project. 
10.06am: Court releases transcripts. 
9.56am: The court rests for 15 minutes. It has so far not released a transcript of today's proceedings. 
9.49am: An article from 2009 published by the Hualong news portal has
resurfaced
and is being shared thousands of times on Chinese microblogs. The article is a eulogy on Bo Guagua's successful academic career in Britain praising him as the embodiment of "socialist core values". Netizens have noticed that the article quoted a certain Neil Heywood identifying him as "a BBC commentator". Hualong is run by the Chongqing municipal party committee, which at the time was headed by Bo Xilai. Bo's wife Gu Kailai was given a suspended death sentence last year for murdering Heywood.  
9.30am: Human rights activist Huang Qi says at least 24 supporters of Bo Xilai have been detained outside the courthouse since the beginning of the trial: at least 15 on Friday and nine on Thursday. Huang said he believed that more people have been detained. Tight security measures in Jinan made it difficult to collect information there, he added.  
A song composed for Bo Xilai by supporters Meng Fanxiao and Li Lei in 2009 praising his anti-corruption and crime campaign in Chongqing: 
8.59am: Wang continues his testimony, the court says.  
8.50am: The court yesterday afternoon heard the testimony of Wang Zhenggang on the embezzlement charges, according to a transcript released in the evening. According to Wang's testimony, Bo instructed him in August 2000 to channel state funds provided for a classified project to a company in Dalian, which then remitted the funds to a law firm in Beijing with ties to Bo's wife Gu Kailai. Wang served as a land administration official in Dalian at the time and continues to serve in a higher position in the Liaoning provincial administration. 
8.41am: The court continues looking into testimony on the charges of embezzlement of five million yuan.
8.40am: Day 3 of Bo Xilai's trial has begun, the court says in a microblog post. 
8.35am: China Central Television footage of Friday's testimony. 
8.30am: Bo Xilai's trial is scheduled to resume at the Jinan Intermediate People's Court at 8.30am in Shandong provincial capital.
8.20am: In a municipal party meeting, Bo's successor as Chongqing party secretary, Sun Zhengcai, stresses allegiance to President Xi Jinping, pledges to purge corruption and allow criticism, the city's official newspaper
Chongqing Daily reports
. The newspaper carries the Xinhua report on the second day of the trial on its second page. 
Map: Bo Xilai's career moves and the family's known properties