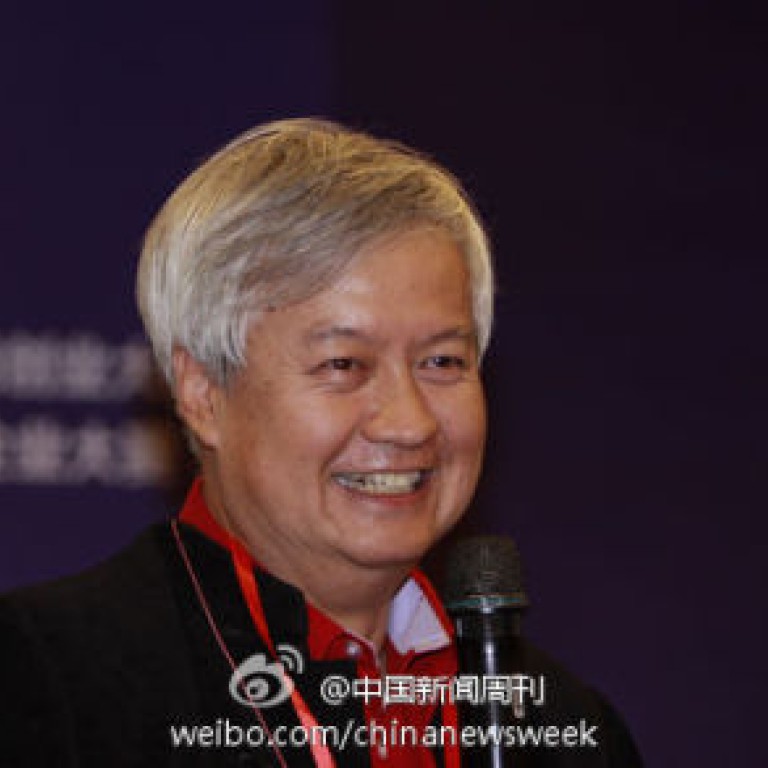 Update

|
Outspoken Chinese American investor Charles Xue detained in Beijing 'prostitution bust'
Famous Chinese-American angel investor and social media celebrity Charles Xue has been detained in Beijing for suspected involvement in prostitution, the Beijing police said on Sunday. 
After a tip-off from local residents, officers from the Chaoyang District police department captured Xue, 60, along with a 22-year-old woman from Henan Province in a residential compound in northern Beijing, said a post on Beijing's police official Weibo social media account.
"After questioning, the duo confessed to facts of involvement in prostitution. The police department has by law placed the two under administrative detention," the post said. 
Xue, the son of a former deputy mayor of Beijing and a naturalised American citizen, is one of the most prominent figures in the Chinese internet industry and co-founder of telecoms firm UT Starcom. He has invested in many Chinese internet startup firms. 
Xue, better known in China by his Chinese alias Xue Manzi, is also one of the most prominent liberal voices on Chinese social media, with a following of more than 12 million on the popular social media platform Sina Weibo. An avid social media user who posts dozens of messages per day, he last updated his weibo at 5.41pm on Friday, just an hour and a half before his alleged detention. 
Xue's mobile phone was switched off on Sunday. A spokesperson at the US embassy in Beijing was not available for comment on Sunday morning. Calls to the press office of Beijing's Chaoyang district police department were not answered. 
According to Chinese law, "administrative detention" is a penalty meted out by police without court review for minor offences. Detentions normally last up to 15 days, but can be converted to "criminal detention" which would lead to a criminal investigation, prosecution by state procurators and a trial. 
The alleged detention occurred just two days after
Xue was named in official newspapers
as having links with a "online rumour-monger" arrested for "stirring trouble" and "operating an illegal business". 
The Beijing Times reported that Xue had invested in a company where one of the suspected "rumour-mongers", Qin Zhihui, was previously employed. Xue has since denied having any links with Qin on his weibo microblog. 
Along with other outspoken public figures such as internet entrepreneur Kai-fu Lee, economist Mao Yushi, venture capitalist Wang Gongquan and lawyer Pu Zhiqiang, the silver-haired Xue is routinely branded by online conservatives, and sometimes official newspapers like the Global Times, as "slaves of hostile Western forces" that seek to undermine the rule of the Communist Party by calling for political reforms. 
In the last few years, Xue also gained popularity for starting or promoting some public-good projects such as an online campaign to battle child trafficking, and another one to raise lunch money for school children in underdeveloped regions.  
Three weeks ago, Xue had received a mild warning from one of China's top censors. Lu Wei, head of the State Internet Information Office,
told a group of social media celebrities
including Xue to keep their online comments "more positive" at a forum in Beijing in early August. 
At the televised forum, Lu said it was the civic responsibility of influential social media commentators to "deliver more positive and constructive messages" and "promote virtue and trust" with their comments.
Xue's detention quickly became the top topic of heated online discussion on Sunday, eclipsing the ongoing trial for former Chongqing Party secretary Bo Xilai. Many commentators expressed sympathy for Xue, saying they suspected the prostitution bust was an entrapment scheme devised by the authorities to discredit and intimidate leading liberals. 
Others say the recent campaign against "online rumours" and liberals is part of a balancing act by the leadership as the Party put Bo, a top icon of Party conservatives, on trial for corruption and abuse of power. 
In an odd twist to the story, Hu Xijin, the editor-in-chief of conservative Party paper Global Times who has been highly critical of liberal commentators like Xue, chimed in with some unflattering comments on the authorities. 
"It cannot be ruled out that the authorities were using the prostitution charge to frame Xue Manzi," Hu wrote on his weibo microblog at noon. "It is a universal ruse by governments around the world to use sex scandals or tax evasion charges to frame political rivals."
Hu went on to warn political dissidents in China to "keep their bottom clean" or "you would mess up sooner or later."
"I would also urge the government to make sure the evidence they gather must be accurate, and the procedure flawless, or you would get the exact opposite result."
Hu's post was later deleted from his Weibo.