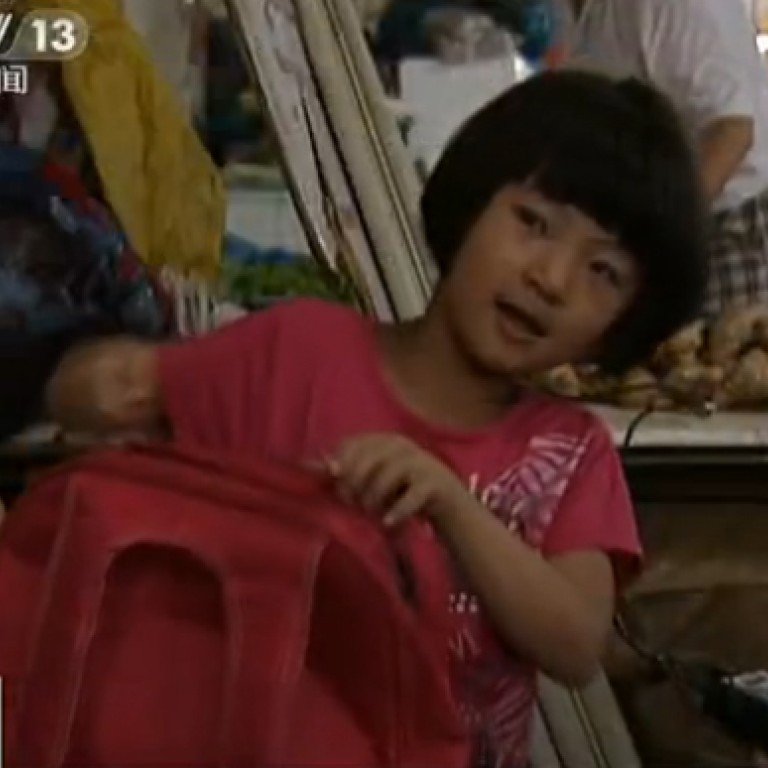 School place for migrant pupil sparks 'locust' row in Shanghai
Some Shanghai residents even accused six-year-old of wasting school resources
Shanghai, a city constantly being
compared with Hong Kong,
 last week experienced its own version of the "local schools for local children" controversy.
Shanghai residents, many of whom are also parents, were angered when Diao Qianwen, a six-year-old girl living with migrant worker grandparents in a wet market, was finally allowed to enroll in a local primary school
after her plight was aired on a state TV news show.
Some angry Shanghainese even copied their Hong Kong counterparts and called Qianwen a little "locust".
The girl, originally from Shandong, has been raised by her grandparents, who work as vegetable vendors in a local market. Her mother had abandoned her at birth and  her father is serving a sentence in a Shandong jail, according to reports.
Diao had been turned down by local schools prior to the show. Besides lacking official papers to prove they were the girl's "legal guardians", schools say the elderly couple had not been contributing to the city's social security fund - a prerequisite for all new pupils. Her grandparents, after reaching a dead end, grew demoralised as the new semester approached.
The little girl's fate changed after a state TV reporter found her while visiting a market, and decided to report her story. This apparently worked miracles, allowing her grandparents to revisit schools and government offices-accompanied by the TV crew. People were now more sympathetic and the rules were bent. In the end, the six-year-old was told she could now attend the school.
Yet this "happy ending" failed to please many Shanghainese - who say they are concerned about their own children.
Among other accusations, locals say rules were trampled on to secure Diao a place in the school - contrary to Shanghai's strict rule-of-law spirit.
On top of that, the little girl is accused of using educational resources intended for Shanghai's own children - many of whom already have a hard time getting a school seat.
"I do feel sympathetic for her, but our own children will have no place to go," a Shanghai native commented on Weibo, "What happens after this? Millions of out-of-city children will want to go to school in Shanghai, and they will have all kinds of excuses."
"Schools and kindergartens have become more crowded in recent years," another parent complained," And their quality keeps sliding."
The opinion was echoed by many others who suggested Diao return to her hometown for her schooling.
Critics of the "regionalists" have entered the debate, urging people to consider important contributions made by migrant workers.
"Diao's grandfather is not a burden on Shanghai,"
 wrote Lu Ning
, a columnist of Shanghai's
Oriental Morning News
. "He works with millions of other migrants to help bring food to our tables."
Even President Xi Jinping has encouraged Shanghai to be more open-minded and inclusive, Lu said, referring to a speech Xi gave in 2007 when he was appointed as the city's then party chief.
People's Daily, while admitting the shortcomings of current "hukou" school system in a commentary, has called the online slurs a "disgrace"."
"If education doesn't fill gaps but instead increases them," Zhan told the Beijing Times in an interview in December, "that just compounds the injustice."
Read more SCMP China Insider stories written by Amy Li or follow her on Twitter