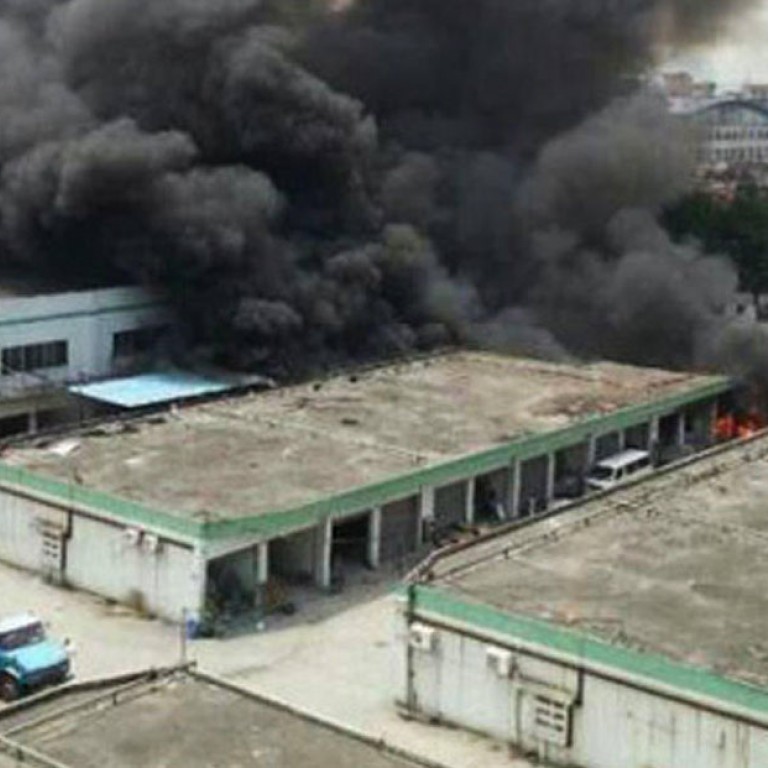 Update

|
Four killed in huge Guangzhou warehouse explosion
A powerful explosion struck a warehouse in Guangzhou, Guangdong province at noon on Tuesday, killing at least four people, injuring 36 and starting a big fire, according to media reports.
Four people have been killed and at least 36 injured in explosions that caused a major fire in a Guangzhou warehouse.
The blasts may have been triggered by chemicals being transferred from a container truck to the building, but this has not been confirmed, state media reported yesterday.
Three powerful explosions occurred around noon in a roadside building near the intersection of Xicha Road and Ezhangtan Street in Baiyun district, breaking windows in a nearby shopping mall.
Four bodies were found, and initial investigations showed two of them might be the truck driver and the owner of the goods, the reported on its Sina Weibo microblog.
Of the 36 injured, one was seriously hurt, Xinhua said.
The fire was put out in the early afternoon, though thick smoke was still pouring out two hours after the blast.
Roads in the area were cordoned off to make way for about 110 firefighters, causing traffic jams, the Guangzhou fire services said on their microblog account.
Photos circulated on the internet show debris and glass from broken windows scattered across a two-lane road and smoke rising more than 100 metres from a low-rise building.
Grisly pictures put online show what appear to be a scorched limb and a body cut in half. The blogger who uploaded the photos said the power of the explosions sent the body parts on to a pedestrian walkway across the street from the damaged building.
"I'm very frightened. So very frightened," one witness said on her Weibo account. "Three loud blasts and there was black smoke everywhere."
A woman cleaner told CCTV: "I was collecting garbage with others when I heard a bang. I was shocked and felt dizzy." She was sent to a hospital nearby.
Another witness, who was unhurt, said the ceilings and windows of the building near where he worked were damaged. "We thought it was an earthquake and ran outside," he said.
This article appeared in the South China Morning Post print edition as: Four killed in huge Guangzhou blast