Bo Xilai
Get more with myNEWS
A personalised news feed of stories that matter to you
Learn more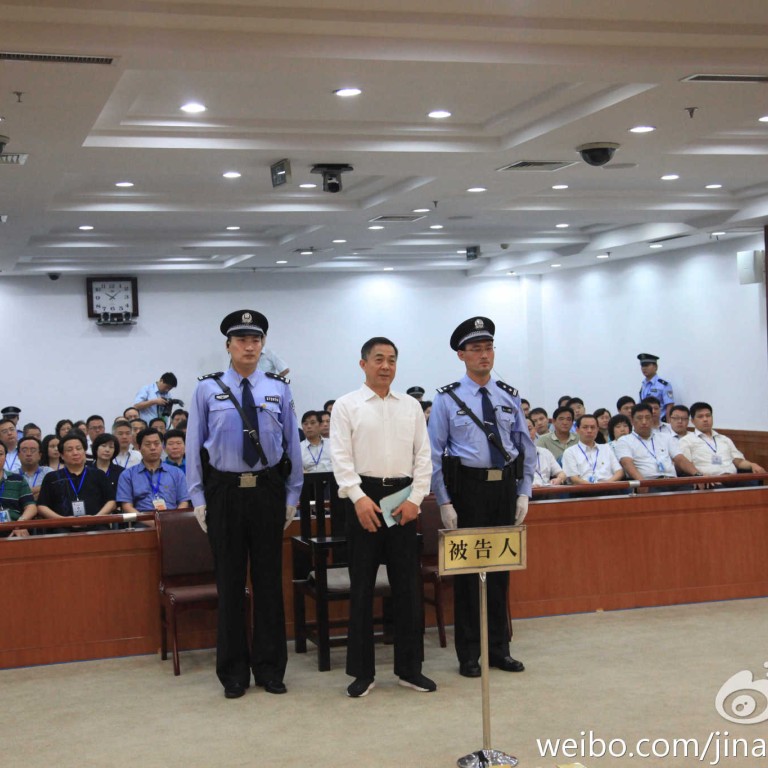 Interactive

|
Bo Xilai sentenced to life imprisonment
A harsher than expected verdict in the corruption trial of former Communist Party leader Bo Xilai has been announced this morning.
Summary
Bribery: Life imprisonment (minimum 10 years, maximum execution)
Embezzlement: 15 years in prison (minimum 10 years, maximum execution)
Abuse of power: Seven years in prison (maximum sentence)
Video: Bo Xilai sentencing with translation
Our poll
Reactions online
Liu Xiaoyuan: "It's not bad to retire at the Qincheng prison. If Ji Zhongxing could be sent there, I'm confident many people would support a severe sentence," writes Ji's lawyer. Liu is defending the long-time petitioner,

who detonated a bomb last month at the Beijing airport

. 
Li Fangping: Depriving Bo of political rights is "bulls***", rants the outspoken lawyer, comparing the case to that of Liu Ping, the New Citizen Movement activist awaiting trial on charges of illegal assembly. 
Tong Zhiwei: The court has given Bo a lenient sentence, given the fact that he had not admitted guilt, argues the constitutional law professor from the East China University of Politics and Law in Shanghai. 
Jiang Ping: The criminal case has not dealt with the crimes Bo committed during his extra-legal crackdown on organized crime in Chongqing, writes the legal scholar and former president of the China University of Politics and Law in Beijing.   
Qu Fei: "This sentence is harsher than I expected", writes historian. 
Human Rights Watch: "Today's verdict is designed to allow the Party to turn a particularly unflattering page of its history. This is why even if Bo appeals his sentence, it's unlikely he'll be given another chance to defend himself in public. Far from representing legal progress in China, Bo's trial has confirmed once more that in the eyes of the Party, the law remains a tool of control,"

writes Nicholas Bequelin

, a senior researcher for the US-based organization. 
12.58pm: The court specifies in its ruling that the prosecution could not prove bribes of 1.34 million yuan (HK$1.7 million). These were flight tickets allegedy paid for Bo's son Guagua by businessman Xu Ming. 
12.52pm: The court issues a statement explaining why the judgement is dated Saturday, September 21, specifying that the panel of judges made their ruling on that day. It said the court had five days to notify the defendant and make the ruling public. 
11.51am: Starting Monday, Bo will have ten days to file an appeal to the sentence. 
10.58am: Bo Xilai is escorted out of the courtroom. 
10.56am: Bo sentenced to life imprisonment, seizure of all financial assets. Bo is also deprived of political rights for life. 
10.52am: The court rejects the defence's reasoning that Bo did not abuse his powers as Chongqing Party Secretary to cover up the murder of Neil Heywood by his wife Gu Kailai. 
10.47am: The court rejects the defence's arguments, says evidence shows Bo had "subjective intent" to commit bribery and embezzlement. 
10.41am: "This highly centralized system with no constraints on power" has "created Bo" and his "inflated ego", writes legal scholar Yang Junfeng on weibo. 
10.33am: The court rejects the defence's argument that Gu Kailai's testimony is inadmissible due to mental illness. The court says the testimony by Xu Ming, Tang Xiaolin, Wang Zhenggang, Wu Wenkang and Wang Lijun have been corroborated sufficiently by evidence. 
10.27am: The court rejects the defence's argument that Bo's earlier testimony was given under duress. 
10.23am: The court releases a third part of the sentence, reiterates the charges of abuse of power.
10.22am: The court releases a second part of the sentence, reiterates the charges of embezzlement.
10.20am: The court releases the first part of the sentence, reiterates the charges of bribery made by the prosecution. 
10.10am: The court has blocked comments on its weibo updates. It has yet to publish the sentence. 
10.09am: The presiding judge reads the sentence. 
10.08am: Bo Xilai is escorted into the court room. 
10.00am: The audience is going through security checks, the court says in a weibo post. Three family members, 22 reporters and 89 people "from all walks of life" are witnessing the sentencing. 
9.51am: Lawyer and long-time Bo opponent Li Zhuang says he expects a sentence of 15 years in prison, "he won't be beheaded", according to a weibo post. Li writes Bo deserves a heavier sentence than his wife Gu Kailai, because he covered up her crime. Li praises the trial from a formal standpoint, but says that it has failed to expose the whole truth. 
9.41am: The Shenzhen-based Hong Kong Commercial Daily says Bo is likely to serve his sentence at the Beijing Qincheng Prison, a maximum security facility in the Changping district, where Wang Lijun is also serving his sentence and Bo's father was incarcerated during the Cultural Revolution. 
9.38am: Bo Xilai arrives at the Jinan Intermediate People's Court.
9.08am: Over the last weeks, the Jinan Intermediate People's Court has posted a series of quotes by renowned legal scholars and philosophers on its Sina Weibo account. In its last post on Saturday afternoon, the court quoted the judgement of a landmark British trial from 1924, Rex v Sussex Justices.
"It is not merely of some importance but is of fundamental importance, that justice should not only be done, but should manifestly and undoubtedly be seen to be done."
9.06am: Police presence in Jinan is heavier today than during the trial in August with visibly more police units patrolling the area surrounding the Jinan Intermediate People's Court. 
8.45am: No mention of Bo's trial on the frontpages of state-run newspapers. The Chongqing Daily does not mention the trial in its Sunday edition. 
What to expect - a review of previous high-level sentences:
Bo's wife Gu Kailai received a suspended death sentence for the murder of Neil Heywood in August last year. Zhang Xiaojun, her aide, was sentenced to nine years in prison for procuring the poison.
Former Chongqing police chief Wang Lijun was sentenced to 15 years in prison and deprived of his political rights for one year for "bending the law for selfish ends", defection, abuse of power and bribe-taking in September last year.
Mao Zedong's wife Jiang Qing was given a suspended death sentence on counterrevolutionary charges in 1980. Former Shanghai Party Secretary Chen Liangyu was sentenced to 18 years in prison on charges of bribery and abuse of power in 2008. Former mayor of Beijing Chen Xitong was sentenced to 16 years in prison on charges of corruption and dereliction of duty in July 1998.
Key players in Bo Xilai's trial:
Trial highlights:
The court shares the first photo of Bo Xilai since his last public appearance during the National People's Congress in March 2012:
Former co-worker Tang Xiaolin's videotaped testimony screened in court:
Former Dalian Shide Group Chairman Xu Ming's testimony in court. In 2005, he was China's eighth-richest man. Weibo react to the visible loss of weight since his disappearance with a joke: "Want to lose weight, go see the Central Discipline Inspection Commission".
Gu Kailai's taped testimony:
Former Chongqing Deputy Mayor Wang Lijun's testimony in court:
Court deletes "superior orders" mention from a statement by the prosecution:
Defendant Bo Xilai ignored the facts in court, made unreasonable excuses in an attempt to confuse and mislead. For example, in the question of agreeing to issue a forged medical certificate for Wang Lijun, Bo Xilai repeatedly emphasised that this was based on superior orders. But as the evidence in the case shows, Bo Xilai's approval of the forged medical certificate was given earlier, and the mentioned six-item orders from above followed later, moreover, these instructions did not include forging a medical certificate. Bo's defense mentioned above is an attempt to repudiate the truth in an effort to shirk responsibility.
Bo's final statement to the court:
On the prosecution
"I think, the investigating organs' staff has put a lot of effort into finding ample evidence, they have compiled 90 volumes, I respect their work, this indeed is a vast and complex case, but how many of these 90 volumes have anything to do with me?"
On Gu Kailai
"I feel for Gu Kailai. She is a relatively weak woman. [... As she had been charged with murder] plus her economic situation [graft charges] ... she would certainly die [get the death penalty], but by telling on someone else she could soon get out. Who could she accuse? [This is why] all the accusations against me come from Gu Kailai."
On Wang Lijun
"The real reason, as Wang has confessed himself, is that he had hidden feelings for Gu Kailai. He was consumed with these feelings and couldn't control himself. He had also confessed to Gu Kailai, he said so in his letter to Gu Kailai."
"He knows my personality. He invaded my family, invaded my basic emotions. This is the real reason he defected. Wang Lijun wants to muddy up the water."
Bo Xilai's family members in court during the trial
A graft probe into former Politburo Standing Committee member Zhou Yongkang has been linked to Bo Xilai:

details here

.
Career moves and known property of the Bo family: