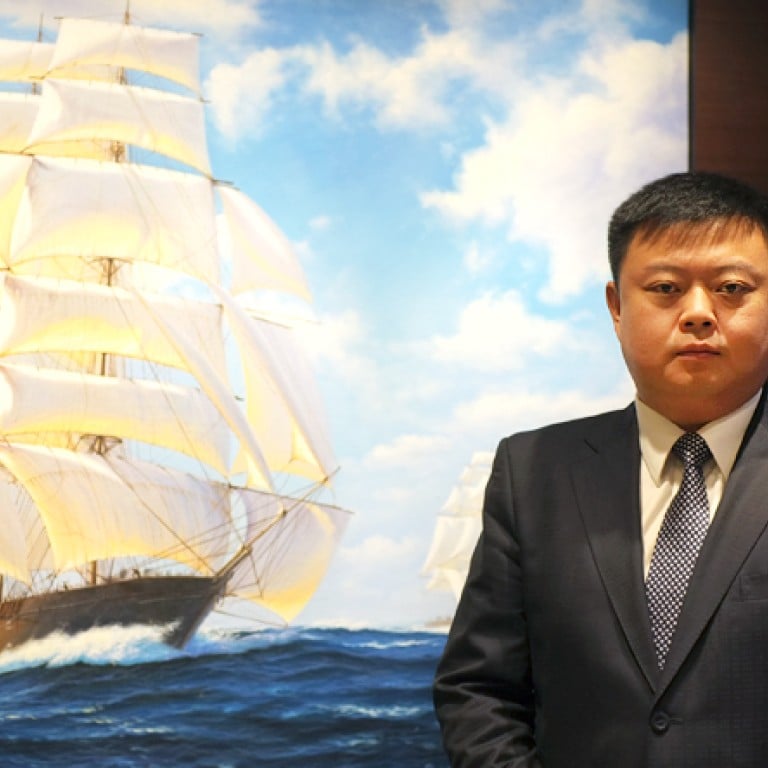 Exclusive
Interview: HKND chairman Wang Jing aims to keep politics out of controversial canal
Nicaragua's planned alternative to the Panama Canal just got a boost in popularity as a delighted Nicaraguan delegation left Hong Kong after visiting the canal's architects at China Railway Construction Corporation on the mainland and in Hong Kong.
The canal is by no means uncontroversial. The US$40 billion (HK$310 billion) project, the world's largest in civil engineering, has led to street protests in the capital Managua. The Nicaraguan constitutional court is also currently reviewing a challenge to the project by indigenous and creole groups, who say their autonomy is being violated. Western scholars have dismissed the project as Beijing's back-door plan to make Nicaragua, an ally of Taiwan, switch allegiance to the mainland.
Wang Jing, the chairman of HKND, the Hong Kong-based company tasked with planning, building and operating the canal, sat down with the in his office overseeing Victoria Harbour on Sunday to clarify the purpose of the high-profile delegation and the progress in the construction project.
What is the significance of this visit on a national level?
I think you are asking the wrong person as the two countries don't have diplomatic relations. Only the governments of China and Nicaragua have the authority to answer your question. I am only in charge of a company, I have no authority to represent [the governments] or assess the canal's significance for the nation.
Would you welcome the establishment of diplomatic relations?
I welcome China having diplomatic relations with all countries.
What were the results of last week's visit?
This project has been in the loop for over a year now. All sectors of society have paid much attention to it, and it has brought about a lot of debate, some of it positive but of course much of it being negative. This is why I think this visit by Nicaraguans from all walks of life to companies in China, and discussing the canal's progress, was very important.
Because China and Nicaragua do not have diplomatic relations at the moment, I hoped the delegation's visit would be low-key and intended to pursue a commercial exchange. We as a company have no way to predict what the Chinese or the Nicaraguan governments want to do next, not to speak of influencing their decisions.
We are not that important. If people call this visit a "symbolic" visit or a "milestone", I worry we could destroy something. I, as the host, hope that the exchanges were limited to the Xinwei Telco and Nicaragua Canal projects, and nothing else. Anything else is of no concern to the two sides. I personally think that is a measure of respect towards the Chinese and the Nicaraguan governments. There is no need for [the project to have] a high profile.
When you started this project, did you discuss it with the Chinese government?
This is an independent project by our company, HKND. It is a strictly commercial project. There was no order from the Chinese government, nor were any instructions given or demands made. Looking back, if you ask me whether the Chinese government knew about the project, then I'd say the canal is no secret.
Who first suggested the construction of the canal?
This canal has been talked about for hundreds of years. Spain wanted to build it five hundred years ago, but then the Panama Canal was built a hundred years ago. This time, in the 21st century, it was me who took the initiative and proposed the project to the government of Nicaragua last year.
When did you first think about pursuing the project?
Last year.
That's very fast.
Yes.
Is the timetable for the project still on track?
Nothing has changed. We plan to start construction in December next year. Vessels will be crossing the canal by December 2019.
Many observers expect tenders to go mostly to Chinese companies. Will the focus on tenders lie in China?
We will tender internationally, there is no focus. Austrian, Australian, American companies, it doesn't matter.
You have previously suggested that the project will require US$40 billion in funding. How much of the funds have you secured so far?
Our talks with international investors have been very smooth; we have reached agreements with some investors. By December, we plan to announce who has invested how much, and what stakes and responsibilities they have.
Your other company, Xinwei, is also very active in Nicaragua. What is the current status of your telecom operations there?
Our engineers are working with the Nicaraguan Ministry of Telecommunications and progress has been smooth. The planning stage has been basically completed in the field, and I think by the first half of next year we can begin to build the network. The engineers have told me that we will start in cities with a large population and demand and then expand from there.
Some of China's most senior leaders, including President Xi Jinping, former President Jiang Zemin, Premier Li Keqiang, former Premier Wen Jiabao, Politburo Standing Committee member Zhang Dejiang and others have visited Xinwei. How do you explain such a high-level interest in your company?
It is not Xinwei they are specifically interested in, but the research we are conducting, which is in line with the requirements of China's national development. We don't have these visits because of Xinwei, or because of someone at Xinwei, or because of myself.
In Hong Kong, there is this thing called gossip: if many leaders are inspecting Xinwei, I must have some kind of background. This is not the case. Xinwei is an ordinary company, run by ordinary people, and Wang Jing too is an ordinary person. I think the Chinese government wants to see Chinese companies step forward, create Chinese standards and Chinese intellectual property rights – it gives us the right to speak out when we compete with Western countries. That's it, there is nothing else to it.