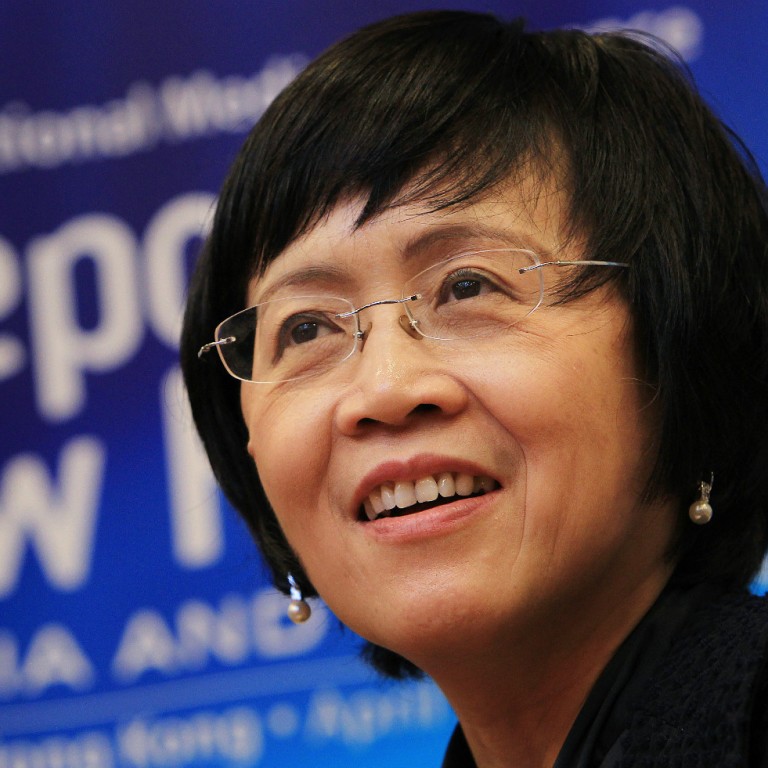 Update

|
'Most dangerous woman in China' under fire after criticising corrupt journalists
Caixin Media editor-in-chief Hu Shuli, often called "the most dangerous woman in China", waded into a heated debate about corruption in the media industry by blasting journalists' "rent-seeking" practices, but some say she's ignoring the struggle with increasing censorship.
Journalists across China have thrown themselves into a heated debate about corruption in the media industry after the arrest of Chen Yongzhou, the Guangzhou-based reporter who admitted to accepting bribes and publishing articles containing false accusations.
Hu Shuli, the outspoken editor-in-chief of Caixin Media and a well-respected veteran journalist, often called
"the most dangerous woman in China"
, waded into the debate this week with a scathing editorial, dividing opinions further.
By blasting the prevalent "rent-seeking" practices among China's journalists in an editorial for
Caixin Weekly
published on Monday, Hu urged media professionals to uphold journalistic integrity and steer clear of future scandals.
"To see journalistic privileges such as reporting the facts and the media's watchdog power being traded for money, as exposed by the Chen Yongzhou incident, it makes one extremely sad," Hu wrote. "This scandal is a self-inflicted wound on the media industry."
Hu's take-no-prisoners approach has apparently angered some of her media industry colleagues. They have since published various commentary articles and blogs in retort, blaming her for missing the "bigger picture" of the industry's struggle with increasing censorship, especially in a time when newspapers, amid an onslaught from new media, have seen a dive in profits following a national economic slowdown. Some went further, accusing Hu of currying favour with the Communist Party and siding with the "evil forces" of government censors in their effort to silence journalists.
Chen Yongzhou was taken away by policemen from Changsha, Hunan, on October 18, and accused of "fabricating facts" and "damaging the commercial reputation" of Changsha-based Zoomlion,  one of China's largest makers of construction equipment. He made a public confession in a CCTV programme a week later, admitting to taking bribes. China's reporters rallied for Chen's release after his detention, criticising the police force for abusing its power.
In her editorial, 60-year-old Hu voiced concerns about "questionable police behaviour" and the role of Zoomlion in Chen's arrest, but devoted most of the piece to attacking the rampant corruption in the industry as revealed by Chen's confession. Warning that the scandal cost Chinese media much of its hard-earned credibility, Hu urged journalists to practice self-discipline and report only "independently and truthfully".
"Rent-seeking is not attributable to a misbehaving individual," Hu wrote, "It is a stubborn illness affecting a considerable number of news organisations and reporters."
Zhou Haiyan, a journalism professor at Nanjing University, said that "rent-seeking" itself was only a by-product of a system that created opportunities for such behaviour.
"Shuli is an outstanding journalist and I always admire her, and my article is not about whether or not her opinion is wrong," Zhou told SCMP.com on Wednesday, "I tried to provide another perspective, which might not be so noticeable and needs to be highlighted."
Zhan Jiang, a journalism professor at Beijing Foreign Studies University, said while he understood Hu's concerns, it was not practical to rely just on "morality" to wipe out corruption in the industry.
Zhan also argued that when being barred from "seeking rent", media should also be granted the legal power to monitor and criticise the government.
"Rights and obligations come together," Zhan wrote.
In a phone conversation with SCMP.com on Tuesday, Zhan said eventually it will take the rule-of-law to cure Chinese media of corruption. 
He also said he agreed with Hu because corruption has become prevalent in media organisations in the country and need to be addressed.
"We should know that reporters are not forced into accepting bribes, they do have a choice," he said.
The controversy triggered by Hu's piece took her by surprise, Hu admitted on her Weibo on Tuesday. Yet she reiterated her views in the comment section of her article on Caixin's website.
"It's true that only a trial should decide whether or not Chen is guilty, " Hu wrote, "But the fact that he accepted bribes has been exposed, and we have to get to the bottom of it."