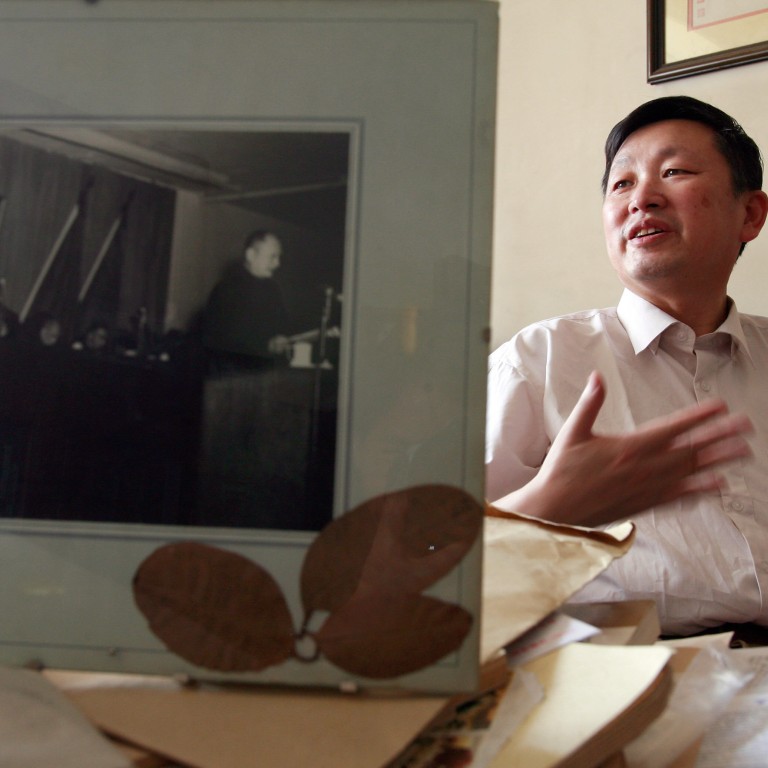 'I am like a ghost now', says censored outspoken scholar Zhang Lifan
Blogs belonging to one of the most outspoken liberal-minded scholars in China were removed from a number of large Chinese portals on Tuesday in the latest attempt at online censorship.
Zhang Lifan, 63, is a prominent scholar of modern Chinese history and outspoken critic of the Chinese government. He is the son of Zhang Naiqi, a founding member of one of the eight official-recognised political parties in China that were regarded as allies of the leading Communist Party.  Zhang Naiqi, who was head of the Ministry of Food between 1952 and 1954, was persecuted during the the "anti-rightist movement" in the 1950s and then during the Cultural Revolution.
Zhang Lifan said he was caught off guard by the blackout, which happened on the same day the key Third Plenum of the Communist Party ended in Beijing. 
"At around midday on Tuesday, all of my microblogs and columns were removed simultaneously," Zhang told the South China Morning Post in a telephone interview on Thursday morning. "There was no warning or any tip off."
A search for Zhang's username on China's most popular microblog service Sina Weibo, of which Zhang was an avid user with over 300,000 followers, came up with no result on Thursday. On ifeng.com, one of China's most popular news portals, a search for Zhang's column resulted in the message, "this blog has been censored by the website administrator".
Although censorship of online posts on matters deemed threatening to social stability or the rule of law are commonplace in China, it is rare to see personal blogs on multiple news outlets run by different operators deleted overnight simultaneously.
"I have no idea why I was suddenly censored," Zhang said, claiming he had not published or disseminated any false information. In September, China initiated a campaign to rein in online rumours stating that any libellous online post that is reposted more than 500 times or viewed more than 5,000 times can land its author in jail.
Zhang speculated that the censorship was a response to his call for public debates with pro-communist party academics opposed to constitutionalism, a call that was widely proclaimed by liberals as a chance to put into practice the Chinese constitutional right of freedom of speech.
According to freeweibo.com, a website that keeps track of all censored posts on Sina Weibo, Zhang's last Weibo post was published at 1.47pm on Tuesday before his account was deleted. In it he asked for confirmation of a repost that claimed an official was imprisoned for pro-democracy remarks.
The deletion of Zhang's online presence coincided with the conclusion of the third plenum, a Communist Party meeting outlining political and economic strategies, and came amid reports by Xinhua news agency that the country's top leaders have decided to set up a national security committee.
"I noticed some online users suggested that I was the first victim of the emerging new national security apparatus," Zhang said.
Zhang added that he had chosen not to take the incident too seriously, "Surfing through online comments about me being censored, I felt like the soul of a dead person floating in the sky watching people discussing my departure," he said. "It is quite amusing".