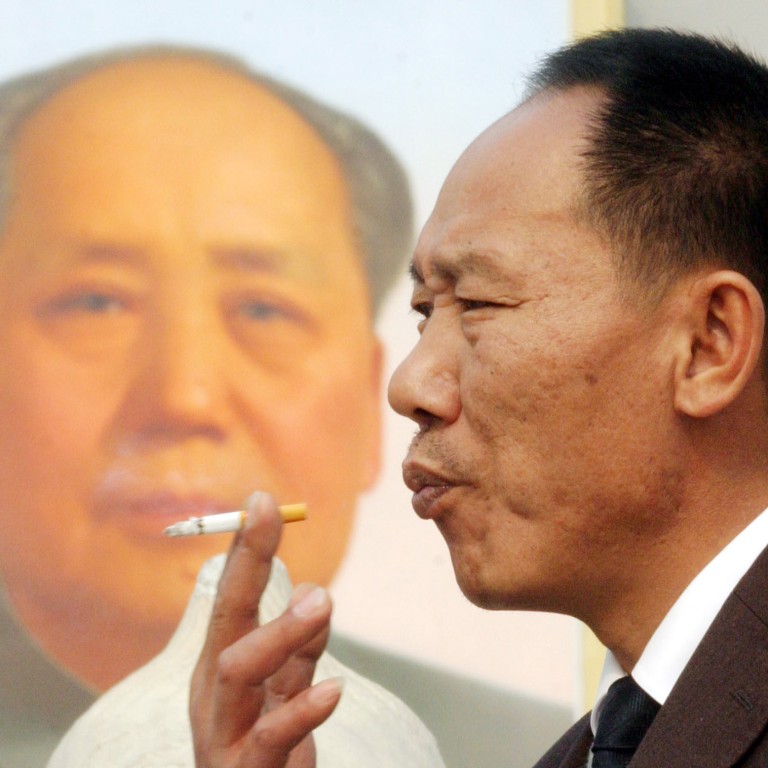 China could have 1 million lung cancer patients by 2025, experts warn
Patients suffering from lung cancer in China could top one million by 2025, medical experts warned at a forum in Beijing on Saturday, refreshing calls for tobacco control in the world's largest maker of cigarettes.
Both the occurrence rate and the death rate of lung cancer have been on the sharp rise in past decades, doctors and researchers said at the China North-South Lung Cancer Summit, an annual medical gathering that promotes smoking control, according to the .
Lung cancer has surpassed liver cancer to become the leading cause of cancer deaths among men and the second-biggest among women in China, said Zhao Ping, vice director of Cancer Foundation of China, a non-profit organisation dedicated to cancer control.
And over the past 30 years, the death rate of lung cancer patients in China has witnessed a staggering 465 per cent increase, according to Sun Yan, an oncologist from Peking Union Medical College Hospital, one of China's top medical institutions specialising in treating tumours.
Experts at the forum blamed the prevalent smoking in China as the main contributor of the mounting lung cancer rate. The official Xinhua news agency has reported earlier that 87 per cent of lung cancer deaths were caused by smoking or second-hand smoke.
China is by far the world's largest tobacco consumer and producer. It has a smoking population of 350 million, more than the entire population of the United States. Some 1.7 trillion cigarettes are made in China every year, according to the Beijing Times.
Experts warned smoking-related deaths could hit two million by 2025 if no concrete efforts were made to step up control of smoking, and that number could jump to three million by 2050.
"Consuming tobacco is the main cause of lung cancer. But 40 per cent of all lung cancer is preventable," Zhao was quoted as saying.
Cheng Shujun, a researcher of Cancer Institute & Hospital, suggested setting up state-level lung cancer prevention centre to integrate medical resources across the nation.
In recent months, severe, lingering smogs in many Chinese cities have also increasingly stirred health concerns among the public. Last month, an eight-year-old girl in Jiangsu reportedly became the mainland's youngest lung cancer patient. Local media said her family lived by a busy street, and speculated that roadside pollution could be a factor in her disease.
The World Health Organisation's International Agency for Research on Cancer in October said that air pollution from traffic and industrial fumes could cause lung cancer and was also linked to bladder cancer.
Air pollution, mostly caused by transport, power generation, industrial or agricultural emissions and residential heating and cooking, was found to pose similar health risks to breathing in second-hand tobacco smoke, it said.