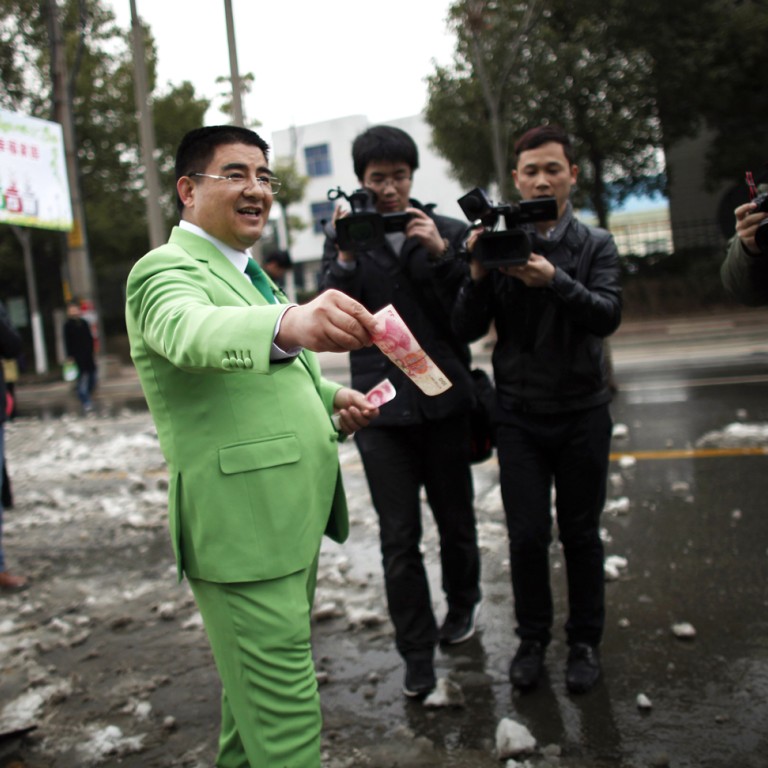 I'm good at working with Jews, says Chinese tycoon Chen Guangbiao who wants to buy WSJ
After failed attempt of meeting with shareholders of The Times, an unfazed Chen said he was now considering buying the Wall Street Journal
Chen Guangbiao, a Chinese recycling tycoon listed among China's top 400 richest people, has stunned many by traveling to New York this week in  pursuit of buying The New York Times.
Yet after a failed attempt at meeting with shareholders of the Times, an unfazed Chen said he was now considering buying The Wall Street Journal.
"I am going to talk to the Wall Street Journal and find out if it's for sale," he said in an interview with Sinovision, a New York-based Chinese television station on Wednesday, reaffirming his plan to "buy an American newspaper."
Chen said he was aware that many American papers were Jewish-owned. He said he was up for the job since he had "equally competent IQ and EQ" compared with Jews.
"I am very good at working with Jews," he said.
But Chen admitted in the interview on Wednesday
that he might have ruined his chance of purchasing
the Times
by leaking his plan to the media. Though Chen had made an appointment with an "interested shareholder" of
the Times
prior to his trip, the person seemed to have flinched away due to intensive media attention.
"I am entirely to blame for this," Chen said, reflecting on his possible misstep.
An Internet celebrity in China, Chen has continued to keep a high profile in the media by pulling stunts such as handing out cash to victims of China's 2008 earthquake and selling "canned fresh air" to residents of smog-ridden Beijing.
Despite failing to purchase The Times, Chen has managed to stay in the news.
On Thursday, journalists and microbloggers said they were intrigued,  if not astonished, by a photo of what appeared to be Chen's English-language business card, which he has been handing out to the press in New York.
According to the picture which has gone viral on Weibo, Chen has named himself, among all things: "The Most Influential Person of China," "Most Prominent Philanthropist of China," "China Moral Leader," "China Earthquake Rescue Hero," "Most Well-known and Beloved Chinese Role Model."
"Instead of making a fool of himself in US, he should consider purchasing People's Daily," a blogger commented sarcastically.
"Such a narcissist," many wrote.
"But what's wrong with promoting oneself with his hard-earned money," another blogger wrote in Chen's defense.
Chen is the chairman of Jiangsu Huangpu Recycling Resources and made his fortune by recycling construction materials. 
The news drew reactions on Twitter, including from New York Times staff and top China observers.