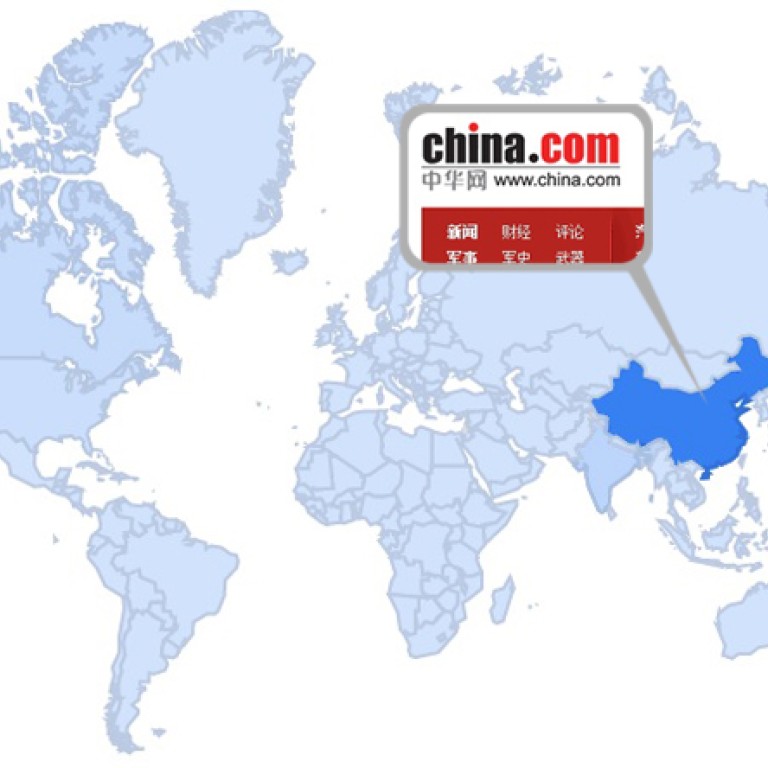 New

|
China.com, among world's most costly domain names, relaunched to boost Beijing's voice
China Radio International bought domain for HK$90 million and hopes site will bolster country's reputation
China Radio International, a state-owned media conglomerate and new owner of one of the world's most-coveted internet domain names, China.com, has relaunched the site in an effort to boost the nation's media presence abroad.
The relaunch of the website, reported on Monday, marked a new turn in the troubled existence of the government-sponsored domain name under a Hong Kong-listed company. China Radio International plans to use the highly coveted address to create the nation's flagship multilingual online platform.
China.com will help the nation to "create a favourable global public opinion environment", said Tong Liqiang, executive vice-president of the Beijing government's internet information office, at an event marking the re-launch in Beijing on Saturday. As of Monday, it features content in eleven languages.
For Anne Nelson, a Columbia University professor who has studied Chinese state-media presence abroad, the site's main challenge will be credibility. "To the extent that directives come out of the Communist Party, it will be hard for their operations to gain significant international audiences as trusted news sources," she said.
"In the realm of entertainment, Chinese cultural perspectives remain ethnocentric," she added.  
The platform, which has yet to move beyond its current state as yet another government-sponsored website exclusively sharing stories by the state-run media outlets, was acquired for a staggering HK$90.8 million in August last year from China.com Inc. by a holding company owned by the broadcaster. The domain Hongkong.com was also acquired.
It is unclear how many other internet domains have ever been sold at a higher price. In 2010, an Internet marketing company bought Insurance.com for US$35.6 million. Vacationrentals.com and PrivateJet.com have also been sold for more than US$30 million. Sex.com was sold for US$13 million, according to Sedo, the online domain brokerage that facilitated the sale.
Among all ".com" domains carrying a sovereign nation's name, China.com appears to be the most expensive to date. Russia.com was sold for US$1.5 million in 2009, Korea for US$5 million in 2000.
The domain name was created as the brainchild of a Chinese government effort to shape the Internet when it had yet to enter the country in the 1990s, according to an account in One Billion Customers by James McGregor, a former journalist and investor in China at the time.
China Internet Co-operation, a Hong Kong-based subsidiary of the state-run Xinhua news agency, registered China.com and Hongkong.com in 1994, with the intent of creating an alternative news platform for future domestic users.
In 1999, the company became the first Chinese Internet company to list shares on the Nasdaq stock exchange in New York and, the following year, in Hong Kong, raising nearly three-quarters of a billion US dollars, according to McGregor.
"China.com's listing was symbolic because it marked the beginning of Chinese Internet companies taking off," said Tian Hou, CEO and founder of T.H. Capital in Beijing. "The burst of the Dot-Com Bubble in 2000 brought permanent damage to this stock."
As other private competitors, such as current Internet giants Tencent, Sina and Baidu followed suit, listed and diversified, China.com stagnated as an online platform and eventually delisted from Nasdaq. The sale last year was due to "consistently recorded losses", the company said in a statement last year.
China.org, set up in 1998, is still for sale by a current Barbados-based owner, according to the domain brokerage Sedo, which facilitates the sale. The minimum bidding price is set at US$195,000.