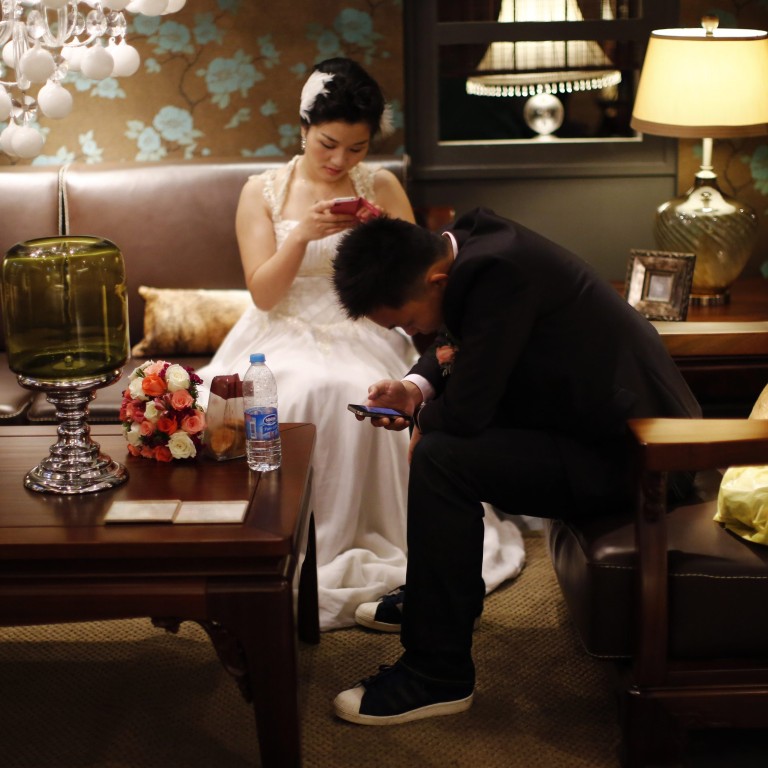 Baihe, Chinese matchmaking site, criticised for ad telling people to marry to please grandparents
A leading Chinese matchmaking website was blasted by infuriated online users this weekend over its latest commercial that urges young men and women to get married to please their ageing family elders.
Baihe.com's new television advert, promoting its offline expansion, features an attractive and kind-hearted young woman, who, after years of prodding from her aged grandmother, decides to "stop nit-picking" and seeks to get married to fulfil her elder relative's wish.
"This year I must get married, even if [doing so] is just for my grandma," says the young lady, who then seeks the matchmaking service for help. In the final scene and climax of the commercial, the principal actress, wearing a bridal veil and flanked by her groom who she met through the matchmaking service, is seen informing her relieved grandma of the news as she lies on a sickbed in hospital.
The 30-second video clip has apparently enraged many people within China's online community, where it has been widely shared and commented via various social networking websites.
Watch: Baihe.com's controversial advertisement
Many condemned the ad for "playing the filial piety card" to deliberately exert pressure on youngsters and manipulate them to rush into marriage to please their family elders, as China is a traditional Confucian society where the virtue of respecting one's parents and ancestors is held up as one of the core values.
On Sina Weibo, the nation's largest Twitter-like microblogging platform, over 33,000 users in an online poll said they would boycott the company and vowed to "strive against the stale concept of marriage", compared to just some 1,400 bloggers who found the commercial understandable.
Many called the commercial "hijacking personal sentiments with filial piety," a sentiment shared by many on China's cyberspace.
"Besides the conventional family values, people shall not sacrifice their own happiness to comply with their family members' unreasonable demands," commented Peng Xiaohui, a prominent sexologist and Central China Normal University professor.
Among those who were more sympathetic towards the commercial, one user wrote: "I think [the commercial] means to say that the dating website helps to speed up the dating process…it has nothing to do with hijacking morality."
Another commentator added that the commercial only reflected reality. "Instead of going after a dating website, [you] ought to talk elders out of their stale mindset."
The video clip itself reflects the phenomenon in Chinese society where young men and women have come under mounting pressure from parents or family elders to wed.
The backlash against the commercial underlines a growing defiance among China's younger generations who increasingly show reluctance to give in to their parents or family elders who are keen to see them settled down and bearing children as earlier as possible. 
Critics of the video clip were also angered by its timing, during this year's Chinese Lunar New Year celebration when most young people reunite with their families but may have to endure many enquiries about their marital status. Many who are single quip that the experience is "torture".