Tencent
Get more with myNEWS
A personalised news feed of stories that matter to you
Learn more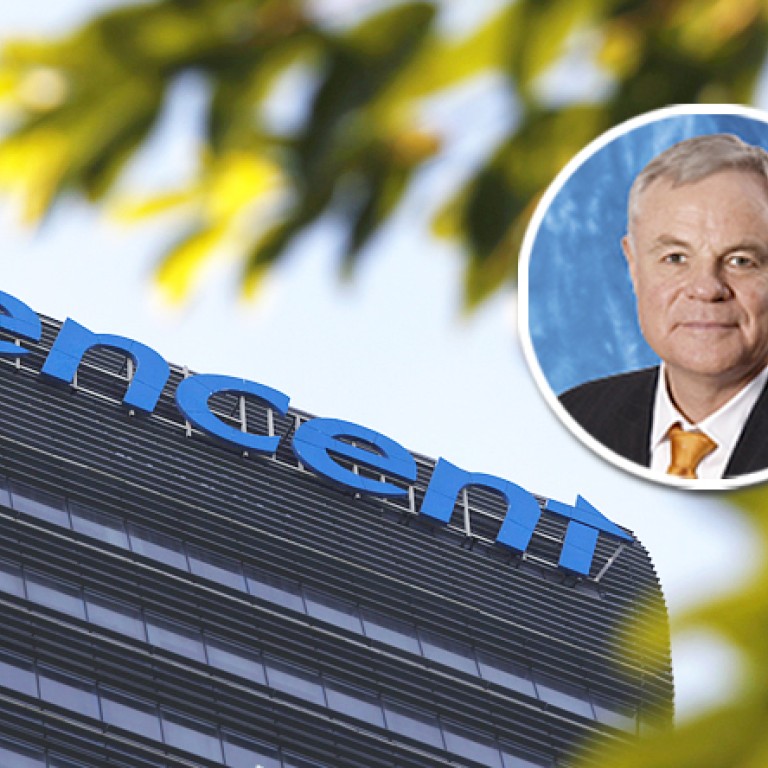 New

|
South African media group struck gold by taking a chance on Tencent
How a once pro-apartheid South African publishing group made a fortune by investing early in the company that is now Asia's largest Internet company
What started one of Africa's most profitable investments was a penchant for Chinese food and literature. At least that is what Jacobus Petrus Bekker, CEO of Johannesburg-based Naspers – often dubbed the continent's Rupert Murdoch – wanted his biographer to believe.
"I like Chinese food and the short stories of Lu Xun. Their sense of humour appeals to me," the now 61-year-old CEO of the Naspers conglomerate, told Anton Harber, the author of a Bekker biography.
"The quality of public servants is superb," added Bekker, who controls television channels, newspapers and news websites.
In 2001, Bekkers invested in a then-loss-making Shenzhen-based startup named Tencent, acquiring a 46.5 per cent stake in the company for US$32 million in 2001. Less than 13 years later, the start-up has turned into Asia's largest internet company worth an estimated HK$1 trillion. The value of Naspers' stake in Tencent reached HK$370 billion on Friday, almost 1,500 times Bekker's initial investment.
Held through subsidiary MIH Holdings, the stake makes Africa's largest media company the single largest shareholder of Tencent, holding more than three times the stake of Pony Ma Huateng, the company's co-founding chairman.
Observers see Naspers' turnaround from a struggling South African publisher of the pro-apartheid regime's mouthpiece into a digital media conglomerate as the ultimate success story of a media organisation adapting to new political and technological realities.
"It is quite an impressive story," said Nadim Mohamed, a Johannesburg-based research analyst with First Avenue Investment Management. "At the time of the investment, Tencent was unprofitable and not well known. Naspers was a print media company looking to transform itself."
'Also considered Baidu'
Established in 1915 as Nasionale Pers, it published Die Burger, the Afrikaans-language mouthpiece of the pro-apartheid establishment, which advocated racial segregation in South Africa until Nelson Mandela's release from prison in 1990 triggered political reforms.
Naspers hired Bekker in the 1980s after he pitched a pay-TV model for South Africa similar to the American cable network HBO, writes biographer Harber, a professor of journalism at the University of Witwatersrand. Bekker went on to set up Africa's first such network, M-Net, with funding by Naspers. The companies merged in 1997, when Bekker became CEO.
Naspers satellite and cable television channels now have a presence in 48 African countries.
"The investment strategy at the time was to find a replacement revenue source for its traditional print media business – which it forecast would decline in the advent of digital media," said Kate Turner-Smith, a Cape Town-based analyst at BPI Capital Africa.
Bekker invested in the Tencent, established in Shenzhen only in 1998, by taking over the stakes from early investors PCCW and IDG Capital Partners.
Naspers was about to leave China after the Dotcom bubble burst and a series of unprofitable investments in television, but was ultimately approached by Tencent, said Harber.
Analyst Mohamed said he believed Naspers also considered investing in Baidu, now China's largest search platform and Alibaba, now China's largest e-commerce company, ultimately opted for Tencent.
"We entered China early. Lots of false starts and many mistakes were made, leading to some early failures," Charles Searle, CEO of Naspers Listed Internet Assets, told the Post.
"Tencent was identified reasonably early on due to the number of users they were starting to attract and the 'stickiness' of their instant messaging service."
No meddling
Tencent's chat service, QQ, had 1.5 million users at the time Bekker invested. The service now boasts 815.6 million monthly active user accounts, according to its most recent earnings report. By the third quarter of last year, Tencent's other social networking service WeChat boasted 271.9 million active users.
Even though Bekker's riches are tied to Tencent, it is unlikely he wields influence in the Chinese company's decision-making process.
"We don't micromanage these guys," Antonie Roux, then head of internet operations and a member of Tencent's board of directors, said in an interview in 2010. Bekker's management approach changed with the Tencent investment in 2001, said Harber. "Before that he exported teams of managers. Now he told me that they always put in their own financial director, but leave the rest to local management."
Tencent launched Licaitong, an investment fund for WeChat users, and collected more than 1 billion yuan (HK$1.27 billion) within two days in January. It also invested HK$1.5 billion to acquire a 9.9 per cent stake in China South City Holdings, a Hong Kong-listed mainland logistics company in what observers see as a move towards challenging e-commerce giant Alibaba.
Tencent's stock has risen about 13,100 per cent since its listing in Hong Kong 2004 to HK$558.10 as of the beginning of trading on Friday.
Naspers' stock price has risen about 2,600 per cent to 124,520 South African rand (HK$87,803) in the same period.
Bekker, Nasper's single-largest shareholder, turned billionaire last year and is now worth US$1.7 billion, according to data compiled by Bloomberg. Forbes Magazine ranks him as Africa's eighth-richest man.
Bekker declined an interview request by the Post. Tencent did not reply to a request for comment.