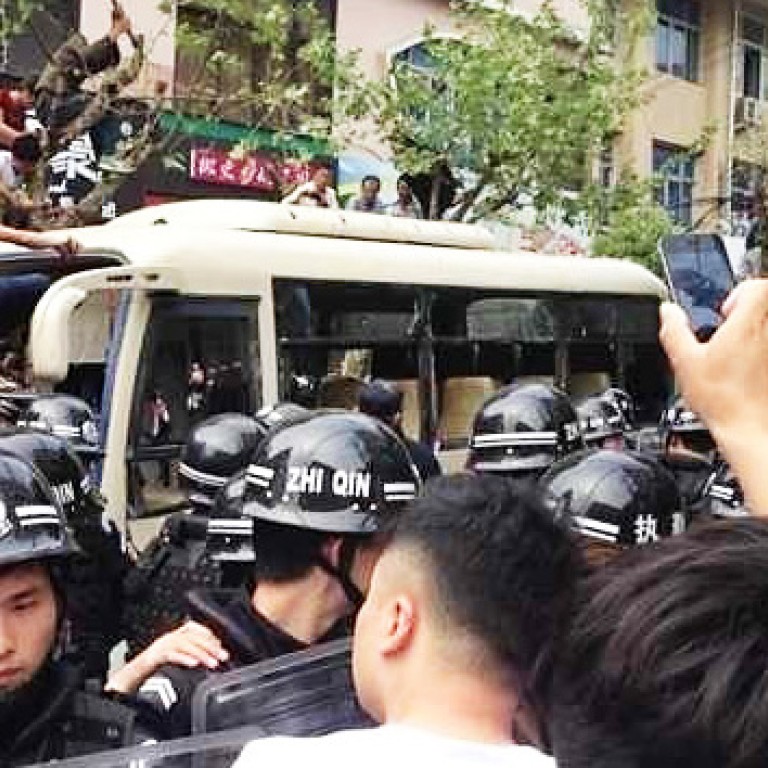 Chengguan officials seriously injured after assault by large crowd
Five urban management officials in Zhejiang province were set upon and assaulted by hundreds of enraged locals angered by their law enforcement technique on Saturday, leaving two severely injured.
The violent conflict was triggered after a dispute between officials and an onlooker who attempted to take photos of them during their law enforcement in the small county of Cangnan. When the onlooker refused to delete photos, the officials allegedly began to assault him, drawing a large number of onlookers.
Angered by their violence, the crowd surrounded the officials and prevented them from leaving the scene. The tension further increased after internet rumours began circulating that they had beaten an onlooker to death.
Eventually the officials were forced to seek refuge in a van, according to eyewitnesses at the scene. Members of the crowd carrying sticks and stones then smashed the van and assaulted them through windows, they told .
Dozens of riot police officers were called to the scene to guard the van and keep the crowds at bay.
The situation calmed down later in the afternoon and the five injured officials were taken to a hospital, Cangnan county government said on its official news outlet. By Saturday evening two of the injured remained in a critical condition while a further three who suffered minor wounds received treatment.
The mass disturbance was the latest in a long line of violence incidents between the members of the public and the urban management force, or chengguan, whose main duties are dealing with illegal street vendors. The bureaucrats' image has been marred by repeated media reports of their use of excessive force while carrying out their duties, sometimes resulting in injuries and even death.
In July 2013, a Hunan watermelon vender died from injuries sustained after clashing with local chengguan, prompting hundreds of sympathetic locals to take to the streets.
In October, a Fujian resident upset by chengguan officers carrying out a demolition, sprayed sulfuric acid over a group of officers, resulting in 19 of them suffering various degrees of burning.
In 2009, a street hawker stabbed two chengguan to death after he was taken away by them for running his business without a licence, sparking widespread debate in Chinese social media.