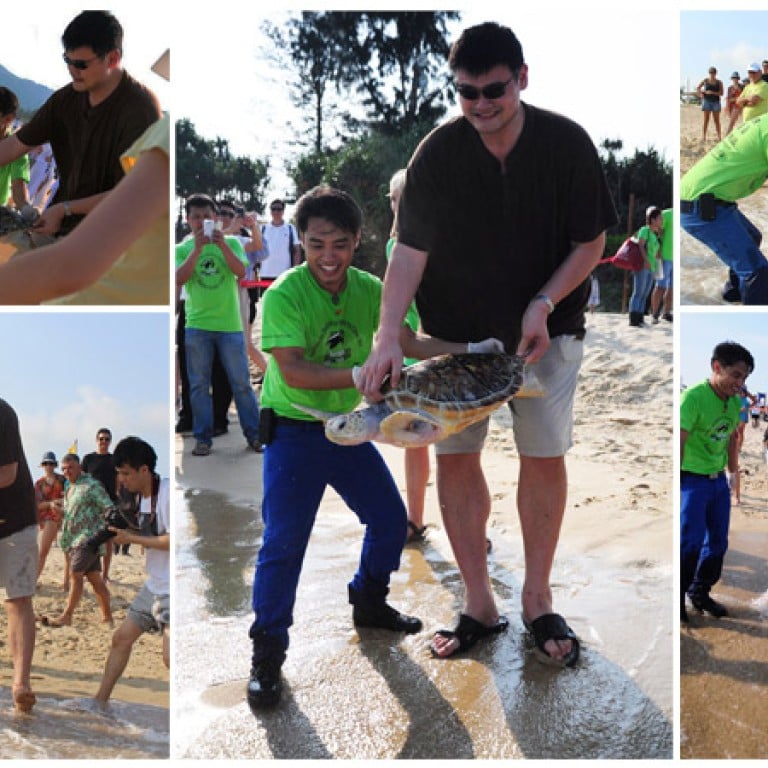 Former basketball star Yao Ming calls for protection of sea turtles
Chinese basketball icon and environment advocate Yao Ming is now adding sea turtles to his list of endangered wildlife he is calling on the public to protect.
The towering former Houston Rockets star recently joined charity staff and volunteers at a beach in Sanya, releasing rescued green sea turtles into the ocean waters.
"I think it's very important to raise awareness in our country about protecting wild animals and passing it on to our next generation like my daughter," said Yao, whose four-year-old daughter also came to wave goodbye to the sea creatures.
The event, co-hosted by charity Sea Turtles 911 and Hainan Normal University in China's southernmost Hainan province, aimed to expand conservation efforts and educate local people, many of whom view the animals as a source of seafood and jewellery.
"Watching a marine turtle swim for freedom back to nature, people grow mindful of how breathtaking sea turtles are within the vast ocean expanse," said Sea Turtles 911 founder Frederick Yeh, who hopes events like this could lead people to "an epiphany that turtles belong in the wild, and not in the market".
The endangerment of sea turtles has recently hit headlines in China. When Philippine officials in early May seized a Chinese fishing boat in disputed areas in the South China Sea, they found more than 550 live and dead endangered sea turtles they believed to have been poached.
The discovery shed the light on the scale of poaching activities of fishermen in the South China Sea and ignited a storm of public condemnation towards the poachers, even from China where people usually take a strong nationalist stance in territorial disputes.
Yao believes raising public awareness is essential to the ongoing marine conservation movement in China. "We have to work together to convince more people to join our journey to reach a beautiful future," he said.
The basketball-player-turned environmentalist has been a leading voice in China calling to end the market for illegal wildlife products. Using his catchphrase "When the buying stops, so does the killing", Yao has extensively campaigned to ban the sale of elephant ivory, rhino horn, and shark fin soup.