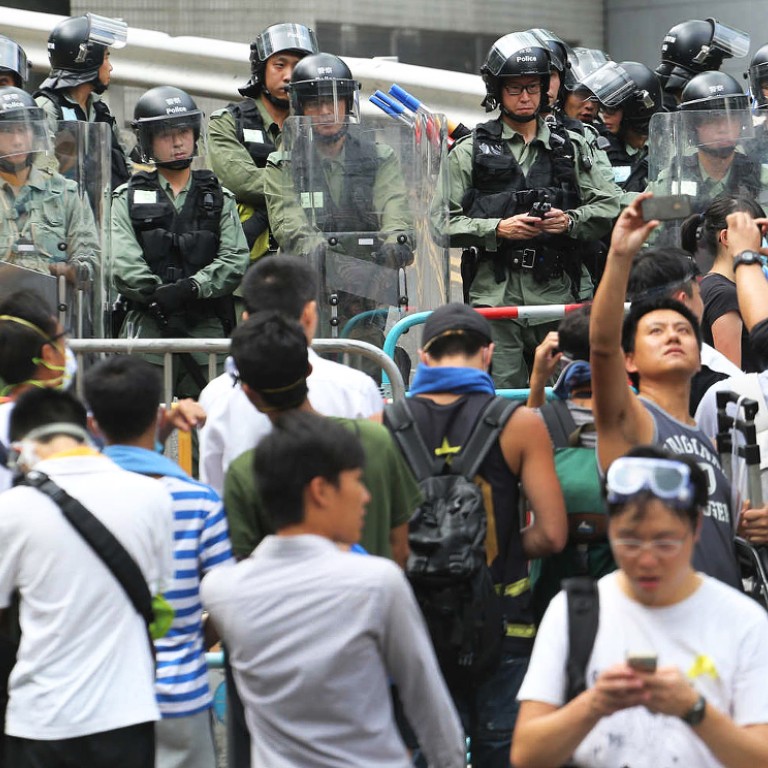 Record censorship of China's social media as references to Hong Kong protests blocked
Censorship on Chinese social media has reached a new record this year as the mainland's editors of public debate rushed to quell conversations on Hong Kong's pro-democracy protests.
The number of Weibo posts that could not be accessed increased five-fold between Friday and Sunday, according to
Weiboscope
, a censorship monitoring project at the University of Hong Kong's Journalism and Media Studies Centre.
"It's a new record," said Dr Fu King-wa, the university's scholar behind the project. "You can see that the keywords [in censored posts] such as 'police', 'justice', they are all linked to protest in Hong Kong."
Fu's software periodically checks a sample of between 50,000 and 60,000 Weibo users with large followings in search of deleted posts.
In the seven days up until Friday, he found that an average of about 32 messages had been deleted for every 10,000 posts.
On Saturday, when students staged a first protest, that number tripled to 98 posts.
On Sunday, when organisers declared the beginning of the Occupy Central civil disobedience movement, some 152 posts were deleted per 10,000 messages, about five times the preceding week's average.
The hashtag Hong Kong was a leading trending topic on Weibo up until Monday, according to Weibo's own data ranking. Access to posts with the hashtag was however blocked on Monday and the hashtag was later removed from its rankings.
Some users complained they could not share Weibo posts that mentioned Hong Kong's protests.
Weibo allowed for moderated searches on Hong Kong, which pointed to posts critical that were critical of the democracy movement and unrelated entertainment news.
On Sunday, Weibo restricted its rein on the debate and began censoring search results for "Hong Kong police" and "Hong Kong tear gas". It had already censored "class boycott" when students announced their strike earlier in the week.
Chinese state media only carried the Liaison Office's statement expressing confidence that Hong Kong's administration could deal with the unrest and later Chief Executive Leung Chun-ying's video message, in which he said the People's Liberation Army would not intervene and police would not shoot protestors. They also reported on Vice-President Li Yuanchao's meeting with a delegation of the Chinese Association of Hong Kong and Macao Studies in Beijing on Sunday.
Fu said that many Weibo posts were deleted because they linked the student protests with the 25th anniversary of the violent crackdown on the democracy movement in Beijing and other Chinese cities in June 1989. "As soon as they link it to June 4, that triggers censorship," he said.
Fu has been running his censorship monitoring software since the beginning of the year. Over the last two months, he registered two more spikes in censorship and both were tied to Hong Kong's political reform process.
In the days after July 1, the mainland's censors rushed to delete posts about a protest march and overnight sit-in staged by democracy advocates to mark the 17th anniversary of the handover of Hong Kong from British colonial rule to China. The second spike followed the National People's Congress' decision to reject the unfettered selection of candidates for the office of chief executive in 2017.
Both events triggered higher degrees of censorship than the 25th anniversary of the Tiananmen crackdown on June 4 itself, Fu said.