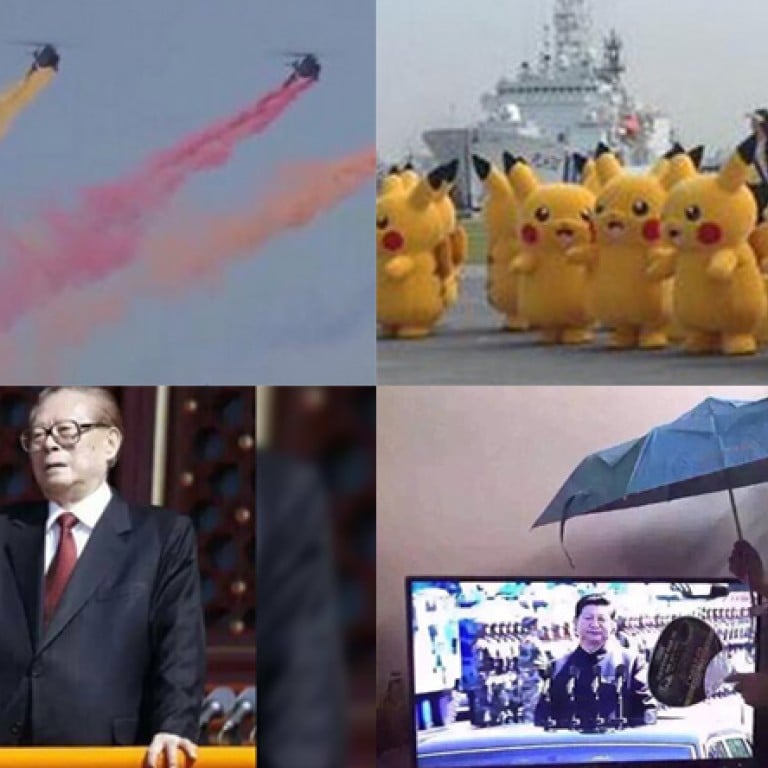 Jiang Zemin has how many fingers? Twitter jokes and blocked Weibo posts abound as China holds grand parade
Chinese social media erupted in mockery and jokes - amid the praise and applause - during China's military parade on Thursday, marking 70 years since the end of the second world war.
Internet users found plenty to talk about, from former president Jiang Zemin's hands to Mao Zedong's rotund grandson looking deflated from the heat - even if much of the chatter was eventually blocked by the internet police.
Deletions of posts on Weibo - the Twitter-like service massively popular in China - picked up steam at around 11.50am, as the parade went into full swing, according to South China Morning Post's analysis for the past 24 hours. At least one of the deleted photos were, however, later carried by mainland media.
The deletions hit a peak in the late afternoon as the event had wrapped up, after bevies of marching troops and tanks, along with other military hardware, had streamed down Changan Avenue, past the Tiananmen Rostrum where President Xi Jinping and some world leaders were watching.
Around this time, more than 46,000 people reposted a news clip of Xi's keynote speech earlier in the morning, sarcastically captioned by a Weibo user as: "Easy to understand, meaningful. Mighty, mighty, mighty." The widely shared post was swiftly blocked.
Counting Jiang Zemin's fingers
It was a
rare moment, captured on live TV
: three Chinese presidents lined up in a row for the first time, as they stood to watch the parade. But it was the way former leader Jiang Zemin's hands were positioned on the railing that fascinated many on Weibo. 
Only three fingers were visible in each hand, prompting renewed comparisons to a certain frog. (Last year, the photo of a giant blow-up frog drew comparisons to the leader who ruled from 1993 to 2003.)
Grandmother to Xi: you can stand under my umbrella
Another Weibo post, appearing at 11.40am, featured a grandmother holding an umbrella and fan while watching Xi's speech on TV. It drew over 2,000 shares before it was taken down - but resurfaced again and again, then was blocked each time.
Microbloggers were amused by the grandmother's apparent attempt to shield the president's TV image from the sun, captioning the image: "Beijing is so hot, I really feel sorry for Xi" and "You must be really tired, Xi!"
Major General Mao
One of the earliest deleted Weibo posts from September 3 was an image of Mao Zedong's grandson, Mao Xinyu, resting on some steps covered in red carpeting. The caption contained only three words - "Major General Mao". He has in the past been mocked by internet users in China for his large girth. 
Although images of him were wiped from some Weibo pages for reasons unknown, many mainland media outlets published photos of him sitting on a staircase.
LGBT flyby
The parade finished with an air show, with jets spraying coloured smoke, and the release of thousands of doves and even more balloons. Twitter lit up with jokes, with some wondering if it was covertly a "gay" show owing to the rainbow-coloured climax.
Mecha military
Twitter users riffed on the show of weaponry and might (even if Xi will be cutting 300,00 military personnel) as Beijing rolled out the tanks and troops at Changan Avenue in front of Tiananmen Square. "What can't China's military do?" users wondered, and Twitter answered with soldiers balancing on motorcycles and tanks turning into robots.
Who could do it better?
As the parade drew to a close, Twitter users couldn't help but compare the spectacle to the ones held by its misbehaving ally, North Korea, known for its obsessively choreographed parade formations and mass dances. Its next one is expected to be held on October 10, or Party Foundation Day.
In comparison, one tweet joked, the best Japan could do is to send an army of Pikachus - a cute, electricity-shooting creature from a popular anime. Japan, whose defeat in 1945 is an object of the commemoration, has in past decades not held any military events of this scale, though its Self-Defence Forces hold exercises each year.
Both North Korean leader Kim Jong-un and Japanese Prime Minister Shinzo Abe did not attend Thursday's parade.