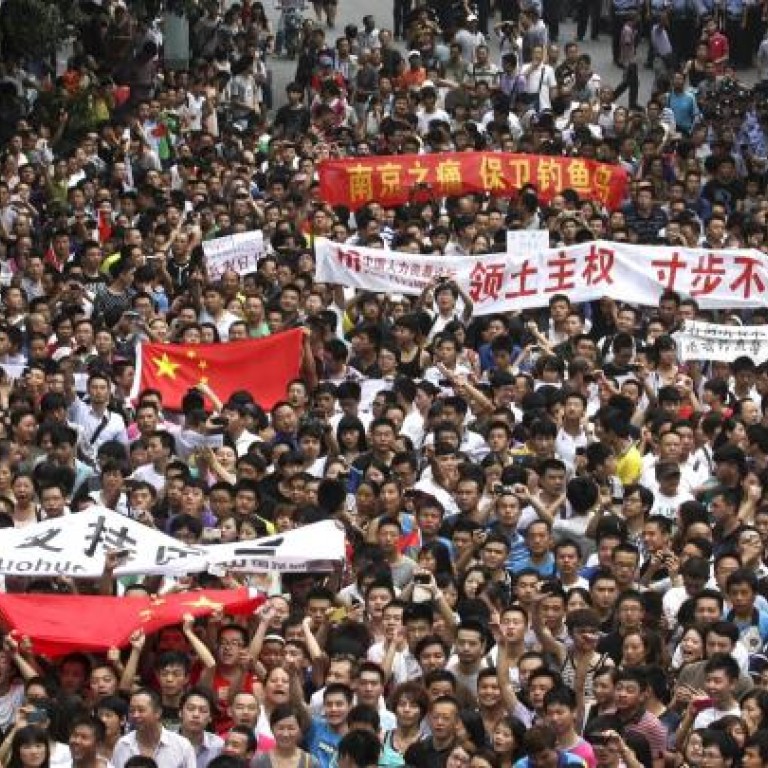 Beijing approves anti-Japan protests while avoiding deeper row with Tokyo
Patriotic displays give officials a bargaining chip when dealing with Japanese, say analysts, as long as protests avoid Beijing and are not violent
The central government is adopting a two-pronged approach to the large-scale anti-Japanese demonstrations in major mainland cities - apart from in Beijing, according to analysts.
The government is giving tacit approval to the protests - held in response to Japanese activists setting foot on the disputed Diaoyu Islands, known in Japan as the Senkaku Islands - while refraining from tough diplomatic measures against Tokyo, they say.
Zhou Yongsheng, an expert on Japanese studies at China Foreign Affairs University, said yesterday the widespread anti-Japanese sentiment was so strong that even the central government had accepted that the protests could not be contained.
However, he said the government would quell violent protests in the run-up to the 10-yearly Party Congress this autumn, when new leaders are named.
"That's why the central government chose to let indignant civilians rally in various places to vent their anger," Zhou said, adding that suppression of non-violent protests was unlikely.
Chen Ziming, a Beijing-based independent political analyst, said the authorities were happy for the demonstrations to put pressure on Japan.
"I think Beijing wants to use the strong patriotic sentiment as a bargaining chip when dealing with the Japanese," he said.
However, despite the government's tolerance, Chen said the authorities were prepared to crack down if the demonstrations got out of control.
"It will be fine if everything goes smoothly. Otherwise they won't hesitate to crack down immediately," Chen said.
He also said a degree of tolerance by the authorities would help them direct attention away from national problems, while making the government appear more open ahead of the 18th Party Congress.
These careful calculations of the risks and rewards of the demonstrations, according to analysts, also explain why activists were not allowed to gather in such numbers in Beijing, where the congress will be held. And according to Zhou, the Chinese are not the only ones playing games.
Zhou claimed that Japan tacitly allowed the activists to set foot on the islets after officially calling on them not to. "That way, the Japanese side could secure pole position by blaming the Chinese for instigating the conflict."
He expected the protests to die down soon as Beijing does not want Sino-Japanese relations to deteriorate further.
However, a former director of the Institute of Japanese Studies at the Chinese Academy of Social Sciences said tensions might continue to rise if no diplomatic solution is reached.
"How far the disputes go is largely up to the attitude and stance taken by the Japanese side," Jiang Lifeng said. "It is, after all, a dispute triggered by an attempt by right-wing politicians to purchase the islets in Japan."
This article appeared in the South China Morning Post print edition as: Protests carry both rewards and risks