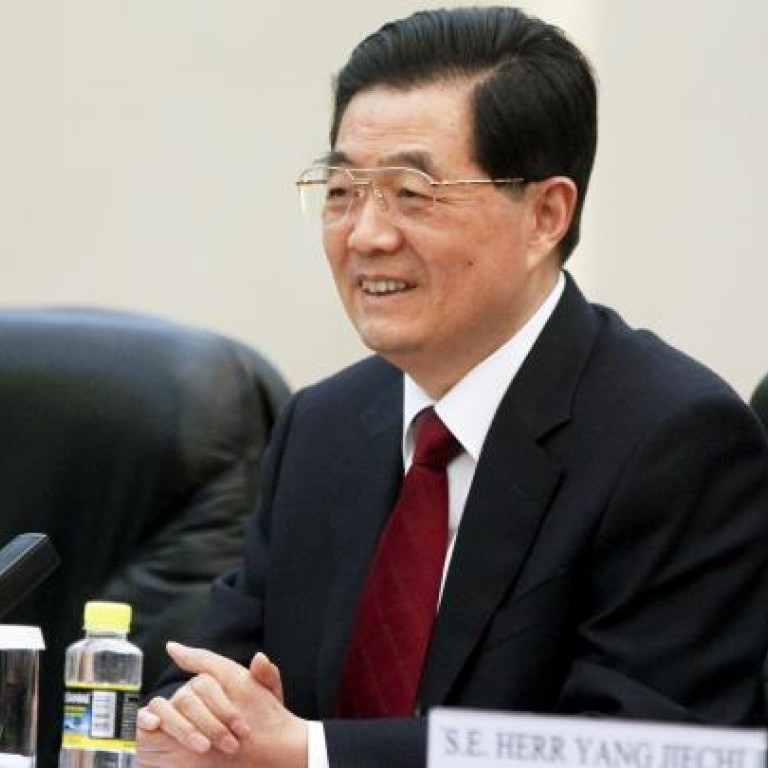 Hu seeks clean power handover with military promotion, sources say
China's outgoing President Hu Jintao is angling to promote one of his closest allies to the military's decision-making body, sources said, in a move that would allow him to maintain an influence over Beijing's most potent instrument of power.
Three sources with ties to the top leadership said Hu hopes to cut all of his direct links to the top echelons of power by early next year, on the understanding that his protege, Vice-Premier Li Keqiang, is made a vice-chairman of the military commission at the party's five-yearly congress later this year.
Hu wants a clean handover of the party leadership, the presidency and the top military post to his anointed successor, Xi Jinping, over the next seven months, to avoid a repeat of the past internal rancour when a transition of power took place, sources say.
They point to the example of his predecessor, Jiang Zemin, who clung onto the top job at the Communist Party's Central Military Commission for two years after stepping down as party chief and president, a move seen as unpopular with party cadres and the public.
Hu, as president, is the current military commission chairman and, like Jiang, could choose to stay on as its chief for another couple of years beyond his handover of the presidency to Xi in March next year.
In what is seen as the ultimate bulwark of power, the commission oversees the 2.3-million strong People's Liberation Army (PLA) as well as the People's Armed Police which enforces domestic security.
Hu has not made public his plans for retirement but, unlike in the West where former presidents and prime ministers tend to fade from the public eye, Chinese leaders seek to maintain influence to avoid possible adverse political repercussions down the road.
The government generally does not comment on elite politics and personnel changes before the official announcement.
As a senior member of the commission, Li, who is also set to be named as the next premier in March next year, would be expected to help protect Hu's legacy in the area of military affairs, which has included a more moderate approach towards Taiwan and to territorial disputes in the South China Sea and East China Sea.
"Hu hopes to go down in history as the first leader [since 1949] to step down when his term ends instead of being reluctant to go," a businessman with leadership ties said.
As well as helping to preserve Hu's legacy, analysts say Li's promotion will ensure there is no political retribution against Hu or his family by rivals who remain in power once he is gone.
But bargaining over the next leadership line-up is not over, and there is still room for change and surprises.
Some political analysts interpreted Hu's plan to promote Li as a move to bolster civilian oversight over the PLA – the world's biggest armed force.
But other analysts saw it as an attempt to dent Xi's political influence.
"It'll be a check and balance on Xi," a Chinese analyst said of the push to install Li, asking not to be identified due to the sensitivity of the issue.
Xi, 59, has been vice chairman of the military commission for two years and has military experience under his belt when he worked for then defence minister Geng Biao from 1979 to 1982.
Xi, like Hu, is a pragmatist seen as being keen to seize on opportunities from crises to perpetuate Communist rule and strengthen his own position, analysts say.
Though Xi is acceptable to both the Hu camp and the rival Shanghai Gang faction, the incoming premier, Li, is much closer politically to the outgoing president and belongs to Hu's own faction of the party, the Communist Youth League.
As vice chairman of the military commission, Li would oversee the 660,000-strong paramilitary People's Armed Police which acts against unrest, guards government compounds and foreign embassies and mobilises during natural disasters.
The People's Armed Police is under the direct jurisdiction of the military commission and the State Council, or cabinet.
If Li held the positions of both premier and commission vice chairman, he would be in a stronger position to react to domestic emergencies than outgoing Premier Wen Jiabao.
Without a seat on the commission, and no say in military affairs, Wen had difficulty mobilising the People's Armed Police to help with rescue work after the 2008 earthquake in Sichuan province which killed about 87,600 people.
"This will change if Li Keqiang becomes vice chairman of the military commission," a third source with leadership ties said.
Two People's Liberation Army generals are expected to also be named vice chairman of the commission, the sources added.