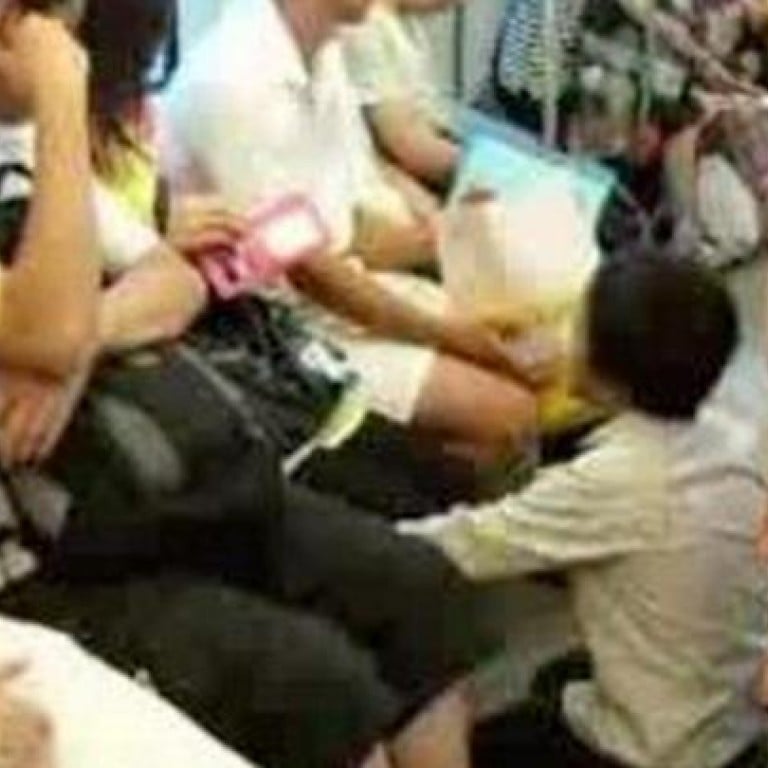 Shanghai's subway police name and shame beggars to deter them
Authorities use microblog to rank worst offenders in bid to reduce nuisance caused on trains by panhandlers from across nation
Shanghai's subways are a beggars' paradise, attracting panhandlers from all over the mainland. That has prompted the city's police to think up a novel idea to get rid of them - releasing a ranking of the worst offenders on a microblog.
"According to unofficial statistics, 22-year-old He comes first with 308 arrests, 88-year-old woman Chen is second with 292, and 27-year-old Bao is next with 241," railway police at Xujiahui station said on a microblog on August 14.
The ranking is based on the number of times the beggars have been arrested on the subways since 2008.
The railway police have also launched an anti-begging campaign - using the slogan "say no to begging on the subways" - to help maintain order.
As part of the campaign, they introduced a two-week trial programme on August 6, asking passengers to report beggars through Weixin, an instant messaging service.
Police said they would enter a subway car and catch a beggar within five minutes of receiving a report.
Figures from the start of this year to August 10 show that subway police detained 962 beggars. About half of them were detained more than 10 times.
"Most of the beggars are professionals," Wu Chunyu, a police officer at Xujiahui station, told Shanghai's . Begging on the subway can be lucrative. The Xujiahui railway police said a 41-year-old beggar had made 500 yuan (HK$611) in half a day. The man said his friends could make up to 1,000 yuan a day if they were lucky.
Shanghai's said some beggars could earn 10,000 yuan a month.
"Some beggars say they make much more money than me," said Qi Jun , a scavenger at Xujiahui station, who makes five yuan a day from selling newspapers and empty bottles he finds at the station. "Some of them wear shabby clothes but take a taxi to get home."
While some people praised the police for releasing the list - viewing it as an attempt to improve subway safety - some critics have accused them of being inhumane.
"This 'creativity' sent a chill through many people, including journalists," Xinhua said in a commentary on Tuesday.
Faced with such criticism, the Xujiahui railway police said on their microblog on August 19 that beggars could board a charity-run bus and go to a special station at 5.30pm daily to receive help.
"The police have a long conversation with first-time beggars, to try to understand their living conditions," they said.
Despite the police campaign, many beggars still go to the Xujiahui station every day. Lu Jinzhu, an 85-year-old beggar from Anhui, was limping with his crutch on the Line 7 subway on a recent hot afternoon. He went from one subway car to another, shaking a jar of coins in front of passengers, hoping some would give him some change. All but five did.
His relative, 63-year-old Chen Shujin, looked on. "Some friends told us we can make some money on the subways in Shanghai so we came here," Chen said. They usually made 20 to 30 yuan in half a day, he said.
But beggars said it had become harder to get alms on the subways recently because of the police campaign. Lu and Chen were caught by a plain-clothes police officer on Line 1 after being on the subway for just a few minutes and were sent to Xujiahui's subway police station.
"We had heard there were many plain-clothes officers recently but we just wanted to try," Chen said.
A 76-year-old beggar, also from Anhui, was seeking spare change at one of the exits of the Xujiahui station. "I came to Shanghai because people here are rich," he said. "Many people in my hometown are farmers and they have no money."
He said he usually made 10 yuan a day, which he spent on steamed buns or fried noodles. But he said he was planning to return home. "It is getting harder to get money," he said. "Police always ask me to go away."
Some passengers sympathised with the beggars even though they know some are professionals. A young man who gave money to Lu said: "I know he may beg on the subway every day but he is very old and does not have working skills."
The law currently limits the police's ability to keep the beggars away. Only those who harass or coerce passengers can be detained and fined.
Most of the subway beggars will be sent to an aid station after they are caught. If they refuse assistance they can leave and continue to beg the next day.
The law states that the elderly and guardians of minors cannot be detained for begging. Many beggars consequently use children and elderly people to shield them from arrest.
Evergreen Wang, a passenger, doubted the campaign would deter beggars. "Catching beggars wastes a lot of resources," he said. "Instead, the government should improve the social security system to help those in need."
This article appeared in the South China Morning Post print edition as: Subway police name and shame beggars