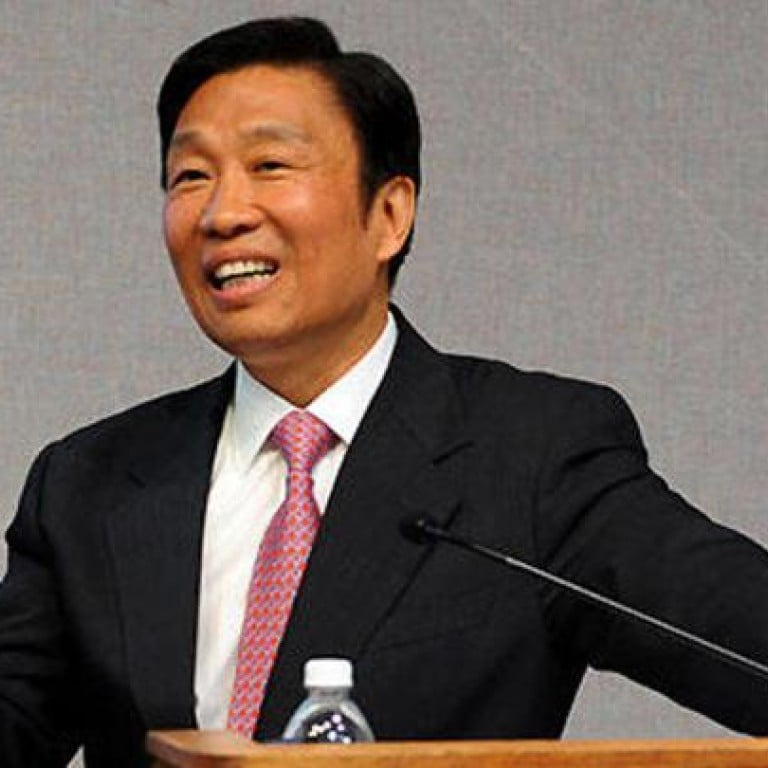 Rising star Li Yuanchao forges ties with all political factions in China
Li Yuanchao is seen as a likely candidate to ascend to the Politburo Standing Committee and he is also tipped as a future vice-president
If there's one thing that Li Yuanchao has
established during his rise to become chief of the Organisation Department -the Communist Party's patronage control centre - it is that he can forge strong ties across the factional spectrum. 
At 51, Li is seen as a member of the "princeling" faction of children born to exalted revolutionary parents. He also has one foot planted in former president Jiang Zemin's "Shanghai gang" and another set in the Communist Youth League, a key power base for President Hu Jintao .
With such connections, Li is considered one of the most likely candidates to ascend to the supreme Politburo Standing Committee at the upcoming party congress. He is also tipped to take over as vice-president next year, when Vice-President Xi Jinping is expected to ascend to the presidency.
As an example of how well Li is regarded across the factions, he was spotted at the northern resort town of Beidaihe last month, mingling with the party's most powerful current and former leaders as they thrashed out the final personnel arrangements ahead of the autumn leadership transition.
Li joined Xi in receiving dignitaries - most of them experts in various fields - at the Beidaihe meeting, according to a report. It also gave him a chance to show off his personal touch when he hosted a banquet for dignitaries.
"It was great atmosphere that night," the report quoted one who attended, saying. "Li didn't even have time to have a bite, because he's going around the tables and making toasts with everybody."
It was Li who went to Chongqing in mid-March to announce the decision to dismiss Bo Xilai as party chief of the southwestern municipality, after Bo's former aide and police chief Wang Lijun fled to the US consulate in Chengdu , reportedly offering information linking Bo to a murder.
Although the decision to sack Bo was likely to have been made by the Politburo, the announcement by Li suggests the significance his department holds over personnel reshuffles.
"As head of the Organisation Department, Li has the authority to control the evaluation of cadres and to recommend promotions," said political commentator Johnny Lau Yui-siu.
The politician, regarded as a protégé of Hu, suffered a setback following the 1989 student-led democracy movement. But he has been back on the right track since 2002, promoted first to party chief of Jiangsu province then head of the Organisation Department, as Hu himself rose to the nation's top post.
Li, born in Liangshui, Jiangsu, in 1950, is a so-called princeling - those descended from prominent officials - as his father, Li Gancheng, was a former vice-mayor of Shanghai. He spent most of his youth in that city, studying and taking part in youth league activities.
While his achievements in the 1990s went largely unnoticed, his political star began to rise during his tenure in Jiangsu.
The former provincial party secretary, who has a doctorate in law from the Central Party School and studied public administration briefly at Harvard University's Kennedy School of Government, launched human resources reforms in Jiangsu, attempting to establish himself as an official open to new ideas.
The province allowed anyone to apply for any government or party job - including party secretary - at prefecture level and below.
Authorities also used public opinion polls to gauge how well government services were being delivered.
Cities such as Nanjing conduct such surveys every year, and officials at departments that receive low marks can be reprimanded.
"Li attempted to change the norm where officials were appointed behind the scenes, and instead subjected them to some public scrutiny," said Gu Su , a professor of philosophy and law at Nanjing University.
The reforms were resisted by some officials, but Li handled it well, Gu said. "He can talk to officials from various backgrounds. Instead of being confrontational, Li prefers to talk to them."
In a diplomatic cable dated March 2007, released by WikiLeaks, Li told former US ambassador Clark Randt at a dinner that the main hurdle in pushing through political reforms in Jiangsu was to convince various interest groups to make sacrifices for the common good. Referring to the best-selling management book Li said any reform that was introduced quickly was bound to ruffle feathers.
"That kind of resistance is stronger in the Organisation Department, but Li went in there with the backing of Hu and other Politburo members," Gu said. "Li's ability to mingle with different groups inside the party created favourable conditions for him and facilitated the introduction of reforms."
Despite promising more openness within the party, Li also maintains that the authority of the party must be protected. Shortly after moving to the Organisation Department in 2007, Li told the that party affairs should be made more transparent, but also stressed that the unity of the party must be maintained and that there was no alternative to Communist Party rule.
At another dinner hosted by Li for US embassy officials and former congressman Robert Wexler in 2007, Li even suggested that public elections for the Politburo or even Politburo Standing Committee positions could be possible in 20 or 30 years' time because the public would demand greater democratic reforms, according to another diplomatic cable dated August 2007 released by WikiLeaks.
Like many of China's elite, Li was sent to work as a labourer during the Cultural Revolution that engulfed the nation from 1966 to 1976.
He joined the Communist Party in 1978 and started his political career in 1983 when his first patron, former Shanghai party chief Chen Pixian , recommended him to Hu Yaobang to serve the youth league secretary at Fudan University. By the end of that year, Li became secretary of the Shanghai youth league, before being moved to the same post in Beijing.
But his career advanced little in the 1990s and early 2000s, it is believed, because of the fallout from the 1989 student-led democracy movement.
During this period, Li served as deputy director of the Central Committee's propaganda department, deputy director of the State Council Information Office, and then deputy culture minister.
As an official in the youth league in Beijing, it was felt Li was not tough enough on the Tiananmen students, as the the official paper of the youth league, published articles considered sympathetic to the movement.
The paper's editorial staff, led by reporter Li Datong , even handed a petition to leaders demanding press freedom.
Although his tenure in Jiangsu won him praise, Li's image was tainted by a pollution disaster on Lake Tai in 2007 that left millions of people without running water for days and forced the government to close down more than 2,000 chemical factories.
This article appeared in the South China Morning Post print edition as: A rising star who can forge ties with all the factions