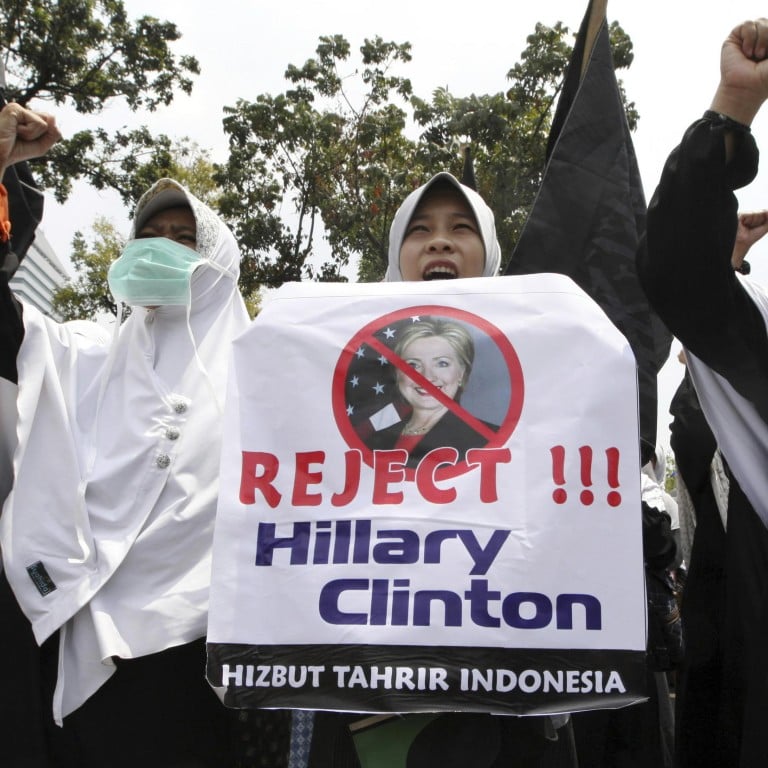 Clinton urges Asean unity on sea disputes ahead of Beijing visit
Recipe for tensions on Clinton visit to Beijing as US secretary of state intends to bring up maritime disputes with Chinese leaders
US Secretary of State Hillary Rodham Clinton has called on Southeast Asian nations to present a united front to Beijing in dealing with increasingly tense territorial disputes in the South China Sea, and set a date for diplomatic progress to be made.
Clinton, who will arrive in Beijing today for two days of talks with Chinese officials, is expected to bring up territorial disputes in both the South China Sea and the East China Sea, while Beijing has voiced concerns over Washington's "pivot" policy from the Middle East to East Asia.
At a news conference in Jakarta with Indonesian Foreign Minister Marty Natalegawa, Clinton offered strong US support for a regionally endorsed plan to ease rising tensions by implementing a code of conduct for all claimants to disputed islands.
She said the US saw it as important for Asean and China to have something to show for their efforts by the time of a November summit of East Asian leaders that US President Barack Obama plans to attend in Cambodia. Natalegawa agreed on the importance of the code of conduct and the need to set it up quickly.
"We must try to have the code of conduct," he said. "Absent a code of conduct, absent the diplomatic process, we can be certain of more incidents and tension for our region. Absent Asean unity, the question will become like a loose cannon in the way the issue is discussed."
Indonesia played a leading role in putting together a six-point plan with its Association of Southeast Asian Nations counterparts to tackle the South China Sea disputes, after the association was unable to reach a consensus on the issue in July.
Beijing, which is engaged in South China Sea disputes with Hanoi and Manila, has been irked by Washington's assertion that it has interests in the disputes. China is also involved in a worsening row with Japan over East China Sea claims.
"Countries outside this region should earnestly honour their commitment not to take sides in this dispute," Foreign Ministry spokesman Hong Lei said at a briefing yesterday.
Xinhua also criticised the US, in a commentary yesterday, for emboldening certain parties to make provocations against China. It called on the US not to be a "troublemaker".
"Washington owes Beijing a thorough, convincing explanation of the true intentions of its pivot policy, especially on issues related to China's vital or core interests," the commentary said.
In a separate commentary, Xinhua said the US moves in the dispute over the Diaoyu Islands, known as the Senkaku Islands in Japan, were dangerous.
Professor Zhang Mingliang, an analyst of South China Sea affairs at Jinan University, said the US call for unity in the Asean was a tactic to contain China.
"China is going to be more assertive in protecting its territorial rights over the South China Sea, and the US regards this as a threat," he said.
"A unified Asean can put pressure on China."
Professor Jin Canrong, a US affairs specialist at Renmin University, said the US wanted Asean members to first agree on a code of conduct, and then have it endorsed by China.
"This is very difficult because the nations involved have different stances," Jin said.
However, Zhang said he did not expect Beijing to present a tough stance to Clinton.
"The US is already heavily involved, and no one can turn it away. A tough approach by Beijing will only make the Southeast Asian nations cling more to the US, making it difficult for Beijing to manage the disputes," he said.
This article appeared in the South China Morning Post print edition as: U.S. urges Asean unity on South China Sea issues