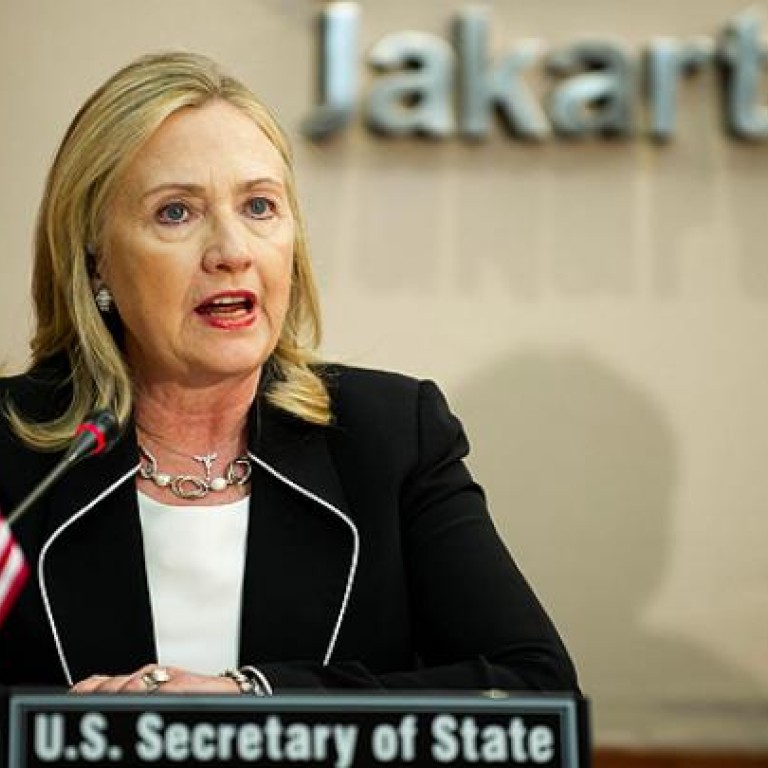 Clinton heads to China with hopes over sea tensions
US Secretary of State Hillary Clinton headed to Beijing on Tuesday after talks in ally Indonesia, where she voiced hopes for progress in managing soaring tensions in the South China Sea.
US Secretary of State Hillary Clinton headed to Beijing on Tuesday after talks in emerging US ally Indonesia, where she voiced hopes for progress in managing soaring tensions in the South China Sea.
Clinton, on her third visit to the region since May, encouraged a united front among the 10-member Association of Southeast Asian Nations (Asean ) as she stood firm in calling for freedom of navigation in the strategic sea.
The top US diplomat sounded an optimistic note in Southeast Asia's largest nation Indonesia, where President Susilo Bambang Yudhoyono said ties between the two nations were good but could be strengthened.
"Of course we have to do more... for further enhancing and strengthening our bilateral friendship and cooperation," he told Clinton, who headed from the meeting for a visit to the headquarters of Asean before departing for Beijing.
Clinton earlier said she saw positive signs in Southeast Asia and was optimistic over progress on a code of conduct governing the South China Sea, in time for an Asia summit in Cambodia in November to be attended by President Barack Obama.
"I think we can make progress before the East Asia Summit and it's certainly in everyone's interest that we do so," she told a joint news conference with Indonesian Foreign Minister Marty Natalegawa on Monday.
Clinton refrained from criticising China directly before her visit but signalled unease over Beijing's recent establishment of a remote garrison in the South China Sea where six nations have overlapping claims.
"The United States believes very strongly that no party should take any steps that would increase tensions or do anything that would be viewed as coercive or intimidating to advance their territorial claims," she said.
The United States has taken a vocal stance on the South China Sea, through which half of the world's cargo flows, as the Philippines and Vietnam accuse a rising Beijing of intimidation to exert its claims.
When Clinton visited Cambodia in July Asean foreign ministers for the first time failed to reach a joint communique at their annual meeting, as the nations stood divided on how to deal with an increasingly active China.
At Asean headquarters Tuesday, she said the US backed the bloc's goal of greater integration.
"We want to do all we can to advance Asean 's goal of integration because we have an interest in strengthening Asean 's ability to address regional challenges in an effective, comprehensive way," she said.
The United States and its partners believe a code of conduct would establish dialogue and mechanisms to manage disputes in the South China Sea and prevent flare-ups of the kind seen recently from escalating into full-blown conflicts.
In June Vietnam passed a law proclaiming its jurisdiction over the Paracel and Spratly islands, triggering Chinese protests. A stand-off between Chinese and Philippine vessels at Scarborough Shoal further increased tensions.
Asean Secretary-General Surin Pitsuwan said that in their meeting Tuesday Clinton had voiced her wish for the 10-nation bloc to speed up the process of implementing a code of conduct.
"She just wished that it would move fast, that we would get there fast, which is the intention of Asean and I'm sure the intention of China too," Pitsuwan told reporters after the meeting.
US relations with China have been fraught with tension, despite what US officials say is quiet cooperation in several areas including the pressuring of Iran over its disputed nuclear programme.
Chinese state media have accused Clinton of trying to contain the Asian power's rise. China claims most of the South China Sea and has generally preferred to negotiate individually with each nation instead of a united Asean.
Clinton's last visit to China in May was overshadowed by a crisis over prominent dissident Chen Guangcheng, who fled to the US embassy after reporting beatings while under house arrest in his home in Shandong province.
China eventually allowed the blind activist, who angered authorities by exposing forced abortions under the one-child policy, to leave for New York to study.
A US official said that Clinton was expected to discuss human rights but that it was unclear if Chen's case would again come up.