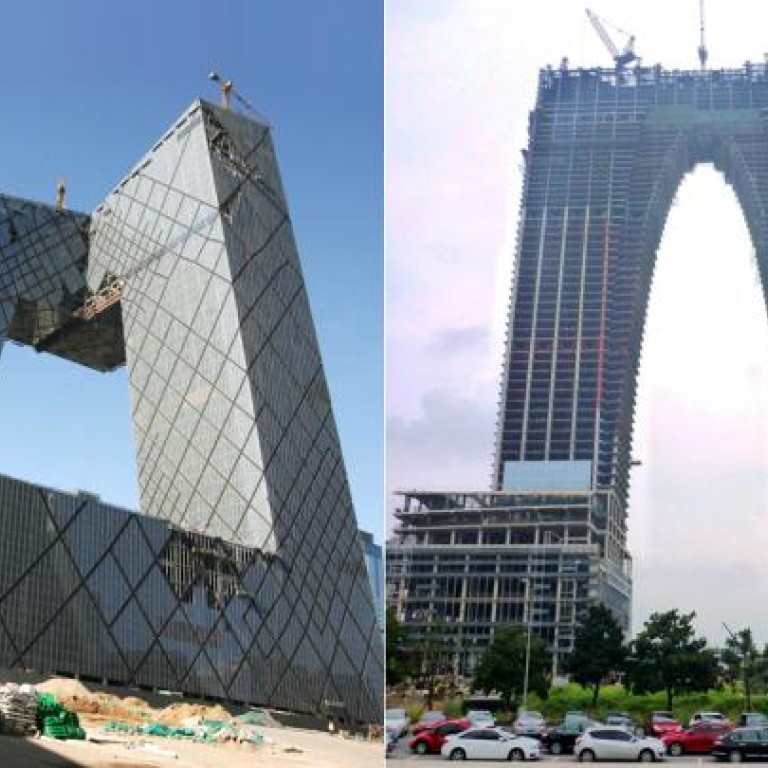 New Suzhou building mocked for looking like a pair of trousers
A new skyscraper in the eastern city of Suzhou has been criticised for looking like a pair of trousers, similar to China Central Television's controversial headquarters in Beijing.
The Gate of the Orient, in Suzhou's central business district, comprises two towers joined by an arch. According to the website of the Suzhou Industrial Park, at almost 302 metres high it will be the tallest gate-shaped building in the world.
The building has drawn flak online after an internet user posted photographs of it on a microblog on August 27. Many compared it to the CCTV tower, which has been dubbed "the giant underpants".
"With these low-rise jeans, the giant underpants of the CCTV tower are no longer alone," one microblogger quipped.
An architect who used to work for British firm RMJM, which designed the project, said the concept was inspired by traditional Suzhou gardens and the old Nanjing city gates.
Although the public finds the two buildings similar, Beijing-based architect Xu Xin said they were not comparable from an architectural point of view.
"The CCTV tower ... challenged the knowledge of structure, while the Gate of the Orient is a commercial project only designed to look good," she said.
The Gate of the Orient is being touted as a new landmark for Suzhou. It will be a business complex with apartments, offices, a hotel and a shopping mall.
A sales agent in Suzhou said the apartments were aimed at high-end buyers.
"We think the comments on the internet are mostly mockery and not criticisms," she said.
Construction of the Gate of the Orient started in September 2004 and is due to be completed in the second half of next year.
This article appeared in the South China Morning Post print edition as: Building's trousers look draws ridicule