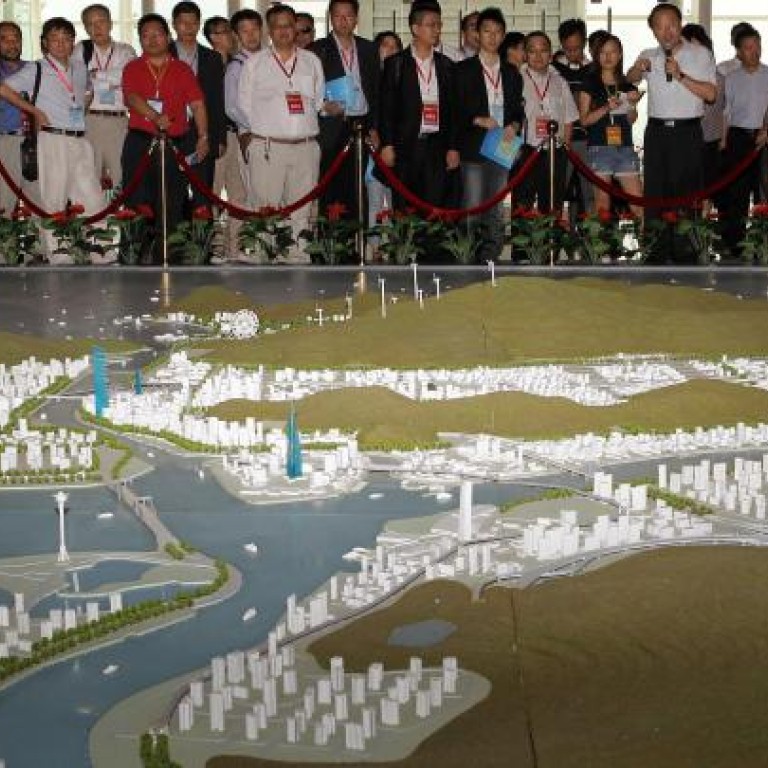 Economic development plan for Zhuhai's Hengqin Island doubted
Hengqin's boosters see it as an investment magnet, but doubters say Macau's only business is gaming and similar projects have flopped
Hong Kong and Macau analysts have criticised as wishful thinking mainland authorities' plan to develop seven pillar industries on Zhuhai's sleepy Hengqin Island and boost economic co-operation with Macau.
The 106 square kilometre island with a population of just 7,000, next to Macau's Taipa and Coloane islands, is poised to become a free-trade zone with Macau and Hong Kong, after Beijing approved pilot co-operation projects in customs, finance, revenue systems and land management last year.
Sweeteners endorsed by the State Council include exempting all overseas goods shipped to Hengqin from import duties unless they are transported to the rest of Zhuhai or elsewhere on the mainland, and charging qualified companies a corporate tax rate of 15 per cent, compared to the mainland average of 25 per cent.
Niu Jing, director of the management committee for the Hengqin New Zone, said the island would focus on developing business services, the financial industry, cultural innovation, tourism, scientific research, hi-tech industries, traditional Chinese medicine and health care, with talent and investment to be attracted from Hong Kong and Macau.
Amid speculation about Hengqin's economic prospects, the underdeveloped island's housing prices have soared to more than 10,000 yuan (HK$12,200) a square metre from just 1,500 yuan three years ago. But the island's first main road was only completed last month, and businesses will have to wait another two years before the island's basic infrastructure, such as roads and gas and sewage pipelines, is ready.
Dr Kwan Fung, head of the University of Macau's economics department, said industrial co-operation between Hengqin and Macau was just wishful thinking by the mainland authorities.
"The main industry in Macau is gambling, which has been banned on the mainland. Even luxury hotels and other supporting facilities for casinos aren't allowed to move to Hengqin.
"Besides casinos, most enterprises in Macau are small and medium-sized companies that fail to meet Hengqin's high-end industrial development targets."
Zhou Jianchun, director of Zhuhai's Foreign Affairs Office, said earlier that neither Hengqin nor Zhuhai would have any casinos in the future.
Chan Yan Chong, an associate professor in City University's management sciences department, said plans for Hengqin's seven pillar industries and its co-operation with Macau were simply utopian ideas.
"Hengqin authorities proposed seven pillar industries, but I think that's too many because the island lacks the capability, especially its financial industry," Chan said. "So far, at least 31 mainland cities have vowed to be China's next financial centre. However, to this day Hong Kong can still only operate a very limited yuan business because the central government has a very cautious attitude towards the convertibility of the yuan.
"The Binhai New Area in Tianjin vowed to build a world-class financial centre by allowing mainland investors to directly invest in Hong Kong's stock market, but it eventually fell into disuse because Beijing didn't want to make a hasty decision on the convertibility of the yuan."
Chan said Hengqin was doomed to fail if it relied heavily on investment and industrial co-operation from Macau.
"Zhuhai was among the country's first five special economic zones, together with Shenzhen, to launch reforms and open up for foreign investment," he said.
"Shenzhen is now a metropolis after 30 years' development, but Zhuhai is still relatively underdeveloped - that's because Macau, which it tried to co-operate with, is poorer than Hong Kong."
Figures from the Zhuhai authorities show that investment from Macau accounted for only 15.6 per cent of the city's total foreign investment by the end of last year. Zhuhai's total economic output last year was 140 billion yuan, just 12 per cent of Shenzhen's.
Hou Yongzhi, head of the development strategy and regional economy department of the State Council's Development Research Centre, said Hengqin's planned pillar industries -such as high-end manufacturing, tourism and the financial industry - looked too similar to those of other experimental zones.
However, Dr Fang Zhou, assistant chief research officer at the Hong Kong-based One Country Two Systems Research Institute, said Beijing's purpose in developing Hengqin was far more than just attracting investment from Macau to boost Zhuhai's economic growth.
"The central government hopes to diversity Macau's industries by boosting cross-border co-operation, helping Macau to develop industries such as tourism, conventions and exhibitions, Chinese medicine and health care, as well as tertiary education," Fang said.
Construction of a 6 billion yuan, one square kilometre University of Macau campus on Hengqin, which began in 2009, is expected to be completed by the end of this year.
Fang said the island could have more opportunities when the Hong Kong-Zhuhai-Macau bridge opens, because it would cut the driving time from Hong Kong to Zhuhai to 30 minutes.
Hengqin, Nansha in Guangzhou and Qianhai in Shenzhen were written into China's 12th five-year plan for 2011 to 2015 as testing grounds for new free-trade-zone concepts.
Under the plan, Qianhai will co-operate with Hong Kong. Pingtan Island in Fujian will co-operate with Taiwan and Yangpu Island in Hainan will work with Southeast Asia.
This article appeared in the South China Morning Post print edition as: The island fantasy next door to Macau