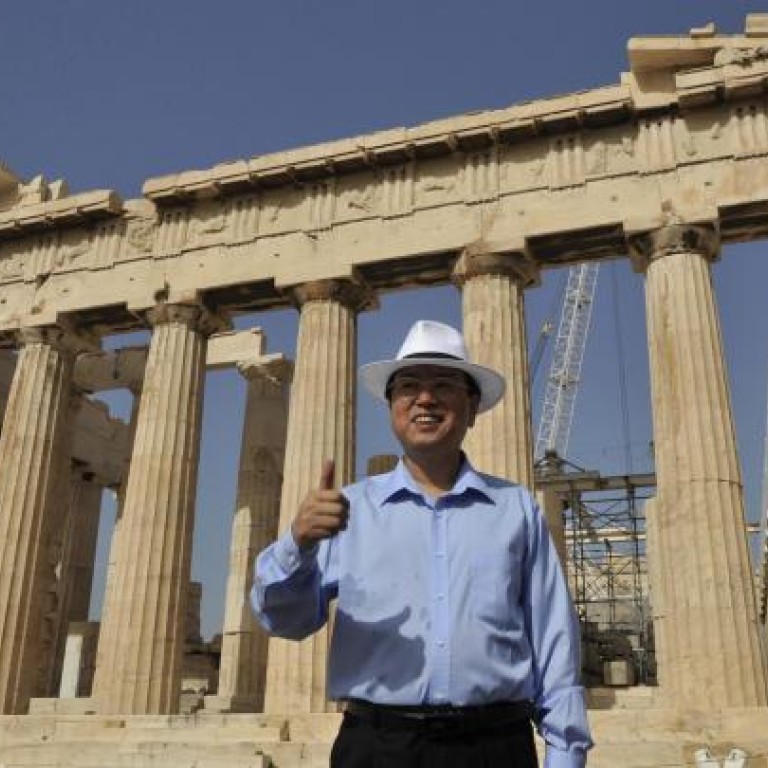 Zhang Dejiang: rise of the iron-fisted enforcer
Zhang Dejiang has proved he is a man who can be relied on in the event of a crisis, and is tipped to be rewarded with a seat at the top table
When Bo Xilai's dramatic fall left a power
vacuum in the booming metropolis of Chongqing earlier this year, Zhang Dejiang was just the man Beijing needed to step in and clean up the chaos.
Once installed, Zhang quickly moved to reorganise the government and reassure Hong Kong, Taiwanese and overseas investors who worried about instability in the mega-city of nearly 30 million.
Holding the high-profile post as Chongqing party secretary while retaining his title as vice-premier made Zhang, 66, an odds-on favourite to gain a seat on the supreme Politburo Standing Committee at the 18th party congress this autumn.
Also, Zhang's close association with the party's more conservative wing - he studied economics in North Korea - would send a signal that the hardliners were not on the outer despite seeing one of their champions disgraced.
Such a promotion would also let his long-time patron, former president Jiang Zemin, keep a vital ally on the party's supreme policymaking body.
"Zhang is a key figure in Jiang's power-succession strategy for the 18th party congress," said Dong Liwen, a professor at Central Police University in Taiwan.
The relationship between the two men dates back to March 1990, when the Korean-speaking Zhang accompanied the then-president on an important solidarity mission to Pyongyang amid international isolation in the wake of the Tiananmen crackdown.
Zhang developed a reputation for rigid efficiency during his rise over the past two decades from provincial party boss to vice-premier, even if his heavy-handed tactics sometimes led critics to accuse him of being ruthless.
The princeling son of former People's Liberation Army general Zhang Zhiji, Zhang was born in Liaoning and spent two years at Kim Il-sung University. He returned to China in 1980 and held various posts.
Eventually Zhang landed in the Yanbian Korean Autonomous Prefecture in Jilin province, where his success in stemming the tide of illegal immigration from North Korea caught the eyes of leaders in Beijing. Jiang tipped him for the trip to Pyongyang and appears to have been much impressed with the ambitious cadre.
Afterwards, the president summoned Zhang to Beijing and asked him to turn Yanbian into a "model prefecture" for the nation. Deemed successful, Zhang was promoted to party boss in Jilin in 1995 and Zhejiang in 1998 before ultimately assuming control of the manufacturing powerhouse of Guangdong in 2002.
It was in Guangdong that Zhang logged some of his biggest achievements - steering the most populous province through a period of explosive economic growth - but his iron-fisted style also landed him at the centre of numerous controversies.
Zhang received the heaviest criticism for his response to the Sars outbreak in 2003, which observers argue was made worse by the province's lethargic response to early cases and the suppression of news reports about the disease.
Those who violated orders were dealt with harshly. In 2004, the editor-in-chief and general manager of the upstart , the first newspaper to expose the Sars outbreak, were prosecuted on corruption charges. While the editor was acquitted, the general manager was jailed for four years.
The newspaper had already suffered a reported clampdown by authorities in 2003 after publishing a story about the death of a 27-year-old graphic designer who failed to produce a residency permit when questioned by Guangzhou police. An autopsy showed Sun Zhigang had been beaten before his death.
The coverage helped spur national outrage over the government's practice of detaining migrant workers in cities and returning them home, even if they had not broken the law.
Zhang also drew fire for violent crackdowns on social unrest during his tenure. In 2005, police were believed to have killed 20 people in Dongzhou village in Shanwei when they fired into a crowd protesting against inadequate land compensation.
That same year, hundreds of police raided Guangzhou's Panyu district to put down protests against village officials. Reporters and rights lawyers were reportedly beaten by thugs while police looked the other way.
But analysts say such episodes did little to damage Zhang's standing in Beijing, as Guangdong continued to prosper under his leadership and "mass incidents" were kept in check. The province's per capita gross domestic product surged 80 per cent during his tenure.
"Although he has been accused of mishandling the Sars outbreak, including restricting the flow of information to the public, Beijing won't regard it as a mistake," said Professor Steve Tsang Yui-sang, director of the China Policy Institute of the University of Nottingham.
"Zhang's initial response to Sars was the default option for every communist official on the mainland."
Tsang said Zhang's rigid leadership style was common among party leaders, especially those considered members of Jiang's "Shanghai gang".
"Like the rest of the Shanghai gang, Zhang's administration style focuses on rapid economic development and an iron-fist government, paying no attention to social injustice," Tsang said. "Their initial response to major crisis is high-pressure control."
Nonetheless, Zhang's ill-fated effort to create a pan-Pearl River Delta regional co-operation project including Hong Kong and Macau was seen as a poorly managed overreach by Beijing.
He was passed over for a seat on the Standing Committee after the 17th party congress in 2007; his subsequent appointment as vice-premier was widely seen as a consolation prize.
Zhang's crisis-management style was again called into question last year after the Wenzhou train crash that claimed 40 lives and badly damaged the reputation of the high-speed rail system.
As the vice-premier in charge of energy, telecommunications and transport, Zhang reportedly brought the search-and-rescue effort to an abrupt halt and ordered officials to rush the trains back into service.
Ming Chuan University Professor Yang Kai-Huang, who heads the Taiwan-based Mainland China Studies Association, believes such decisive action has actually endeared Zhang to party elders. They might want people like him around to deal with future problems.
"The Communist Party expects to encounter lots of uncertainty and difficulty in the coming decade … and it'll need candidates with strong political compliance," Yang said. "Zhang Dejiang is that kind of candidate who always carries out the central government's decision."
That was likely one of the reasons Zhang was chosen to take over Chongqing in March, following Bo's removal.
Most observers agree that Zhang's Chongqing performance leaves him more certain to get appointed to the Standing Committee this time around. Jiang is believed to be pushing hard for his protégé.
Dong, the professor from Central Police University, said Zhang's history showed he was more of a pragmatic opportunist than the hardline conservative other observers had portrayed him to be.
"Opportunism is one of the common political characteristics of the Shanghai gang," Dong said. "To maximise their political interests, their ideology is always swaying between that of the leftists and the rightists, combining hard and soft tactics."
The biggest obstacle now confronting Zhang may be his age, meaning he can only serve one term. Dong said Zhang's ascension would depend on whether the party wanted only a small-scale reshuffle this year.
"Such a reshuffle would hinder the cultivation of a new generation of party leaders and could introduce more political struggles to the next power reshuffle five years later," he said.
This article appeared in the South China Morning Post print edition as: enforcer