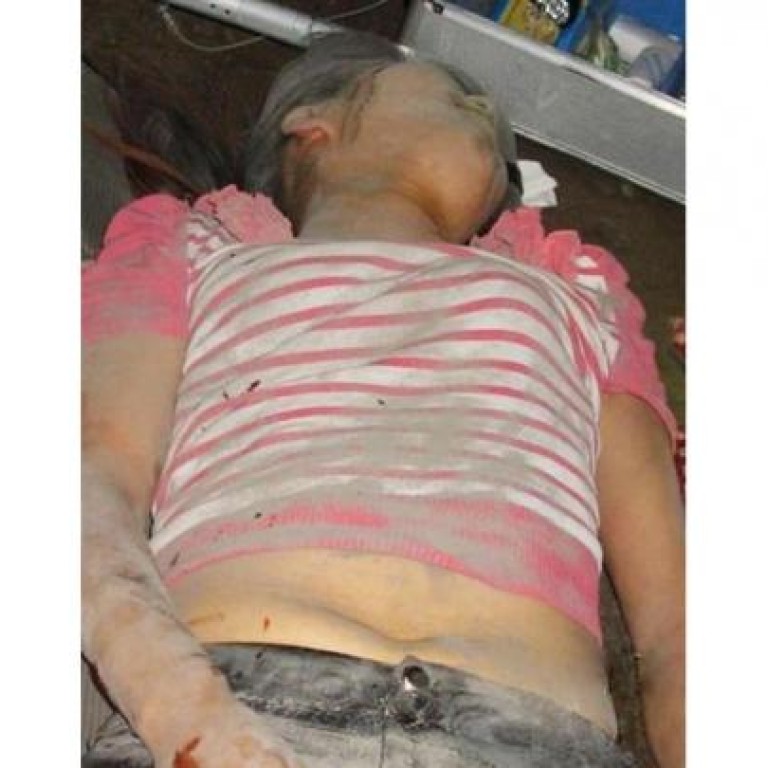 Chongqing mother shoved into cement mixer over land grab row
A Chongqing woman was in intensive care yesterday after allegedly being pushed into a running cement mixer during a dispute over illegally seized land.
Peng Shuhua , 37, who runs a medical clinic in Dianjiang county in the southwestern municipality, had been at the site where her 80-square-metre ancestral home stood before it was razed to make way for retail shops.
When she awoke from a coma the next day, Peng told her husband she had been arguing with a worker at the site on Monday evening, who called his supervisor.
"After getting off the phone, he came to my wife and told her she must have been looking to die. The next thing she knew, she was being shoved into the funnel of a mixing machine," Peng's husband, Gao Hanjiang , said last night.
"He crushed her by dumping more rocks and sand into the running machine," Gao added.
Photographs posted in the county's online forum showed Peng covered with debris while lying unconscious on the ground, with medical personnel trying to save her.
She was rushed to Dianjiang County Hospital in a comatose state before being transferred to Chongqing's Xinqiao Hospital yesterday.
Peng suffered a broken right arm and nerve damage that could have a lasting effect on the arm's mobility. There was also considerable damage to her lungs, along with internal bleeding in the chest.
The couple have two girls and a boy, aged between five and 10.
"I hope the government severely punishes [the person responsible]. This was intentional assault," Gao said.
Wang Yuanliang , the deputy chief of Caohui town, where the incident took place, pledged his support.
He said: "We have already ordered the construction company to pay 30,000 yuan (HK$36,700) to the family. We will ask for more until the woman is cured. The suspect is now in custody while police investigate the case."
However, Gao said the construction company, which was not identified, had not yet paid the couple for medical bills or lost property.
He hopes to transfer his wife to a hospital in Shanghai where she can undergo treatment for the nerve damage.
This article appeared in the South China Morning Post print edition as: Woman in land-grab row shoved into cement mixer