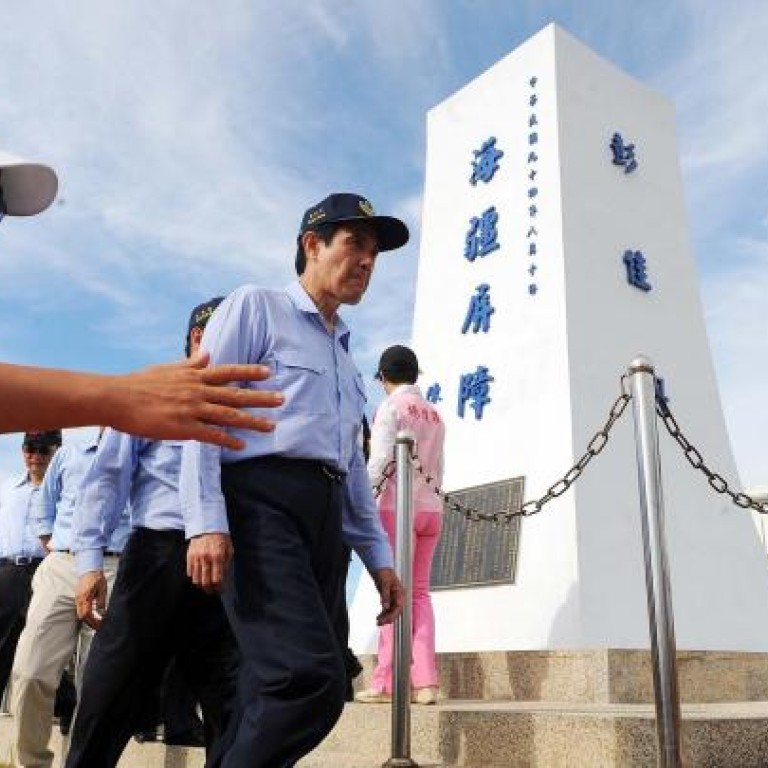 Taiwanese President Ma Ying-jeou warns Japan against buying Diaoyus
Taiwan's president uses trip to islet to tell Japanese government it should abandon plans that would escalate tensions over the Diaoyus
Taiwanese President Ma Ying-jeou, on a visit to the hotly contested East China Sea yesterday, warned Japan's government against escalating regional tensions by trying to purchase the disputed Diaoyu Islands.
Ma used his first official visit to the Taiwan-held Pengjia Islet - 76 nautical miles from the Diaoyus, which the Japanese call the Senkakus - to blast Japan over media reports that the government had agreed to buy three of the chain's five main islands.
The president said such a purchase would be invalid because Japan was guilty of "violating international law" when it occupied the islands in the early 1970s, an act he described as an "aggressive" act of theft. islands are claimed by Beijing, Tokyo and Taipei.
"Absolutely, there is no way we would recognise any of their actions over the Diaoyus, which have long been an inherent part of the territory of the Republic of China," Ma said, referring to the name Taiwan calls itself, after landing on Pengjia Islet.
While the Diaoyus are uninhabited, they are viewed by all three governments as sovereign territory and a potential source of oil and natural gas. Tensions surrounding the islands have been high since April, when the nationalist governor of Tokyo, Shintaro Ishihara, announced his own plan to buy the islands.
Escorted by military planes and vessels, Ma led a delegation of officials and lawmakers on a helicopter trip to Pengjia yesterday. Members of the Taiwanese and Japanese media were brought to the island aboard a coastguard vessel to witness the visit.
Ma called on Tokyo to officially acknowledge conflicting territorial claims to the Diaoyus so the parties involved could hold talks over their future. It is the first time he has explicitly raised the possibility of involving Beijing in such talks.
The Taiwanese president said "conflicts would be inevitable in the future" if the disputes were left unresolved. He reiterated his support for an East China Sea peace initiative, in which all parties would shelve their territorial claims and open talks for joint exploration and development of resources in the region.
Ma told reporters that he had no plans to personally inspect the Diaoyu Islands.
Ma held a 10-minute video conference with officers stationed at the coastguard's South China Sea outposts in the Pratas and Spratly islands.
Taipei controls the Pratas, known as the Dongsha Islands on the mainland, and the Taiping islet in the Spratlys chain.
The symbolic inspection was criticised by the opposition pro-independence groups for being ineffective and a waste of money. But some local media and analysts viewed it as a well-measured move that demonstrated Taiwan's stance on the issue without escalating tensions.
This article appeared in the South China Morning Post print edition as: Ma warns Japan over move to buy islands