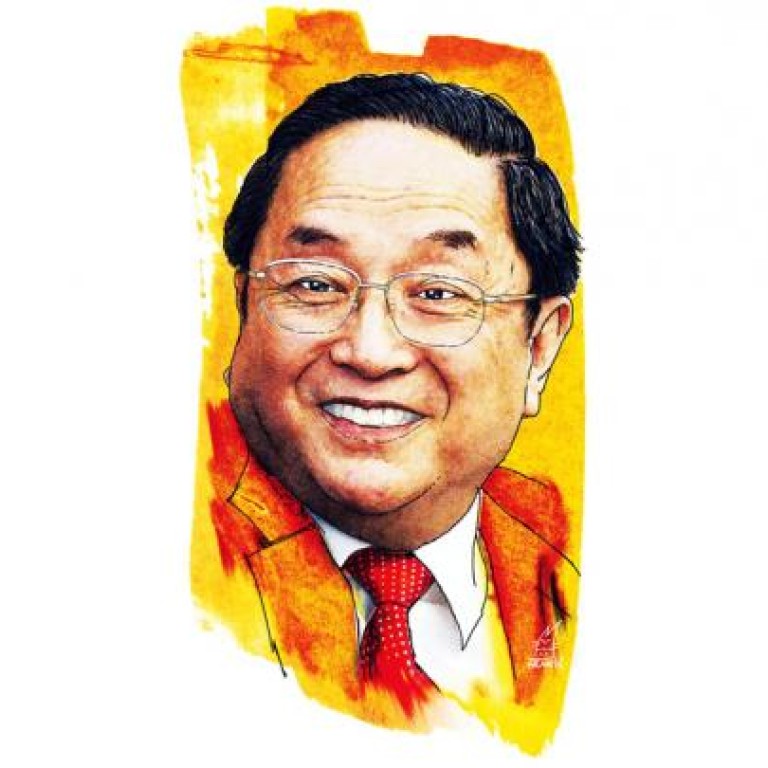 Shanghai chief Yu Zhengsheng's well prepared to join party elite
Shanghai chief Yu Zhengsheng's political savvy, built up over many crises, stands him in good stead to join the upper echelon of the party
Shanghai party chief Yu Zhengsheng,
a "princeling" tipped for promotion to the Politburo Standing Committee at the 18th party congress, has a knack for using both the carrot and the stick.
The 67-year-old Yu, one of the Politburo's most senior members, has developed good political judgment after enduring many political crises, including his survival during the Cultural Revolution despite his blue-blood background.
The September 1 edition of the party's political journal , or published a long article by Yu on how Shanghai is on track to becoming a leading global metropolis under the guidelines of "scientific development", a party theory championed by President Hu Jintao .
Analysts say the timing of the article, a few weeks ahead of the autumn party congress, serves as a strong hint that Yu has all but secured a seat on the party's top decision-making body.
"Yu is a fairly open-minded leader who is willing to compromise with local officialdom when moving into a new environment," Hong Kong-based political commentator Ho Leong-leong said, citing differences in Yu's working style in Shandong , Hubei and Shanghai.
"Shanghai is a very different place, as the municipal government has been dominated by natives, and Yu, once an iron-fisted leader in Hubei, has become a more low-profile and easy-going party chief since becoming head of the city in late 2007," Ho said.
In January 2008, just two months after Yu arrived in Shanghai and was busy preparing for a meeting with then British prime minister Gordon Brown, more than 2,000 residents protested outside the main government headquarters against plans to build a maglev line from Shanghai to Hangzhou .
Yu immediately promised to postpone the controversial project and hold another round of discussions.
Ho said Yu's good relationship with Mayor Han Zheng , whose future had appeared uncertain following the downfall of disgraced Shanghai party chief Chen Liangyu in 2006, had helped ensure that many of his high-profile tasks, including running the 2010 World Expo, had progressed smoothly.
"I think Yu tried to protect Han from having his connections with his former boss Chen checked by the upper level, resulting in the Shanghai-native mayor working closely with the new party head," Ho said.
Ma Guoxian , an economist and political observer at Shanghai University of Finance and Economics, said Yu had "a clear political mindset, especially when dealing with some sensitive issues like the Cultural Revolution".
Ma cited Yu's cautious response to disgraced Chongqing party secretary Bo Xilai's anti-triad crackdown and "red song" campaign as a case in point. In a rare, high-profile lecture to 5,000 student party members at Shanghai Jiao Tong University on June 20 last year, at the height of Bo's campaign to promote the singing of songs in praise of the Communist Party, Yu said a "personal mistake" by Mao Zedong was to blame for the 1966-1976 Cultural Revolution and the wrong direction taken by the party.
"[Mao] made a serious personal mistake … he launched the Cultural Revolution … as an attempt to prevent workers and farmers from being reduced to an underclass in our society," Yu told the students. "But he shouldn't have sought such a wrong way out."
Yu said at least six members of his family died during the decade of nationwide political struggle, with his younger sister committing suicide when she was at high school. His mother, one of the party's revolutionary vanguard, became schizophrenic during seven years in jail.
As a senior politician in the communist regime, Yu has defied his patrician roots to scale the political heights.
He was born into an aristocratic family in Shaoxing , Zhejiang , with many members of the family officials during the late Qing dynasty or in the Kuomintang regime. His great-uncle Yu Da-wei served as Taiwan's defence minister in 1954, and among his cousins was Yu Yang-ho, the son-in-law of former Taiwanese president Chiang Ching-kuo.
Other family members had a party pedigree. Yu's father, Yu Qiwei , also known as Huang Jing , was at one point married to Mao Zedong's third wife, Jiang Qing , and introduced her to the party. Yu Qiwei was also the first mayor of Tianjin following the establishment of the People's Republic and head of the Ministry of Machine-building Industry in the 1950s.
Yu Zhengsheng's mother, Fan Jin , was a former general director of the , and his wife, Zhang Zhikai , is the daughter of the late Zhang Zhenhuan , a former vice-chairman of the Commission of Science, Technology and Industry for National Defence.
Yu Zhengsheng graduated from the missile engineering department of the Harbin Military Institute and spent 16 years as a cadre in the Ministry of Electronics Industry, with his last two years as a deputy department head under Jiang Zemin .
His career progressed despite the defection to the US in 1985 of his older brother, Yu Qiangsheng , a senior intelligence officer of the Ministry of State Security, while the younger Yu was deputy party secretary of Yantai in Shandong.
Yu Zhengsheng went on to serve as mayor and party chief of Qingdao , and as a member of the Shandong party standing committee.
He became construction minister in 1998 and was promoted to Hubei party secretary in 2001. In 2002 he became director of the provincial party standing committee and was appointed to the Politburo.
No matter where he has been placed, Yu has always displayed a solid capacity to govern.
While mayor of Qingdao, he sold the city government's downtown offices to an overseas developer and moved the administration into the countryside to boost rural development - a decision that was well received.
When he was party head of Hubei from 2002 to 2007, Yu launched several pilot reforms covering party affairs, the urban and rural tax systems, civil servants' benefits and other areas despite strong opposition.
In the provincial capital, Wuhan , Yu cancelled 500 highway passes for provincial government vehicles, ordering that all official cars should pay highway tolls, the said. Yu also cut all kinds of cash allowances for provincial officials, replacing them with a 400-yuan monthly subsidy, it said.
But he has adopted a more low-profile and humble approach since moving to Shanghai in 2007.
Ma said Yu was more flexible on some less sensitive issues, like mass protests, and was willing to listen to public opinion.
"Yu is very skilful when dealing with political crises, because he's not like other conservative leaders who have grown used to forcing the public to accept their own thinking," Ma said.
Ma cited the example of Yu's handling of a high-rise fire in Shanghai in November 2010 that claimed 58 lives.
One week after the fatal fire, thousands of Shanghai residents united in a rare expression of mass public grief to mourn the victims. Yu and Han then made a public apology, acknowledging that they should be blamed for the weak supervision of the city's chaotic construction industry.
"His quick and friendly reaction successfully assuaged public anger over the municipal government's dereliction of duty," Ma said.
This article appeared in the South China Morning Post print edition as: The man for the job