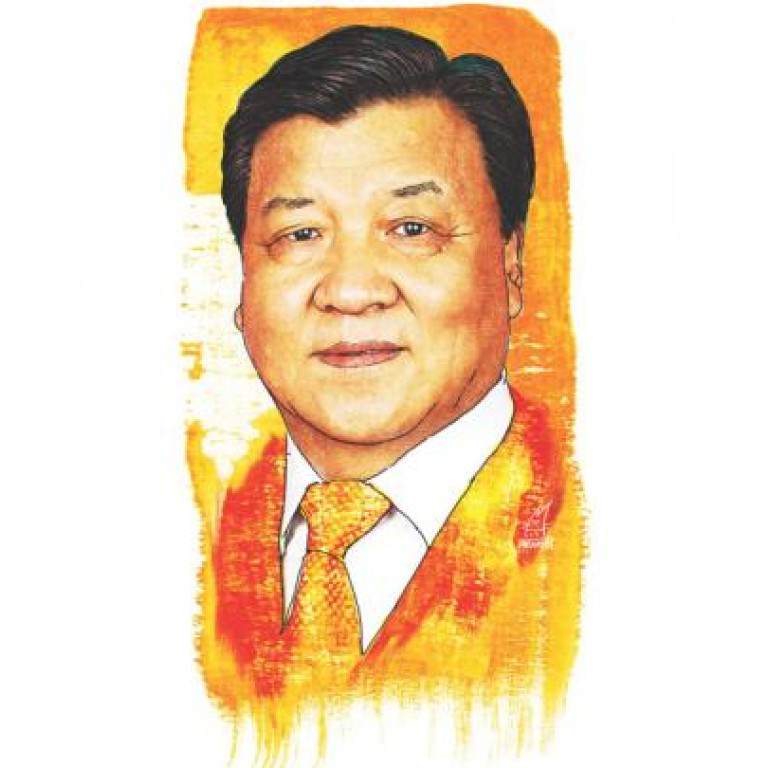 Mainland propaganda chief Liu Yunshan eyes top party post
Propaganda enforcer Liu Yunshan, with one eye on a top post, has spread Hu's grass-roots motto but critics say he is out of tune with modern media
Liu Yunshan , head of the Communist Party's Publicity Department and widely tipped as a strong candidate for elevation to the Politburo Standing Committee, has spared no effort in touting President Hu Jintao's new motto on party propaganda.
On September 6, he presided over a conference to mobilise state media to step up coverage of how grass-roots people have upheld the ideology of the party.
Shifting the emphasis to ordinary people is a campaign launched by Hu, under the banner "Go to the grass roots, renew the manner, and change the writing style", to make propaganda more relevant to a public growing weary of the constant burnishing of the party's deeds.
The campaign to promote Hu's propaganda policy is apparently an effort by Liu to increase his political capital in the intense jockeying for top posts.
Liu is often seen in public as a sidekick to propaganda tsar Li Changchun . For nearly 10 years, he has largely served as an enforcer following orders from his superiors to come down hard on dissent.
However, he is widely seen as a strong contender for a place on the party's all-powerful Politburo Standing Committee when its leadership transition takes place this year.
Analysts said Liu would face greater challenges from social media, an emerging civil- society movement empowered by the internet and deepening disdain for the party's rule and its ideological control over the mainland.
Liu's immediate challenge is whipping up enough positive publicity for the upcoming party congress.
"The hostile forces in the world have intensified their infiltration into our ideology by constantly changing their tactics," Liu warned in article on party ideology promotion for the magazine in March. He was referring to the global debate over social systems and modes of development in the aftermath of regime changes in the Middle East. "Meanwhile we have entered a key phase of reform when social tension becomes acute," he admitted.
Liu, 65, a native of Xinzhou in Shanxi province , began his career as a schoolteacher in Inner Mongolia's Tuzuo Banner region after he graduated from the Jining Normal School in 1968.
Like many mainland propaganda officials who cut their teeth at state-owned news organisations, Liu worked at the regional branch of the Xinhua News Agency in Inner Mongolia for seven years.
He was later transferred to the region's Youth League, where he rose through the bureaucratic ranks to become a deputy party secretary for Inner Mongolia and party secretary for Chifeng in 1993.
In a sudden promotion to the central government that year, Liu was appointed a vice-minister of the publicity, or propaganda, department. The appointment prompted intense speculation about Liu's "princeling" background and his ties to party elders and to Hu.
One account attributed his promotion to his parents' ties to Bo Yibo , a revolutionary elder and the late father of the now disgraced former Chongqing party secretary, Bo Xilai .
Overseas Chinese media reports have generally credited Hu for Liu's promotion.
Liu served as the chief of the Inner Mongolia branch of the Youth League between 1982 and 1985 when Hu was head of the Youth League, the young offshoot of the Communist Party.
Liu became director of the Publicity Department and a member of the Politburo in 2002.
Qiao Mu , an associate professor at Beijing Foreign Studies University who has studied the propaganda department, noted that Liu's promotion to the central government was as secretive as the department he leads.
A widely circulated and censored blog article by Qiao, which recounted his first visit to the Publicity Department last year, offered a rare glimpse into the secrecy surrounding it. He observed that the address and phone numbers of the department are not listed in street directories or phone books.
Qiao said Liu's role in ideological control had been significantly weakened by the Politburo Standing Committee, which was enlarged from seven to nine members in November 2002.
He said Liu, who would otherwise have served as an architect of ideological control, had been relegated to the role of co-ordinator among censors such as the State Council Information Office and State Administration of Radio, Film and Television.
Qiao said that the propaganda department under Liu's control had been operating "like a fireman", rushing in wherever there was a problem with the media. He pointed to the recent crackdown targeting management at the Guangzhou-based and in Shanghai in late July for writing about sensitive topics.
"When someone or the department he leads that once dealt with strategy development and vision building is preoccupied with micromanagement, it no longer holds the clout it used to have," Qiao said.
He said Liu could claim credit for boosting the international presence of state-owned media over the last three or four years to cultivate China's so-called soft power.
Liu was tasked with overseeing a budget of about US$8 billion for overseas expansion of the media, including the opening of China Central Television branches in the United States and Africa and the launch of a US edition of the
Qiao said a TV commercial promoting China that made its debut on a giant screen in New York's Times Square ahead of Hu's visit to the United States in January last year, and an earlier campaign for "made-in-China" products, made a big impression. However, other efforts, such as the rapid expansion of Confucius Institutes worldwide, had only caused unease.
Liu is expected to assume a major role in ideological control in the next five years. Qiao said Liu and his department would face daunting challenges from internet-based new media, as he had failed to put in place a sound strategy for the development of the web.
Qiao said the introduction of a licensing regime for internet service providers a few years ago and a requirement for microbloggers to register with their real names underscored how little mainland censors know about the internet. They are trying to control cyberspace as they control traditional media.
Jiao Guobiao , an associate professor in Peking University's school of journalism and communication and a staunch critic of Liu and his department, said the challenges from new media would be huge for Liu because he did not possess the wisdom or stature of propaganda elders such as Zhou Yang and Deng Liqun .
Liu's tertiary education consists only of a bachelor's degree from the Central Party School earned by distance learning between 1989 and 1992.
There is little public information about Liu's family. His son, Liu Lefei , has been chief executive of Citic Private Equity Funds Management since December 2008.
The junior Liu, 39, previously served as the chief investment officer at insurer China Life, overseeing nearly one trillion yuan in assets. He is among the many offspring of senior officials who struck gold in businesses with strong government ties.
Jiao said the biggest challenge lay in the fact people like Liu Yunshan no longer took pride in what they did.
"All they have been doing in propaganda work has been centred on maintaining stability to serve their self-interest," he said.
"The longer they stay in power, the more their families will benefit."
This article appeared in the South China Morning Post print edition as: Believing his own publicity