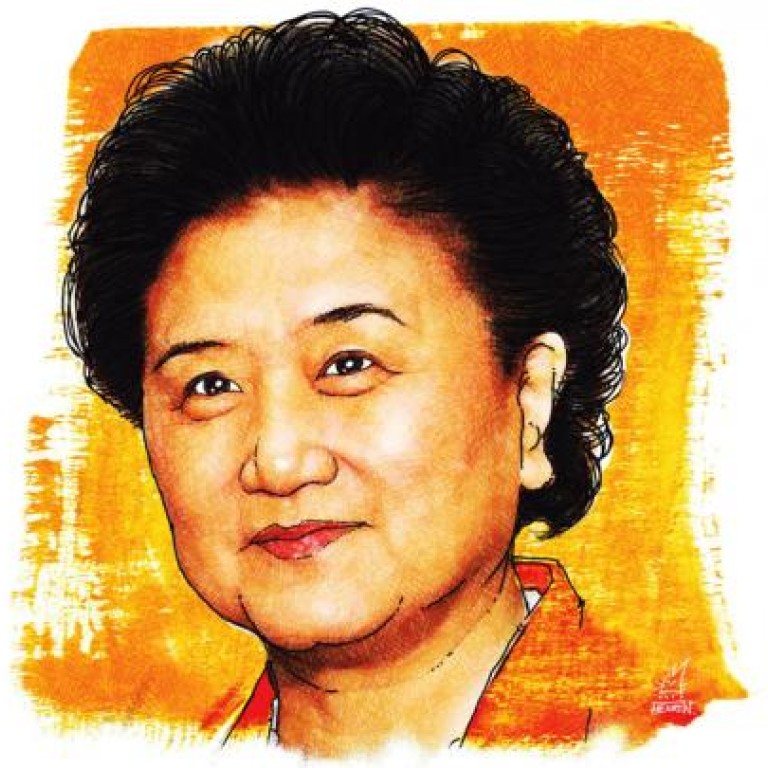 Breaking the glass ceiling in the Politburo Standing Committee
State councillor Liu Yandong may redefine China's political image if she becomes the Politburo Standing Committee's first woman member
The number of woman politicians who have shaped the nation can be counted on one hand. It's one of the smallest elite clubs in the world, but Liu Yandong may soon crack its doors slightly wider open.
Liu, 66, has an outside chance of becoming the first woman member of the Politburo Standing Committee, the party's top decision-making body.
And depending on how she performs in the role - if she gets it - China could redefine its political image away from the dour technocrats and grim generals that traditionally make up its ruling cognoscenti.
Unlike many of the central leadership's top members, Liu displays an easy charm, having a knack for photo opportunities - holding hands with scientists at the South Pole or visiting athletes Yao Ming and Liu Xiang while they were injured.
In July, when Yi Siling took the London Olympics' first gold in the women's 10-metre air rifle competition, Liu sent out a congratulatory message. She also sent a congratulatory telegram almost immediately after tennis player Li Na won the French Open last year. In May, she also made headlines kissing the arm of teacher Zhang Lili, 32, who lost her legs after saving children from oncoming traffic in Harbin, telling her: "You may call me big sister now."
Liu has ties to President Hu Jintao going back to when they both served in his power base, the China Youth League. She rose to prominence through the influential United Front Work Department, which builds alliances with key groups and people not members of the party. At the 17th party congress in 2007, she was made a Politburo member, in charge of health, education, science and sports, and appointed a state councillor the following year.
"She is in the right bureaucratic zone. She is on Hu's side. She stands a good chance," said Steve Tsang, a contemporary Chinese studies professor at Britain's University of Nottingham.
Pu Xingzu, a professor at Fudan University's School of International Affairs and Public Relations, said elevating Liu to the Politburo Standing Committee would send a strong message that China's political sphere was evolving.
"For a country that stresses equality of the sexes, having a woman state leader would be an affirmation of the saying that women hold up half the sky." he said. "Liu Yandong has always appeared very elegant and she exudes charm … China's politics needs that gentler image.
"She has years of experience working at the central level, so that is a big advantage in allowing her to see the big picture involved with policy decisions. But at the same time, she has never been in charge of a province or municipality. That could be an obstacle to her promotion."
Liu, who was born in Nantong in Jiangsu province, joined the party at age 19 and enrolled in Tsinghua University to study chemical engineering. She was one of the few women in the department, she told fellow politicians decades later. Her driving ambition at the time, she said, was to win a Nobel Prize.
After graduating, Liu took a job working in a chemical plant in Tangshan in Hebei province. In 1972, after the dust from the Cultural Revolution had settled, she was transferred to the capital in Beijing, where she spent the ensuing decade engaged in low-level party work, but was widely considered a member showing strong promise.
In 1982, along with Hu, Liu was elected secretary of the central committee of the Youth League. Other political heavyweights, such as Vice-Premier Li Keqiang and Central Committee Organisation Department head Li Yuanchao , were elected to the league the following year.
Not only is Liu one of Hu's protégées, she is also a member of the princeling class, being a child of party veteran Liu Ruilong , who was vice-minister of agriculture. She has strong connections with other princelings, and is known to have recommended Liu Hu, her former classmate and son of late party general secretary Hu Yaobang, as a member of the party. Jiang Shangqing , the stepfather of former president Jiang Zemin , was a neighbour of Liu's father and one of his good friends.
Liu moved to the Communist Party's United Front Work Department - an influential institution within the web of party bureaucracy - and became its first woman minister in 2002. Overseeing the department allowed her to forge more connections with elites drawn from across the spectrum of Chinese society.
In 2007, the department recognised the presence of a rising "new social class" - composed mainly of businessmen and academics working in the private sector - pledging to unite them to consolidate the party's foundation and help bolster the nation's economic development.
"The department has made at least 50 million new friends for the communist party over the past five years," said the department review, which praised Liu's leadership.
Liu also has a reputation of reaching out to people who hold views different from her own. Although party members are supposed to be atheists, Liu has made connections with religious people. During a visit to Sanqing Mountain in Jiangxi , which well known for its Taoist temples, she insisted on climbing a steep peak "reaching into the clouds" to visit monks and to carry financial aid to them. The monks, who had never before been visited by such a high-ranking official, said they were deeply moved.
But Liu's career has not been without controversy. After a string of accidents involving crowded school buses and vans, Liu remarked that the central government could not afford school buses. The comment was widely criticised as insensitive in light of government spending on banquets and overseas trips.
In the course of her work, Liu has also been responsible for reaching out to key members of the community in Hong Kong, Macau, Taiwan and abroad to help exert the party's influence. Her first official visit to Hong Kong as the United Front Work Department chief in 2004 showed her changing into four stylish outfits in one day - a stark contrast to the dour front carried by most mainland officials. Local media reported at the time that she had changed clothes for different occasions, which showed respect for Hong Kong people and demonstrated a diplomatic savvy of social etiquette.
Liu's ties with the city have proved not only professional but personal. In April 2009, her only daughter gave birth to a girl in Hong Kong and Liu reportedly swung by the city after her visit to the US. During her stay here of less than a day, Liu took the time out to attend a home banquet hosted by then Chief Executive Donald Tsang Yam-kuen and had brought her daughter Yang Fan along for the reunion.
"Her job is to manage Hong Kong and make sure that nothing goes wrong in Hong Kong that ends up getting the attention of the central government," Professor Steve Tsang said. "In that regard she has been very successful from Beijing's perspective."
But veteran political commentator Johnny Lau Yui-siu was less generous on Liu's chances of making history at the upcoming party congress. "She is state councillor and has connections with the Youth League, but she has no particular achievements. Among key figures with prospects for promotion, Liu has a less impressive resume," he said.
"The party may give the job to one with some United Front background, but it's hard to tell if that's going to be Liu Yandong."
This article appeared in the South China Morning Post print edition as: Breaking the glass ceiling