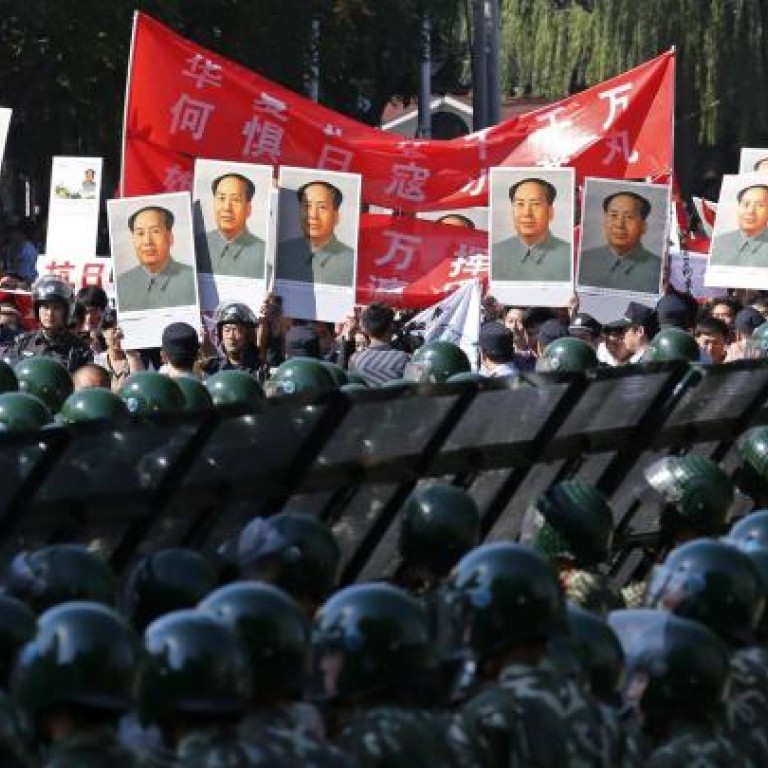 Diaoyu protests across China on anniversary of Mukden Incident
Thousands take to the streets across mainland on anniversary of Mukden Incident, but heavy police presence keeps demonstrators in line
Mass rallies were held in cities across the mainland yesterday as protesters renewed demands for Japan to give up the Diaoyu Islands.
The demonstrations also marked the anniversary of the Mukden Incident, the formal start of Japan's war with China and its 14 years of occupation.
Police sirens sounded in many cities at 9.18am to mark the anniversary.
The demonstrations were generally orderly due to a heavy police presence, though there were a few minor scuffles.
Tensions remained high in Beijing where demonstrators reacted angrily to reports that two Japanese activists had briefly landed on one of the uninhabited islands in the archipelago, which Japan calls the Senkakus.
"The unlawful landing of the Japanese right-wingers on the Chinese territory of the Diaoyu Islands was a gravely provocative action violating Chinese territorial sovereignty," Foreign Ministry spokesman Hong Lei said in a statement.
Mainland authorities had threatened to clamp down on riots following violent protests over the weekend that saw cars, shops and businesses with Japanese ties vandalised in several cities. Some Japanese retailers closed their businesses yesterday as a precaution.
In Beijing, about 3,000 protesters marched to the Japanese embassy. Security was beefed up, with nearby roads cordoned off.
Some threw water bottles and eggs at the embassy, as they had over the past few days. They waved Chinese flags and chanted patriotic slogans.
One protester, Zhang Zhenwei, carrying a portrait of Mao Zedong , said the actions taken by Beijing had been weak.
"If Mao was still here, I think he would declare a war against Japan," he said. "We should resort to a violent solution."
Three protesters in Guangzhou handed a petition to Japan's consulate-general opposing Tokyo's purchase of the Diaoyus from a private owner.
The consulate and the nearby Garden Hotel were completely cordoned off by armed police and riot police yesterday, after the hotel's lobby was smashed by protesters on Sunday.
But still more than 10,000 marched between the hotel and Tianhecheng, a major shopping area in the city, throughout the day, disrupting traffic.
Some clashed briefly with police when they tried to break through barricades.
A middle-aged woman from Joinus Education Group said the company had given staff one day off to join the protests.
"Most of our 500 colleagues are here to show our patriotism voluntarily," she said, pointing at a group of people wearing T-shirts with the company's logo.
Shenzhen also mobilised more security forces to prevent a recurrence of violent clashes that broke out on Sunday.
An unknown number of plainclothed officers mingled with the thousands of protesters, splitting the crowd into smaller groups and diverting demonstrators away from the compound of the party committee on Shennan Boulevard.
Several protesters were detained after clashes with officers.
Later, a group of about 200 surrounded Nanyuan police office in Luohu district demanding their release.
A renewed wave of demonstrations occurred in the city late in the afternoon. Police confiscated all banners with aggressive words and images of Mao, leaving only national flags. Shanghai also saw one of biggest anti-Japan protests in recent years with about 10,000 people gathering at the consulate-general.
Protesters originally started marching from three different downtown locations in the morning, but some were asked by the police to board buses that drove directly to the consulate.
"Police said this was to ensure traffic was not affected by the protest," said Wang Zhi, 23. To ensure a peaceful march, police divided protesters into groups of about 100 each about two blocks away from the consulate, and placed about 30 armed officers with anti-riot shields between each group.
But there were clashes when police started taking away flags and detained several protesters. The crowds booed and demanded their release.
In Taipei, activists burned a Japanese flag outside the island's Legislative Yuan as about 100 took part in a rally.
"When our compatriots on the mainland are striving to protect the Diaoyu Islands, we people in Taiwan cannot remain silent," said a spokesman for protest organiser, the Union Party.
Taiwan, the mainland and Japan all claim the uninhabited islands 400 kilometres from the Okinawan capital of Naha and 200 kilometres from Taiwan.
Taiwanese fishermen plan to sail to the islands this week, a politician revealed yesterday.
TEMPERATURES RISING
Scores of Japanese-owned factories and stores in China are shuttered as rallies rage in dozens of cities.
 
Armed police are deployed in force as marchers carry banners that denounce Japan or call for boycotts of Japanese goods.
 
State media observes a moment of silence to commemorate the 81st anniversary of the Mukden Incident on September 18, 1931, the attack that led to Japan's occupation during the second world war.
 
Defence minister General Liang Guanglie warns that Beijing reserves the right to take further action against Japan over Tokyo's purchase of part of the Diaoyu isles.
 
At least three of 12 Chinese ocean surveillance and fishery patrol ships sent to nearby waters enter what Japan considers its territory.
 
Japan's coastguard says it is questioning two Japanese who landed on one of the islands.
 
Beijing confirms it has withdrawn all its badminton players from this week's Japan Open.
This article appeared in the South China Morning Post print edition as: National passions run high at Diaoyu protests