Bo Xilai
Get more with myNEWS
A personalised news feed of stories that matter to you
Learn more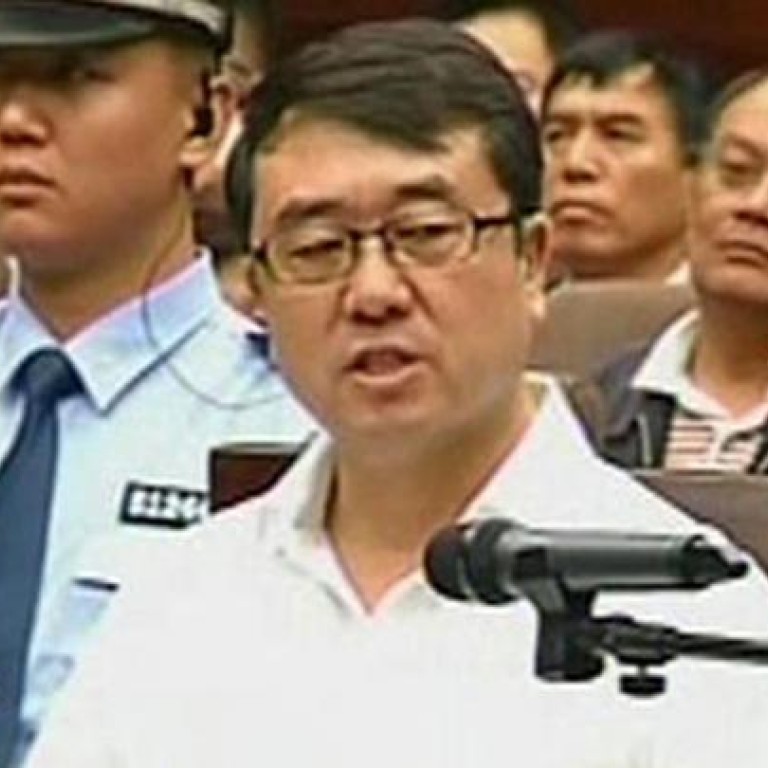 Xinhua report confirms rumours around Chongqing murder
State media carries lengthy account of Wang Lijun's court case but his boss' name is left out
Details of disgraced Politburo member Bo Xilai's falling out with top aide Wang Lijun have emerged in a state media report on Wang's trial this week, fleshing out the circumstances of China's worst leadership crisis in decades.
The report confirmed rumours that after Wang brought up the involvement of Bo's wife in the murder of a British businessman, his boss gave him a tough dressing down and slapped him.
"Their conflict was brought into the open once [Bo] hit Wang," Xinhua quoted former Chongqing deputy police chief Guo Weiguo as telling the Chengdu Intermediate People's Court.
But the 6,000-word account of Wang's case it released yesterday conspicuously failed to mention Bo's name, in what analysts saw as a clumsy and deliberate attempt to protect the ousted Chongqing party chief and limit the political fallout of the scandal.
It is the first time, though, that authorities have indirectly implicated Bo in Heywood's death, although what effect it may have on his punishment remains unclear.
Wang, a former Chongqing deputy mayor and police chief, stood trial in Chengdu this week on four charges, including attempted defection and helping Bo's wife, Gu Kailai , cover up her involvement in Heywood's murder.
He was charged with abuse of power and taking 3 million yuan (HK$3.6 million) in bribes, but he is expected to receive a relatively lenient sentence.
The report said Wang was rebuked by the "principal person in charge of the Chongqing Municipal [Communist Party] Committee at the time" the next morning after "the leader" was told about Gu's involvement in Heywood's death.
It revealed Wang had maintained a close relationship with "Bo Gu Kailai's family" after they met in 2007, but again Bo's name was not mentioned.
"After I arrived in Chongqing, I always visited the home of Bo Gu Kailai. I think she treated me pretty well," Wang told the court.
Yesterday's report also disclosed how Wang helped Gu cover up the murder. Gu said in a written statement presented to the court: "When I saw Wang, I told him what happened on the night of the 13th [of November], when I saw Heywood and how I poisoned him. He told me not to think about the incident, and that from now on, this incident had nothing to do with me, and asked me to forget it entirely. I then said I was worried, and he replied by saying things will be better in a week or two."
Four days after Heywood's death, Wang gave Gu surveillance camera footage of the hotel room where the murder was carried out. It was meant to assure her that no one had entered the hotel room after she left.
"What he meant was to protect me," Gu told the court. Wang called Gu the day Heywood was cremated to say the Briton had been "spirited away".
Wang secretly taped Gu's confession the day after the murder. He hid the recording from officers who were handling the case, and held on to evidence such as blood samples taken from the victim.
Xinhua's detailed account also shed rare light on the deterioration of Wang's relationship with Gu and the bad blood between Wang and Bo that led Wang to seek asylum at the US consulate in Chengdu in February.
The Xinhua report said Wang was upset Gu undertook "a series of actions to destroy evidence" and "repeatedly made trouble which made the case known to more people". He lost his temper and scolded his subordinates who were involved in the deception after learning Gu had treated them to dinner. Wang told the court: "[After that] Bo Gu Kailai fell out with me and she was no longer as enthusiastic as before when she saw me again."
Their conflict was aggravated when seven of Wang's aides were "illegally investigated" in December and February, Xinhua said, without detailing who initiated the action or why it was deemed illegal.
Xinhua confirmed Wang, fearing for his life, fled to the US consulate in Chengdu in a bid to seek asylum on February 6, just days after falling out with Bo. He stayed at the mission for 33 hours until surrendering.
He "chatted briefly with US consulate staff about environmental protection, education, science and technology and other matters", it said, and "asked the Americans to provide asylum, and wrote an application for political asylum", Xinhua said.
Xinhua said Wang pleaded guilty to all the charges and expressed remorse during the trial, contradicting earlier reports that he contested some of the charges.
This article appeared in the South China Morning Post print edition as: Bo Xilai hit aide after talk about murder, Xinhua says Xinhua report confirms rumours