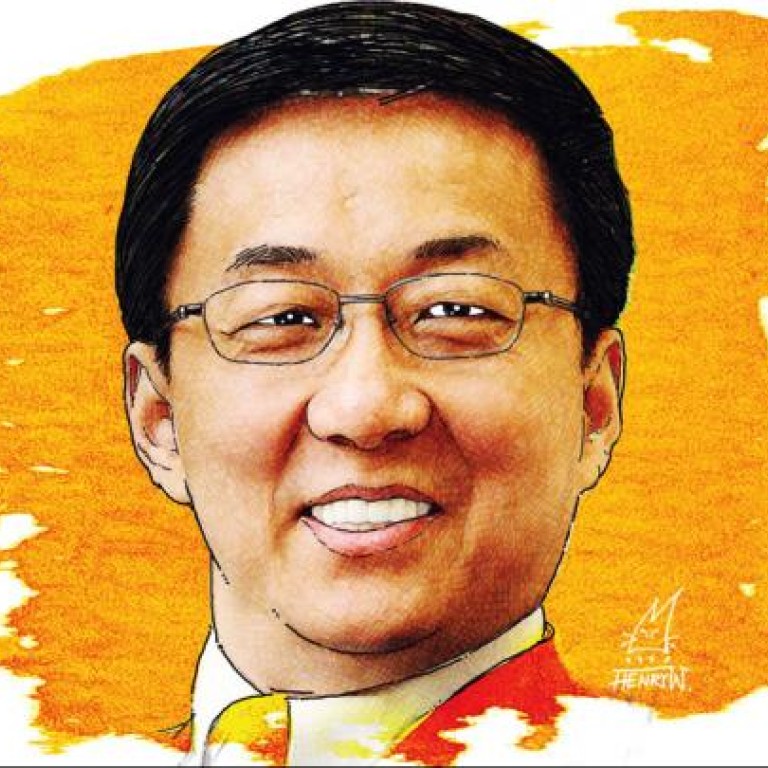 Shanghai mayor Han Zheng at the crossroads
Han Zheng is closing in on becoming the city's party chief and a Politburo member, but lack of experience elsewhere may hinder his ambitions
Han Zheng was 48 when first named mayor of Shanghai in 2003, the youngest person to hold the post in 50 years.
Unlike most political stars in the party's orbit, Han did not cut his teeth on a rotation through backwater postings followed by a stint at a second-tier city - he has spent his entire career in Shanghai. And that has proved both a blessing and curse.
Han is part of the Shanghai clique, drawing power and possibly protection from former leader Jiang Zemin .
But his lack of experience in roles elsewhere on the mainland limits his upward mobility, according to the party's own rules.
An interesting bet can be made on whether Han is allowed to sidestep that obstacle and is ushered into the Politburo at the party congress.
With Shanghai's current party chief Yu Zhengsheng strongly tipped to ascend to the Politburo Standing Committee, the chances are that if Han replaces Yu he would make it to the Politburo as well.
Han's tenure as Shanghai mayor has been punctuated by impressive successes - the city's hosting of the World Expo in 2010, its rise as the world's busiest container port that same year and the current strides it is making towards becoming the top renminbi trading, clearing and pricing centre by 2015.
His master's degree in economics from Shanghai's East China Normal University has served him well.
But there have been scandals which unfolded on Han's watch - the most notorious, perhaps, being the jailing of his predecessor Chen Liangyu .
Chen was sentenced to 18 years imprisonment for his role in the city pension fund corruption case, in which up to 3 billion yuan (HK$3.7 billion) in pension assets was diverted to improper investments.
Han started his career as a warehouse keeper and climbed the political ladder to become Shanghai's second most powerful man after the party secretary.
He joined the Communist Party in 1979 and became head of the party's youth league committee at a petrochemical factory, a position he held for three years.
After being appointed party secretary of the Dazhonghua plastics factory in 1988 and party secretary of the youth league committee in Shanghai in 1990, he gained experience in managing state-owned firms and grew familiar with Shanghai cadres.
A career highlight was attracting Hong Kong property developers to help with the renovation of several Shanghai landmarks, such as Huaihai Road and Xintiandi, when Han was party chief of Luwan district from 1992 to 1995, analysts say.
"After the makeover, Huaihai Road was like little Hong Kong," said Yao Xinbao, a professor of journalism at Shanghai's Jiaotong University. You could see places similar to Times Square and Central Plaza."
After Luwan, Han became a member of the party's standing committee in Shanghai in 1997 and finally mayor in 2003.
Yao said: "After years of running Shanghai, Han has developed a good understanding of how the party operates in the city from top to bottom."
Han oversaw Shanghai's successful staging of the World Expo 2010, which was attended by 73 million, according to Xinhua.
But his reputation has taken its share of knocks. A fire on Jiaozhou Road on November 15, 2010, which killed 58 people, exposed problems with fire prevention measures in Shanghai.
And when a partially built 13-storey building collapsed in a residential area in Minhang district on June 27, 2009, the spotlight centred on official corruption.
Media reports claimed many of the property developer's shareholders worked in local government.
Such incidents are unlikely to hurt his standing at the 18th party congress, the once-in-a-decade power transition within the communist party, analysts said.
But his lack of experience outside Shanghai might hinder his chances of becoming a member of the Politburo, the party's decision-making committee. The party boss of Shanghai is automatically made a member of the Politburo.
But at the same time, a Politburo member needs to have experience in at least two municipalities or provinces.
As Han's career experience is limited to Shanghai, it would be difficult for the party to promote him to the post of Shanghai party chief and therefore the Politburo.
Han was close to officially taking up the post in 2006, when then Shanghai party chief Chen stepped down for misappropriating social security funds in the biggest corruption case in the city's history. Han was appointed acting party secretary on September 25, 2006.
"The central government's decision to let Han Zheng become acting Shanghai party secretary shows [our] trust in Han," He Guoqiang , minister of the central organisation, told officials the same day.
Han resumed the post of mayor in March 2007 when Xi Jinping , then the party chief of Zhejiang , went to Shanghai.
"Han didn't have enough qualifications to be head of the party in Shanghai at the time," said Johnny Lau Yui-siu, a Hong Kong-based political analyst.
There was speculation Han might have been linked in some way with Chen's case.
Joseph Cheng Yu-shek, who teaches Chinese politics at Hong Kong's City University, said: "The public felt Han was certainly implicated. He was able to retain his position because … he knew Shanghai well and would be helpful in keeping up the morale of officials."
There were reports Han was not punished because of his connections to former leader Jiang or President Hu Jintao .
Han is a member of the so-called "Shanghai gang" - officials who were born in Shanghai or have close affiliations with the city, and so are protected by Jiang, the head of the faction.
At the same time, Han worked in the youth league committee in 1990, so he could be categorised as a member of the Youth League faction, a powerbase for Hu and his political allies.
But Yao, from Jiaotong University, said it was far-fetched to conclude Han was protected by Jiang or Hu.
"It was most likely that at that time, the top leaders gave him a vote of confidence in his ability to lead Shanghai during a transition period," he said.
Analysts said that if Han was not made Shanghai party chief after the 18th party congress, he could become party secretary in another province.
"In Chinese politics, officials are usually promoted if they haven't made big mistakes," said Hong Kong-based Lau.
This article appeared in the South China Morning Post print edition as: Shanghai's mayor is at crossroads