Bo Xilai
Get more with myNEWS
A personalised news feed of stories that matter to you
Learn more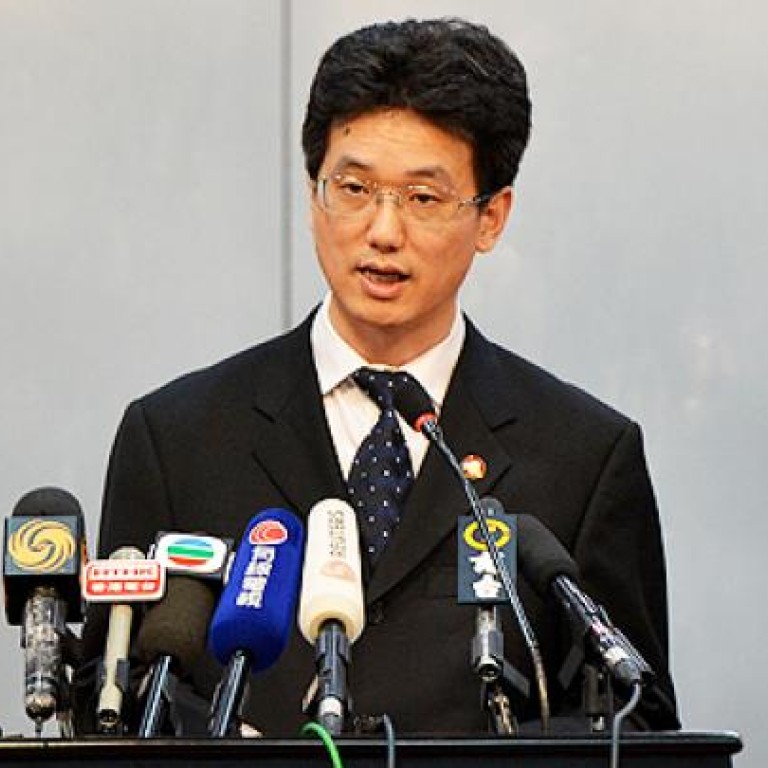 Ex-police chief Wang Lijun sentenced to 15 years over Bo Xilai scandal
Former Chongqing police chief Wang Lijun – who exposed China's worst political scandal in a decade – was sentenced to 15 years on Monday morning for defection and other crimes.
Former Chongqing police chief Wang Lijun – who exposed China's worst political scandal in a decade – was sentenced to 15 years on Monday morning for defection and other crimes at a court in Chengdu.
Wang stood trial last week in the southwestern city in Sichuan province, where he sought asylum at a US consulate in February after falling out with former Chongqing party boss Bo Xilai.
Wang was sentenced
to seven years for bending the law for selfish ends, two years for attempted defection, two years of abuse of power and nine years for receiving bribes. Wang has no plan to appeal, CCTV reported.
In a statement the Intermediate People's Court found him guilty on each count, adding that the circumstances of the  bending the law offence were "very serious".
But it said that Wang was shown leniency because he had reported the role of Bo's  wife Gu Kailai in the murder of British businessman Neil Heywood.
He "actively helped with the re-investigation" which "played an important role in the breaking of the case by police authorities", it said.
"In accordance with that, and based on the facts, nature, circumstances and the degree of harm caused to society by the crimes committed by Wang Lijun, as well as his admission of guilt and repentance, the court has made the above verdict in accordance with the law," court spokesman Yang Yuquan told reporters afterwards.
Analysts have expected Wang to get a lenient sentence.
While both defection and bribery can carry the death penalty in China, both prosecution and defence said Wang's co-operation with the authorities meant he was eligible for a lighter sentence, according to the statement last week.
The Chengdu court was under tight security on Monday and police sealed off the nearby area to keep onlookers and journalists away.
With Gu already jailed, and Wang set to join her, the ruling Communist Party must next decide what to do with Bo, whose contentious downfall has dogged a leadership handover due to take place at a party congress as early as next month.
Wang sealed his fate at a trial a week ago by admitting to the charges, according to an official account of the hearing published by Xinhua news agency. Only official media outlets were allowed inside the courtroom.
"As for the crimes that the prosecution has alleged, I understand them, I admit to them, and I am repentant for them," Wang told the court in Chengdu, according to that account.
As well as the charge of sabotaging an investigation into Gu's murder of Heywood in November last year, Wang also faced charges of defecting to a US consulate, taking bribes and conducting illegal surveillance.
The main charges stemmed from a cascade of events triggered by Heywood's murder. Officials have said the murder itself arose from a business dispute in Chongqing, the riverside municipality that Bo and Wang made into their fiefdom.
After first helping Gu evade suspicion of poisoning Heywood, Wang then kept evidence of the murder, according to the official account of Wang's trial. In late January, Wang confronted Bo with the allegation that Gu was suspected of killing Heywood. But Wang was "angrily rebuked and had his ears boxed".
Days later, Bo stripped Wang of his post as Chongqing police chief, and Wang, fearing for his safety, fled to the US consulate in Chengdu where he hid for more than 24 hours until Chinese officials coaxed him out.
In August, Gu was sentenced to a suspended death sentence, which effectively meant life in prison. The Chinese government has not said what will happen to Bo, who in March was sacked as party boss and in April suspended from the ruling Communist Party's Politburo, a powerful decision-making council with two dozen active members.
So far, Bo has only been accused of breaching internal party discipline. But experts say the public citing of Bo's angry rebuke of Wang has raised the likelihood that he too will face criminal charges, probably after the party congress.
"The legal net around Bo Xilai has been slowly tightening," said He Weifang, a law professor at Peking University who has closely followed the case. "He'll certainly face a criminal trial."
Before then, party leaders could first expel Bo from the party and hand him over for criminal investigation.
"The prosecutors said Wang exposed leaders to major crimes by others," said Li Zhuang, a Beijing lawyer who opposed Wang and Bo for mounting a sweeping crackdown on foes in the name of fighting organised crime. Bo was the likely target of Wang's allegations, said Li.
"That was a slap around the ears that changed history," Li said of Bo's alleged actions against Wang. "Otherwise, Bo might still be in power and hoping to rise higher."
Additional reporting by Reuters in Beijing, and Agence France-Presse and Associated Press in Chengdu