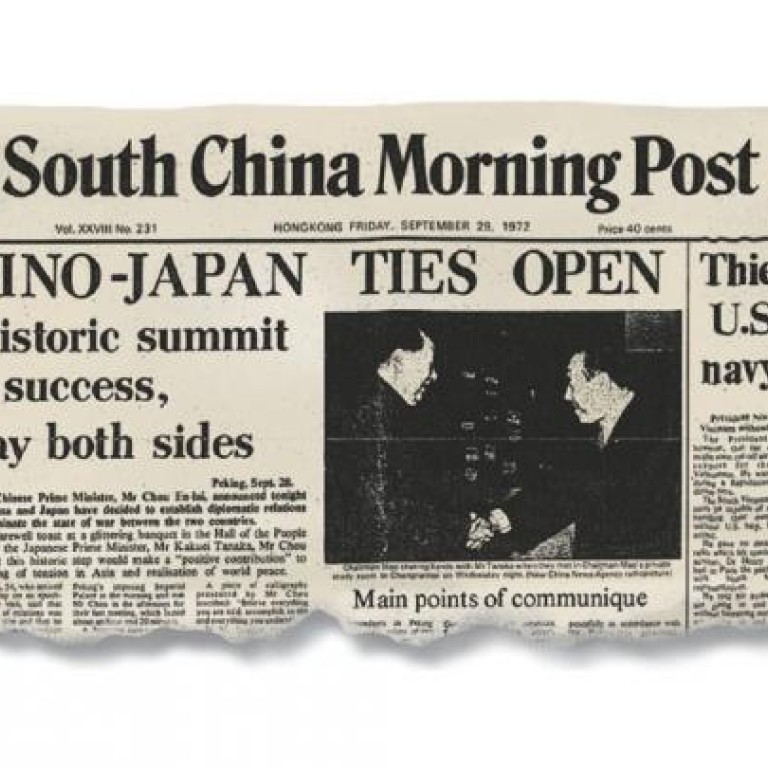 Analysts say deterioration in Sino-Japanese ties triggered by betrayal of understanding reached 40 years ago
Analysts say a deterioration in Sino-Japanese ties was triggered by a betrayal of a verbal understanding reached 40 years ago
There have been many ups and downs in the Sino-Japanese relationship since diplomatic ties were established 40 years ago today, but analysts say the Japanese government's recent purchase of three of the disputed Diaoyu Islands in the East China Sea has plunged relations to their lowest ebb since 1989.
Beijing indefinitely postponed anniversary celebrations because China's core national interests were violated by the purchase of the islands by the government of Japanese Prime Minister Yoshihiko Noda, mainland-based experts said.
"The current deterioration of bilateral ties between Beijing and Tokyo has been triggered by Noda's betrayal of a verbal diplomatic understanding which was made by the two countries' former leaders in 1972, when both sides resumed relations," said Professor Peng Xi , deputy director of Nanjing University's Institute of Japanese Studies.
"The understanding, in which both sides agreed that the Diaoyu Islands are a disputed area, has been the fundamental base, with Beijing and Tokyo promising to put aside their disputes."
The uninhabited islands are known as the Senkakus in Japan.
The understanding, reached by late premier Zhou Enlai and his Japanese counterpart Kakuei Tanaka, was endorsed by Mao Zedong in 1971, when both sides started discussing the possibility of restoring diplomatic and trade ties.
On September 29, 1972, following a visit to Beijing by Tanaka, Japan formally established bilateral relations with Beijing and ended ties with the Kuomintang government in Taipei. The normalisation of Sino-Japanese relations was seen as building on then United States president Richard Nixon's trip to Beijing in February of that year.
Tokyo has offered Beijing nearly 290 billion yuan of economic aid between 1979 to 2010, according to Japan's Foreign Ministry. But high-level diplomatic and military exchanges were suspended following the crackdown on pro-democracy protests in Beijing's Tiananmen Square in 1989. Japan froze three loans to China.
"Japan's move to suspend its foreign loans was a reaction to the US and other Western countries' economic sanctions against China in the aftermath of the Tiananmen incident," Peng said.
Just one year later, then Japanese prime minister Toshiki Kaifu said the loans would be unfrozen. On August 10, 1991, he also visited Beijing, making Japan the first developed nation to resume diplomatic ties with China following the crackdown.
Kaifu's visit also led to a decade-long Sino-Japanese honeymoon, with then Chinese president Jiang Zemin paying a visit to Tokyo in April 1992. Jiang invited Japanese Emperor Akihito to visit China and he did so on October 23 of that year, becoming the only Japanese emperor to visit China.
However, Sino-Japanese ties deteriorated under Japanese prime ministers Junichiro Koizumi and Shinzo Abe.
"Hawkish Japanese leaders like Koizumi and Abe all came from the experienced Liberal Democratic Party and they stuck to a traditional diplomatic routine - even though they delivered some provocative speeches - and never took real action to invade our territorial sovereignty," said Professor Niu Zhongjun , an international relations specialist at China Foreign Affairs University in Beijing.
He said Beijing was annoyed by Noda because he had not abided by the rules of the game.
This article appeared in the South China Morning Post print edition as: Rules of diplomatic game broken