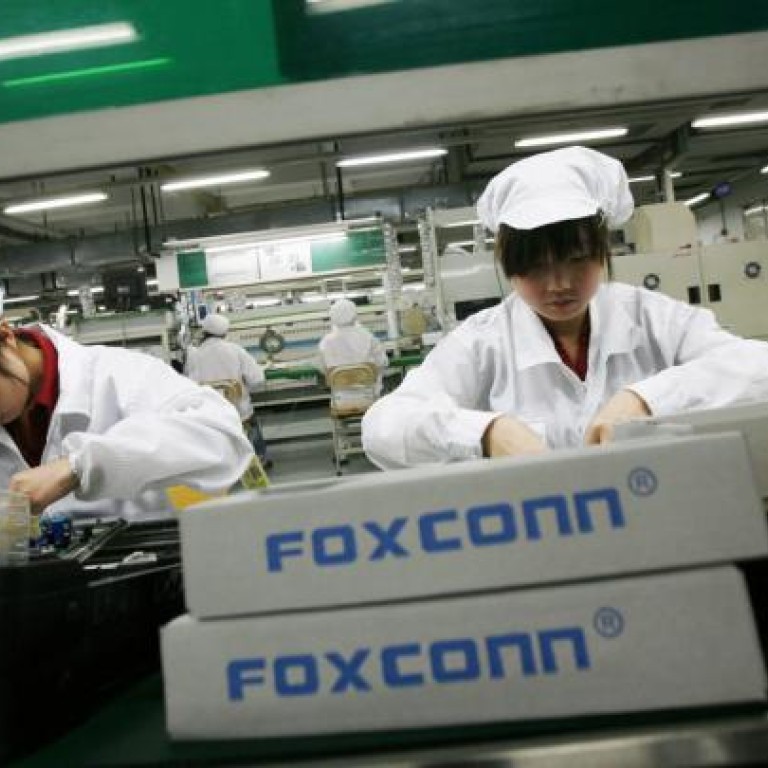 Foxconn flouts labour law with under-16 interns in Shandong
Technology giant quick to shoulder blame but school says it was part of government initiative
Foxconn Technology has admitted that interns as young as 14 have been found working at a subsidiary in Yantai, Shandong province.
"Our investigation has shown that the interns in question, who ranged in age from 14 to 16, had worked in that campus for approximately three weeks," Foxconn said yesterday. "This is not only a violation of China's labour law, it is also a violation of Foxconn policy and immediate steps have been taken to return the interns in question to their educational institutions."
The company's admission confirmed international labour advocacy group China Labor Watch's reports that under-age interns had been forced to work at Foxconn's Yantai subsidiary. The group placed most of the blame on the schools involved.
But a publicity official at Yantai Engineering & Technology College, one of the vocational colleges implicated, said yesterday that it had sent more than 2,000 students to a Foxconn factory for a one-month internship programme earlier this month in response to an appeal from the city government.
She admitted that some of the interns were under the age of 16, but said that was because there was no official age restriction for "social practice activities". She added that the college had taken up labour issues with Foxconn after students complained about long working hours and frequent overtime.
A news report on the college's official website on September 19 said interns from the college had been working at the Foxconn factory since 2010 as part of a government initiative to help ease a labour shortage. "We know that internships are critically important for vocational schools like us, however, we didn't approach Foxconn for such an internship arrangement, but simply followed an order from the government," the official said.
Foxconn runs factories across the mainland that employ more than 1.2 million workers, including about 100,000 at the Yantai subsidiary, the eighth science and technology industrial park it has established on the mainland and a major contributor to the local economy.
The company has been struggling to find enough workers since expanding rapidly on the mainland in 2010.
The reported yesterday that Yantai's education authorities had sent a division head to sort out the internship programme at Foxconn. An official from Yantai's education bureau said yesterday that it had taken notice of media reports and was looking into the alleged violations.
Foxconn said in yesterday's statement that it would work with the local government to ensure that future participation in the internship programme by the city's schools was done in compliance with mainland labour law and Foxconn policies.
"No evidence of similar violations has been found in any of our other campuses in China," the statement said. "But we will not hesitate to take immediate action in any campus if any violations are discovered."
This article appeared in the South China Morning Post print edition as: Foxconn flouts labour law with under-16 interns