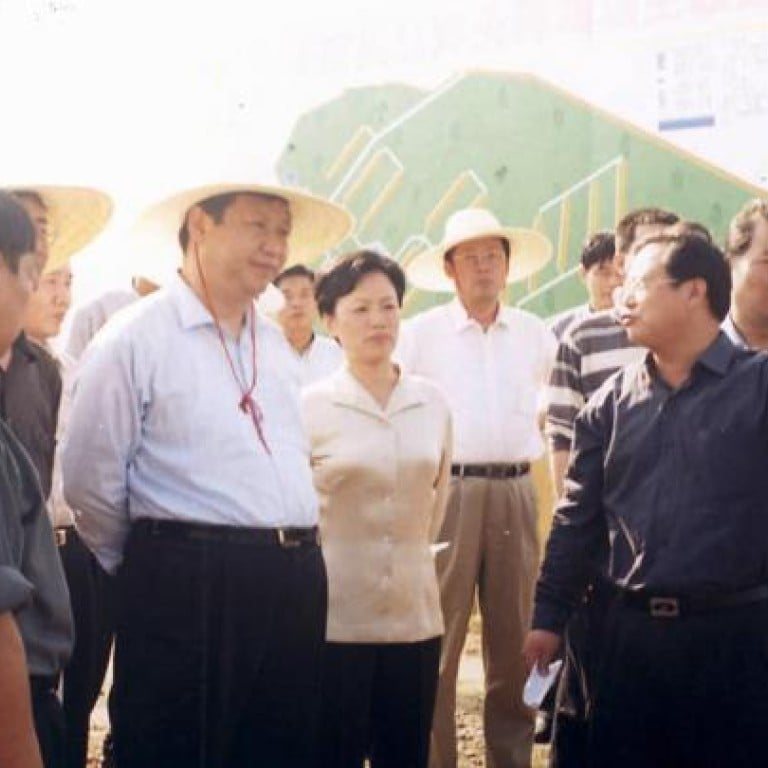 Xi Jinping began career as cadre in rural Hebei
Why did the well-connected son of a revolutionary leader swap a job in the capital for life as a party cadre in on obscure rural community?
Xi Jinping kick-started his political career with a bold move. At the age of 29, Xi turned his back on a life of privilege as a party elder's son in Beijing to accept a posting 250 kilometres away in an obscure, dusty town in Zhengding county, Hebei province.
His father, Xi Zhongxun, an ex-guerilla leader close to Mao Zedong, was at the height of his powers, serving as secretary of the party's Central Committee secretariat.
Under his wing, the younger Xi seemed to have a guaranteed, easy road to success. He had earned a degree in chemical engineering from Tsinghua University and was working as secretary to General Geng Biao , the defence minister at the time.
But he struck out on his own, moving to Zhengding in 1982 to work as the county's deputy party chief. Within a few months, he had risen to the rank of party chief, and three years later was transferred to Xiamen, in Fujian province. Xi would recall his time in rural politics fondly, saying it had laid a solid foundation for his future career.
"[Zhengding] is the place that I often miss … it was there where I began to learn how to become a leading cadre," he said when he revisited the town in 2005. An excerpt of his speech was published in a magazine linked to the county government and was made available online.
"I felt so humbled and nervous, as it was for me like a tiger trying to swallow the sky. I may have accumulated a certain amount of valuable knowledge before, but I had little practical experience. I had to learn everything from the very beginning. It was an unusual three years."
His words offer few, if any, clue as to why he gave up the relative comfort of his privileged life to go to the middle of nowhere.
Zhengding has a history as a regional political and religious centre spanning over 1,000 years. It is home to many fine archaeological sites, including Buddhist temples and towers built in the Sui and Tang dynasties. But it has largely been bypassed by China's economic boom. It has emerged into the media spotlight in recent years as the place where the man in line to be the nation's next leader got his political start.
"Everyone is so proud that Xi used to work here, although it was nearly two decades ago," said Chen Fei, a restaurant owner. "But it's a pity that his stay happened before he rose to power; obviously we have not benefited much from it."
Jia Yonghui, whose father, the late novelist Jia Dashan, was a friend of Xi, said the future leader did rather well in Zhengding considering his princeling pedigree and lack of experience. Xi had a good reputation in the county, he recalled.
"Xi was famous for his willingness to make friends with experts and specialists, such as my father," Jia said. "He often said it was not that bad for leading officials to admit there were things they did not know as long as they have real experts to count on."
The elder Jia was promoted under Xi to head the county's cultural bureau in 1982 and they continued their friendship even after Xi's departure for Fujian.
"When my father was critically ill, Xi, then deputy party chief of Fujian, visited him in a Beijing hospital in early 1997. A few weeks later, Xi made a detour to Zhengding on his way back to Fujian and paid his final visit to my father shortly before he died that year," Jia said.
Details about Xi's years in Zhengding remain sketchy - seemingly deliberately so. Most contemporaries and former government officials were reluctant to talk about him, especially his time in Zhengding. They either declined to be interviewed or said they had been warned against making any comments about Xi.
"We are certainly proud to have worked with Xi and are excited about his political future," one of Xi's former acquaintances said. "But as the 18th party congress draws near, such discussions about him are politically sensitive and highly inappropriate. Who knows how he will be affected and what other consequences may result?" he said.
State media have hailed Xi's apprenticeship in Zhengding as a courageous move and testament to both his thirst for practical leadership skills and his ability to stay close to the people at the grass-roots level.
In an article published by the last year, Wang Youhui, who was deputy county chief when Xi was in Zhengding, lavished praise on the future leader.
Wang recalled Xi as a mild-mannered and easy-going man who resembled an old-fashioned military cook in his green uniform when he first arrived.
"Although he was the offspring of a senior cadre, he kept a very low profile. He had been to the countryside, suffered hardships, and behaved like a regular person who knew how to befriend others.
"Despite his plain appearance, he often displayed an admirable temperament, apparently the result of good education and maturity," Wang said.
Xi was popular among retired cadres because he took care of their interests and heeded their concerns, he said.
Both Jia and Wang said one of Xi's main accomplishments was his promotion of tourism sector as a pillar of the local economy. Xi decided to spend more than 3.5 million yuan building an imperial palace modelled after one in the novel , which has become one of the county's best known tourist attractions.
Some say Xi's decision to start his political career in Zhengding was a calculated one, which turned out well and paved the way for his later rise.
"Xi wanted to pursue a political career in the provinces, but he obviously did not want to drift too far from Beijing, the power base of his father, and that's why he chose Zhengding, which was close to the capital," said the acquaintance of Xi.
Citing an unnamed professor who was a childhood friend of Xi, a leaked US embassy cable said Xi's move to Zhengding was part of an ambitious career plan to expand his own power base and seek promotion.
According to the professor, Xi believed staying with Geng would eventually shrink his power base, which would ultimately rest on his father's and Geng's networks and political support. In the long run, "Going to the provinces was his 'only path to central power'."
While being a princeling may have helped him get on the fast track to success, Xi's political pedigree has earned him the animosity of political rivals, including those of his father.
According to one widely circulated rumour, former Hebei provincial party chief Gao Yang did not like the way Xi was parachuted into Zhengding and refused to promote him to a more senior position in the province. Gao reportedly openly criticised the elder Xi for seeking political favours from Gao for his son.
When Gao, a president of the central party school in the late 1980s, died at the age of 100 in 2009, Xi, the incumbent president of the school, skipped the funeral of his former superior. That led to further speculation about their rivalry.
This article appeared in the South China Morning Post print edition as: When the future president struck out on his own