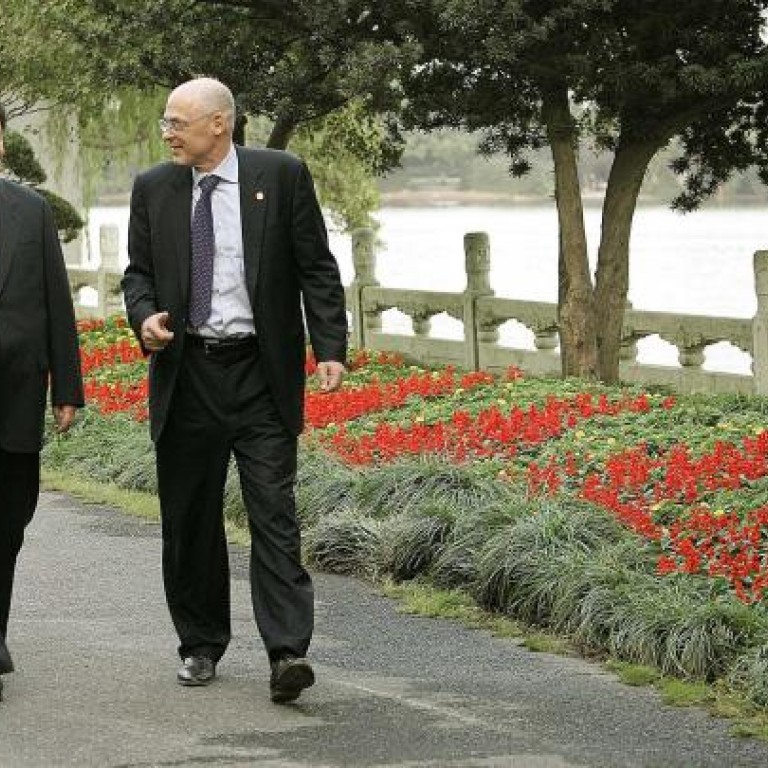 Xi Jinping's time in Zhejiang: doing the business
In the final of a three-part series, we look at leader-in-waiting Xi Jinping's time in Zhejiang - a period when private firms and innovation flourished
For clues about how China's leader-in-waiting Xi Jinping might manage the world's second-largest economy, Zhejiang province is a good place to start looking.
The 3-1/2 years Xi spent at the helm of the mainland's richest province are regarded as a transformative period, during which Zhejiang expanded its private sector and moved toward cleaner, more innovative industries.
After arriving in the autumn of 2003, Xi, as governor and party secretary, set about encouraging factories and heavy industry to move further inland in favour of privately funded research and development facilities. The campaign paid off: R&D investment by private industry increased four-fold to 31.6 billion yuan in 2007, from 5.6 billion yuan in 2003.
Xi also embraced Zhejiang's reputation for supporting private industry in a nation where the majority of large businesses are still state-run. The number of private companies in the province rose to 203 by the time Xi left, compared with 183 when he arrived.
"Xi Jinping's achievement in Zhejiang was impressive, especially in promoting the development of the private economy - which shows he is an open-minded leader," said Dr Cheng Li, a China expert working at the US-based think tank the Brookings Institution.
Zhejiang was already ranked the nation's fourth-largest provincial economy - just behind Jiangsu - when Xi arrived after 17 years in neighbouring Fujian province. The new party secretary was well aware that the private enterprise that blossomed in the 1980s after Deng's Xiaoping's "opening up" was responsible for much of its growth.
He set about developing plans to continue that success. One was to encourage traditional labour-intensive industries, such as manufacturing, to relocate to provinces further inland where land and labour were more abundant, while supporting and attracting to Zhejiang more innovative businesses.
Xi did this because of land shortages and soaring labour costs in Zhejiang, said Shi Jinchuan, head of the Centre for Research of the Private Economy at Zhejiang University.
"It was the right policy direction because it brought into play Zhejiang's advantages while at the same time pushing the innovation process for Zhejiang companies," Shi said.
It has been effective. For the past two years, some big Zhejiang enterprises had outsourced their manufacturing processes and spent much of the savings on branding, sales and research and development, he said.
The private economy started to bloom in Zhejiang in the late 1970s and early 1980s. The province, which was left out of the industrial investment programmes of an earlier era, was among those best equipped to adapt quickly to a new environment.
"Many of the businessmen in Zhejiang started from scratch, but they worked very hard and became wealthy," Xi said in December 2003. He noted that one-third of the mainland's 500 biggest companies were based in Zhejiang - 30 of them with more than 10 billion yuan in assets.
To gain a better understanding of private business, Xi visited many big private companies when he was in Zhejiang. The first one he went to was Geely, headquartered in Hangzhou . It was the only carmaker in the province.
Soon afterwards, Xi introduced nine measures to support Geely, including encouraging Zhejiang taxi companies to use Geely vehicles. Geely is now one of China's top carmakers.
The province's gross domestic product continued to expand at a brisk pace during Xi's tenure, growing to 1.8 trillion yuan from 939 billion - a 14 per cent increase.
His support for private industry was strong enough to weather an onslaught from more conservative elements in the Communist Party, who blamed speculation by private businessmen for driving up property prices.
Xi resisted calls to roll back economic reforms, said Yao Xinbao, a professor of journalism at Shanghai's Jiaotong University. Xi felt the rights of entrepreneurs were recognised by law and they were instrumental to the nation's economic development, Yao said.
"Xi was able to stand firm to his belief," Yao said. "The development of private business was at its best during Xi's time in Zhejiang."
Li said Xi's father, former revolutionary leader Xi Zhongxun , could have influenced Xi Jinping's support for the private economy.
As leader of Guangdong province from 1978 to 1980, Xi Zhongxun was one of the pioneers in introducing pilot reform and opening-up policies for that province.
To better promote private business, Xi Jinping had another plan: to work more closely with Shanghai, the nation's financial centre, and Jiangsu , Zhejiang's neighbour.
Xi's philosophy was to let Shanghai lead Zhejiang and Jiangsu in the development of the Yangtze River Delta.
"Xi had a vision of how Zhejiang should be positioned in the Yangtze River Delta," said one correspondent who worked in Zhejiang for a Hong Kong newspaper when Xi was party boss.
There were arguments at the time over who should be in charge of developing the Yangtze delta, because each of the three areas had its own advantages, she said.
For example, Shanghai was powerful in finance, Zhejiang had a strong economy and Jiangsu had a lot of investment from Taiwan.
Xi did not mind letting Shanghai take charge. In a plan to establish an international shipping centre for the region, Xi decided to let Shanghai manage Yangshan port, a deepwater container port in the south of Shanghai's Hangzhou Bay. Construction started in 2002 and it began operation in 2005.
In March 2007, Xi was appointed Shanghai party chief. He replaced Han Zheng , who had served as acting party secretary after former party secretary Chen Liangyu was removed for misappropriating money from the Shanghai social security fund.
Shanghai has always had close economic ties with Zhejiang, and his experience of leading Zhejiang helped Xi secure the top job in China's most populous city, said Li, of the Brookings Institution.
When Xi arrived in Shanghai, he had the important task of getting the city through the social security fund scandal and had to flex his political muscle at a critical time, analysts said.
Yao said Xi ignored approaches from some influential Americans to let a US company build what will eventually become Shanghai Tower - designed by San Francisco-based architectural firm Gensler.
Xi decided that such an iconic tower - located in the Lujiazui financial district and slated to become the second-tallest building in the world - had to be built by a Chinese firm.
Shanghai Construction expects to complete the 632-metre tall building in 2014.
"It shows Xi is resolute and decisive," Yao said.
Xi's time in Shanghai was brief. Seven months after arriving, Xi was promoted to the Politburo Standing Committee.
This article appeared in the South China Morning Post print edition as: Doing the business