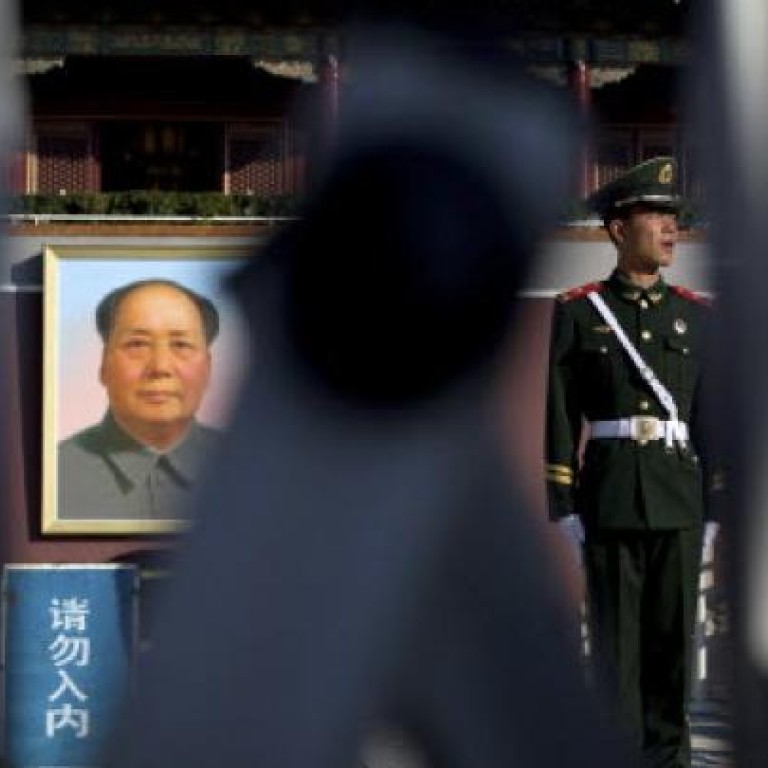 Conservatives dominate latest line-up for new Communist Party leadership
Conservatives show they still hold sway as reform-minded candidates lose out in the latest line-up for Politburo Standing Committee
Conservatives appear poised to dominate the Communist Party's new leadership as furious horse trading continues ahead of next week's transfer of power in Beijing.
The latest consensus among outgoing leaders, their immediate successors and influential party elders is that the party's innermost circle may still be subject to last-minute changes ahead of the 18th congress starting on Thursday, according to sources close to the inner workings of the once-a-decade generational transition.
However, the sources said that the Politburo Standing Committee's likeliest line-up was now packed with conservatives including vice-premier and Chongqing party chief
Zhang Dejiang
, 65, propaganda chief
Liu Yunshan
, 65, Shanghai party boss
Yu Zhengsheng
, 67, and Tianjin party chief
Zhang Gaoli
, 65.
They said the biggest surprise was the omission of two reform-minded protégés of party general secretary Hu Jintao - party organisation department head
Li Yuanchao
, who turns 62 this month, and Guangdong party chief
Wang Yang
, 57 - mainly due to their relative youth and opposition from conservative party elders, including former premier Li Peng .
The supposedly conservative make-up of the new leadership has dashed hopes that the party might have been prepared to push for bold political reforms after learning a bitter lesson from the downfall of former Chongqing party chief Bo Xilai , for long a contender for a top leadership post and an advocate of an ultra-leftist approach.
Sources confirmed that due to rifts within the leadership a consensus reached at the secretive summer conclave of current and retired party leaders at the Hebei beach resort of Beidaihe had to be scrapped following the latest changes to the Politburo Standing Committee line-up.
Analysts said the make-up of the new leadership showed Hu, 70, has lost out to his predecessor, Jiang Zemin , and several other retired leaders in behind-the-scenes jockeying to secure the promotion of his supporters.
"I guess we can confirm that Hu was a far weaker ruler than we ever knew," said Professor Kerry Brown, a specialist in Chinese politics at the University of Sydney. "That he cannot prevail against the 86-year-old Jiang is amazing."
Professor Steve Tsang, director of the University of Nottingham's China Policy Institute, said it could be seen as another big failure for Hu's faction in "defending its turf".
Analysts said the promotions of Yu, Zhang Dejiang and Liu - who have served two five-year terms in the Politburo - resulted from an unwritten party rule which favoured seniority over competence. Meanwhile, Zhang Gaoli, a Politburo member for one term, had apparently benefited from the repositioning of Wang Qishan.
Chen Ziming , a Beijing-based analyst, said the elevation of the two Zhangs and Liu, all staunch conservatives, had turned the leadership reshuffle into an anti-climax. Using the age factor to edge out younger reformers, Chen said, was telling proof that the party leadership had no real intention of pursuing a democratic reform agenda, despite recent speculation.
Zhang Dejiang, who was parachuted into Chongqing after Bo's sacking in March, will replace Wu Bangguo as chairman of the National People's Congress in March. Zhang, a former Guangdong party chief who is closely linked to Jiang, will become No3 in the party hierarchy, after Xi and Li Keqiang. That contrasts with the current hierarchy, in which the NPC chairman is ranked ahead of the premier.
Yu, a veteran princeling - the son of a revolutionary elder - famed for his strong connections and his ability to manoeuvre between party factions, will become chairman of the Chinese People's Political Consultative Conference (CPPCC), the top political advisory body, and No4 in the ruling hierarchy.
He was previously tipped to become NPC chairman or vice-president but is believed to have been edged out after the gathering in Beidaihe in early August.
Li Peng is rumoured to have initially blocked Yu's nomination to the Politburo Standing Committee at Beidaihe, citing another unwritten party decision in the 1980s soon after the defection of Yu's brother, Yu Qiangsheng , a senior intelligence officer.
Liu, who is close to current ideology tsar Li Changchun - another ally of Jiang - will be in charge of ideology and is also tipped to become vice-president and chief of party affairs as head of the powerful secretariat of the elite, 370-strong Central Committee.
The sources said Zhang Gaoli, a former Shenzhen party chief close to Jiang, would become executive vice-premier in charge of economic affairs.
Li Yuanchao, the party's top personnel official, is also a princeling but owes his rise to his links with Hu's power base, the Communist Youth League, and his failure to make the seven-strong top table is widely seen as an embarrassing defeat for Hu.
Sources said party elders had argued that Li Yuanchao and Wang Yang still had good chances of rising to the top echelon of power in the next reshuffle, when five of the seven Politburo Standing Committee members will have to retire due to age limits governing retirement.
Analysts said they believed Wang Qishan's repositioning was largely due to concerns that he could overshadow Li Keqiang, Hu's most trusted ally.
Chen said Wang's probable new post as head of the Central Commission for Discipline Inspection, the party's top anti-graft body - making him No7 in the party hierarchy - might not be a bad thing. He had earlier been rumoured to be in line for the post of CPPCC chairman.
"At least Wang will have real, substantial power, rather than a purely advisory role, and he will be able to do something, such as nailing down more corrupt officials like Bo," he said.
Whether Hu will retain his top military post as chairman of the Central Military Commission is also a subject of heated debate among analysts.
Chen and Tsang agreed that the new line-up meant Hu was more likely to retain his military post, but other analysts believed Hu could seek full retirement as he had lost the fighting spirit.
"If Hu cannot hang on to this [military post], he and his colleagues are likely to want to fight back over the distribution of standing committee seats," Tsang said.
This article appeared in the South China Morning Post print edition as: Old guard to dominate party's inner council