DPP
Get more with myNEWS
A personalised news feed of stories that matter to you
Learn more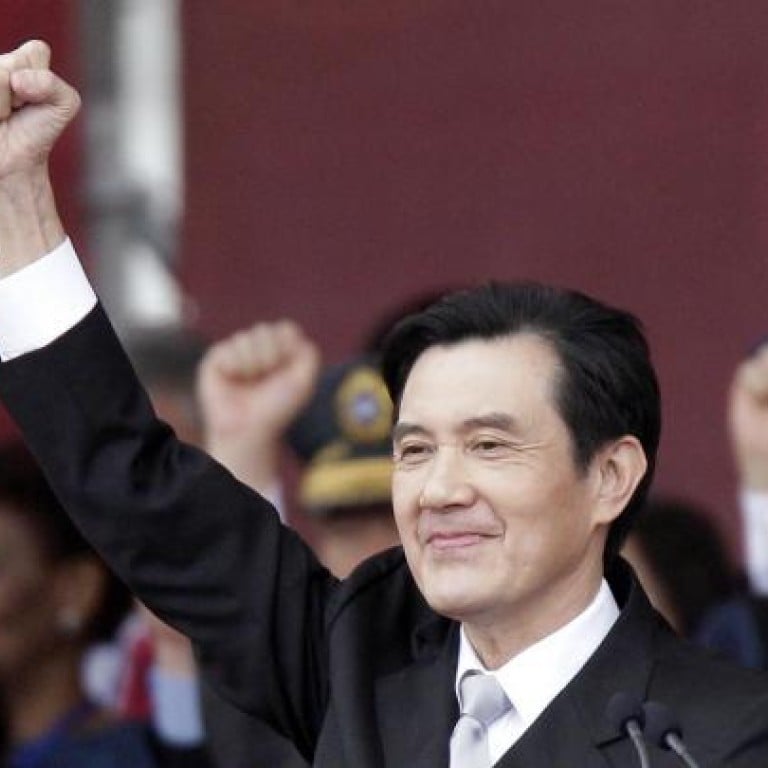 Taiwan president Ma Ying-jeou urged to give to charity over missed targets
President quizzed over call to donate cash to charity if his economic targets were not met
First came the suspension of year-end bonuses for retired public employees, a benefit that opposition politicians argued was unfair when so many Taiwanese are short on cash. Then came cuts to lawmakers' allowances, as well.
Now, Ma Ying-jeou is the latest target in Taipei's pay wars, with Democratic Progressive Party legislators pressing the president to give half his monthly NT$470,000 (HK$124,473) salary and NT$3.3 million special monthly allowance to charity.
The donation argument stems from a televised debate in 2008 during which Ma, then running for his first term as president, was asked by a charity group's representative whether he would give away half of his earnings if he failed to achieve his economic goals.
Specifically, Ma's stated aims then included an annual growth rate of at least 6 per cent and a jobless rate below 3 per cent.
Ma never actually accepted the pledge, saying only that donations were not an issue for him because he regularly gave money to charitable groups. But that did not stop the DPP attempting to hold him to the commitment yesterday.
DPP member Lin Tai-hua asked Premier Sean Chen in parliament yesterday: "Ma had promised to donate half of his salary if he failed to achieve an annual economic growth rate of 6 per cent, unemployment rate below 3 per cent and US$30,000 in per capita income. Did he do that?"
The government recently forecast 1 per cent growth in gross domestic product this year, down from 5.2 per cent last year and far below the 6 per cent annual target he set during his first campaign.
DPP politicians also called on Chen, who, like Ma, is a member of the Kuomintang, to clarify whether Ma's regular donations were equal to half of his salary.
In fact, Chen said, citing information from the president's office, Ma had donated NT$75 million since becoming president in 2008, more than three times his total annual salary since taking office.
Lin questioned the source of the money and asked whether it came from Ma's special state allowance. Not satisfied, she demanded that Ma also cut his allowance in half. But it appeared Ma had beat her to it.
A spokesman for Ma, Fan Chiang Tai-chi, said Ma has given his entire allowance to charities that serve minorities and the underprivileged, as well as consolation funds for military and police officers killed while on duty. All of Ma's income comes from his salary and bank interest, Fan said
The demand for cuts to Ma's salary and expenses came just a day after politicians bowed to public pressure and agreed to reduce their own annual allowances by 47 per cent to NT$860,000 per legislator. The outcry came after the DPP's successful push to suspend for one year the bonuses for retired public employees.
This article appeared in the South China Morning Post print edition as: DPP presses Ma on keeping pledges