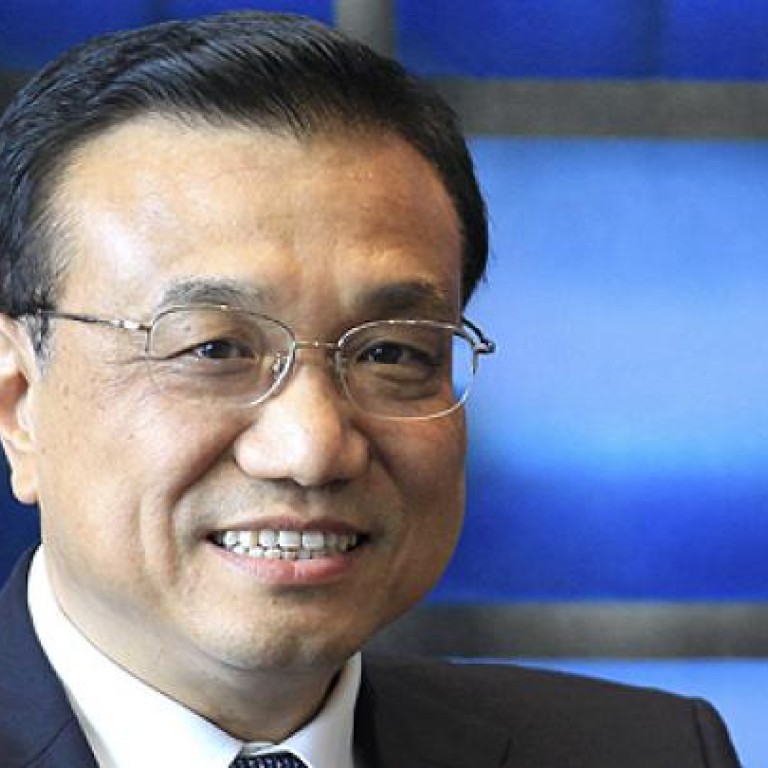 China's next premier, Li Keqiang, has mixed record
Li Keqiang, a bureaucrat with an easy smile but a mixed record, will step up China's Communist hierarchy at this week's congress on his way to becoming prime minister of the world's second-largest economy.
Vice-Premier Li is expected to take over the reins of day-to-day government from his boss Wen Jiabao in March.
For the past decade, Wen has cultivated an image as the friendly face of the Communist Party, voicing qualified support for political reform, condemning corruption and comforting disaster victims.
Wen has also railed against the rampant official corruption that infuriates many ordinary Chinese – though a report last month said his relatives had amassed US$2.7 billion in "hidden riches" since 1992.
Li, 57, is a politician with a similarly affable manner, fluent English and a more youthful bearing than his stiff party peers, and who has voiced support for the kind of economic reforms many experts say China sorely needs.
But his efficacy has already been questioned after an endless stream of health scandals – the vice-premier heads a national commission set up to prevent such abuses.
As party boss in Henan province, Li took flak for the handling of an HIV/Aids epidemic stemming from a tainted government-backed blood donation programme. Entire villages were infected, but his provincial government responded with a clampdown on activists.
A native of eastern China's poor Anhui province, Li rose up the ranks of the conservative Communist Youth League, gaining a valuable patron in current President Hu Jintao, who ran the organisation in the 1980s.
With a law degree from the prestigious Peking University and a doctorate in rural economics, Li has nurtured an image of a careful administrator focused on developing a Chinese middle class.
He became the party leader in Henan, in central China, and Liaoning province in the northeast, both of which prospered under him, before being promoted to Wen's deputy.
As premier, a top priority for Li will be to boost China's economic growth, which is currently export-led and sagging because of weak demand for manufactured goods in Europe and the United States.
Analysts say Li has been at the forefront of efforts to wean China towards more balanced development, with domestic consumption playing a greater role.
But the record so far has been mixed, and analysts say that with no wide power base of his own it remains to be seen whether Li will be able to effect significant change in the face of the party's consensus-driven leadership style, vested interests and provinces addicted to growth.
"[Li] has a good understanding of the economy. That's for sure. But he may lack the strength of character or charisma," said Willy Lam, a China politics analyst at the Chinese University of Hong Kong.
"Some people in Beijing express worry that he might be like Wen Jiabao and he might not be able to enforce his policy through the ministries and the provinces," said Lam.
"Grandpa Wen", as he came to be known for his personal touch, travelled the country to put his arm around China's downtrodden, most famously visiting Sars patients in 2003 and victims of a devastating 2008 earthquake.
In addition to stewarding China's economy into the world's number-two spot, Wen publicly urged political reform, though details were scant and oppression and human rights abuses persisted, raising doubts about his sincerity.
As with other top officials in the highly secretive Communist Party, little is known about Li's personal life – although his family's assets are likely to come under scrutiny after the Wen allegations.
Chinese press reports have said Li is married to Cheng Hong, a literature professor at a Beijing university, and that they have a daughter, who is believed to be pursuing postgraduate studies in United States.